OK, so while it's not the greatest philosophical question ever posed, it can make a big difference to your wedding day. The choice of heels vs flats can completely change the silhouette of your outfit, can greatly impact your comfort level, and mean the difference between looking like a giant, or dwarfing in comparison to your partner. Here's what to consider in the great bridal shoes debate of heels vs flats.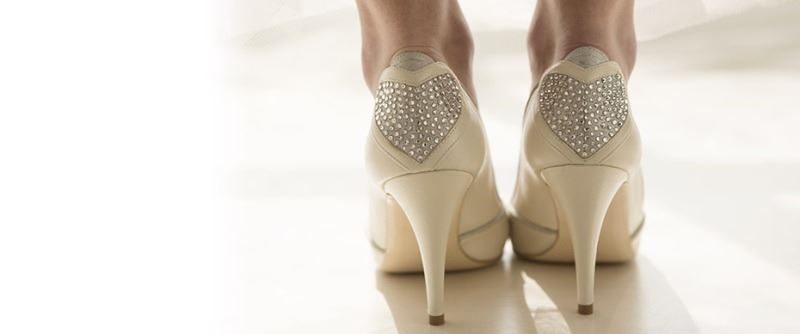 What's your dress like?
For many brides wearing floor length dresses, bridal shoes can be a moot point. Why stress out over something that no one is going to see? If your shoes are going to be invisible, go for comfort over height, and ensure you have your dress hemmed to the length of the shoes you are going to wear.
If your dress style (or outfit) means your feet are on show, you should try on a range of styles to see what works best with your bridal look. Most dresses, even tea length dresses, can work with both flats and heels if you find the right style. Make sure you try potential bridal shoes with your entire outfit, and consider not only how beautiful your feet look but also how they affect your posture and shape. The right shoes can completely redefine your look.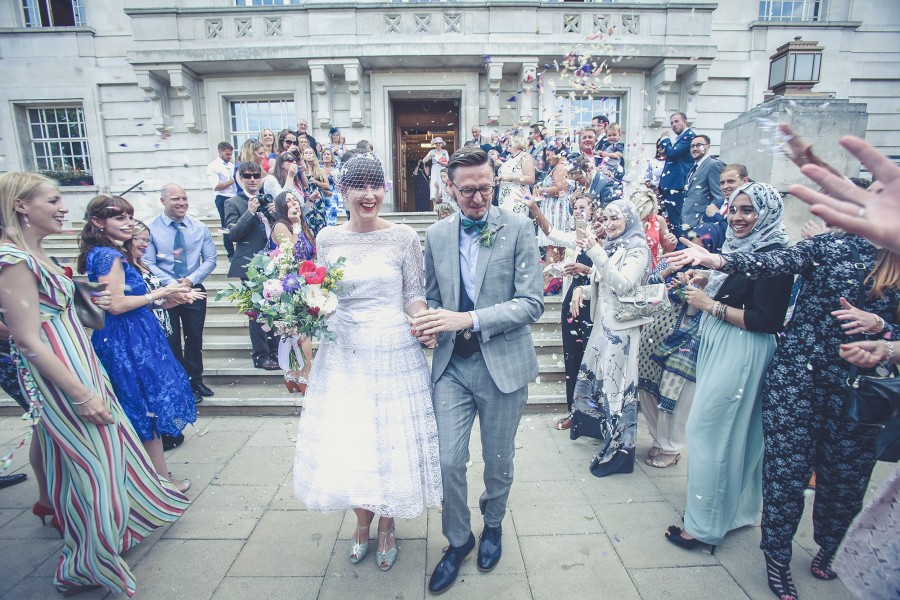 Is height an issue?
If heels or flats are going to see you at a significant height difference to your other half, this might be something to consider. If it doesn't bother either of you then don't give it a second thought, but if keeping heights in proportion is important to you then this is worth throwing into the mix. Give any shoes a trial run before the big day to see how you measure up and avoid any surprises at the altar.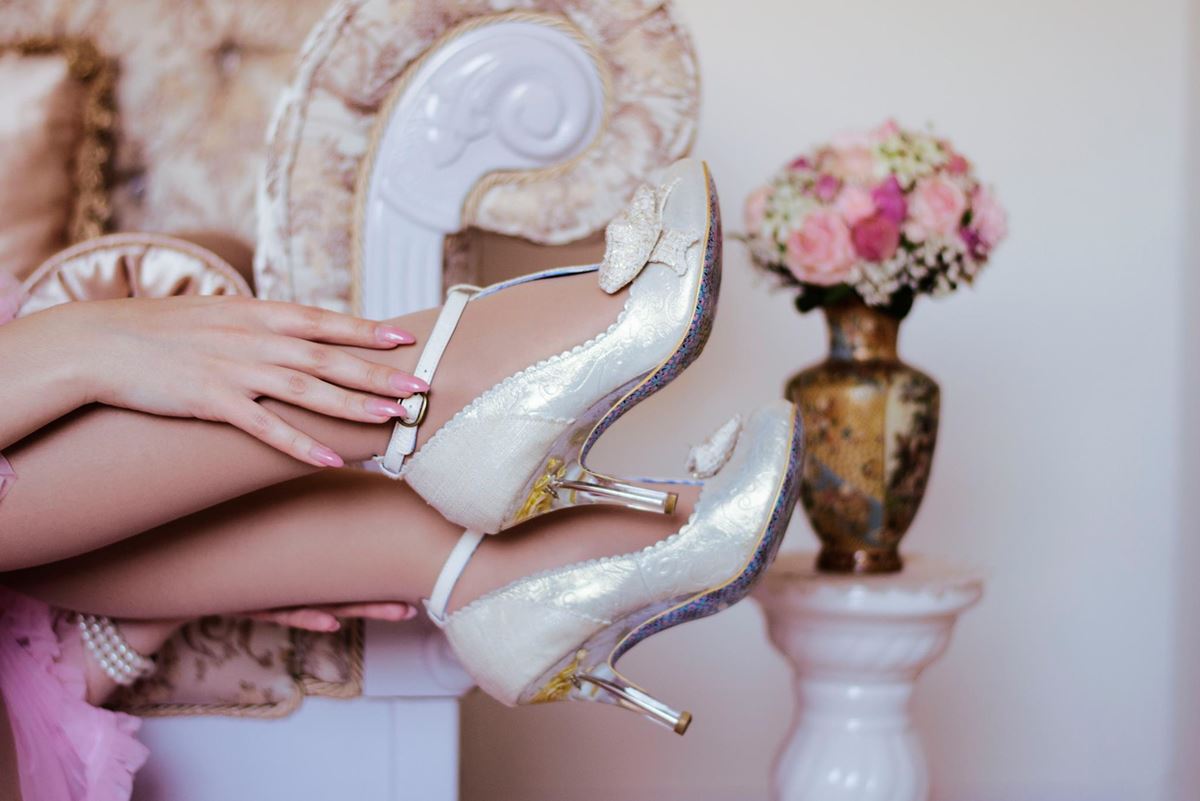 What do you wear every day?
Your bridal look should be both a celebration and extension of your personal style. A wedding outfit that completely changes your normal fashion rules usually won't work. So, if you only ever wear flats, stick with them! Similarly, if you were born in stilettos, go for it on your big day. If you do decide you would like a change, practice by investing in similarly heeled footwear for a few months pre-wedding and make heels part of your everyday look.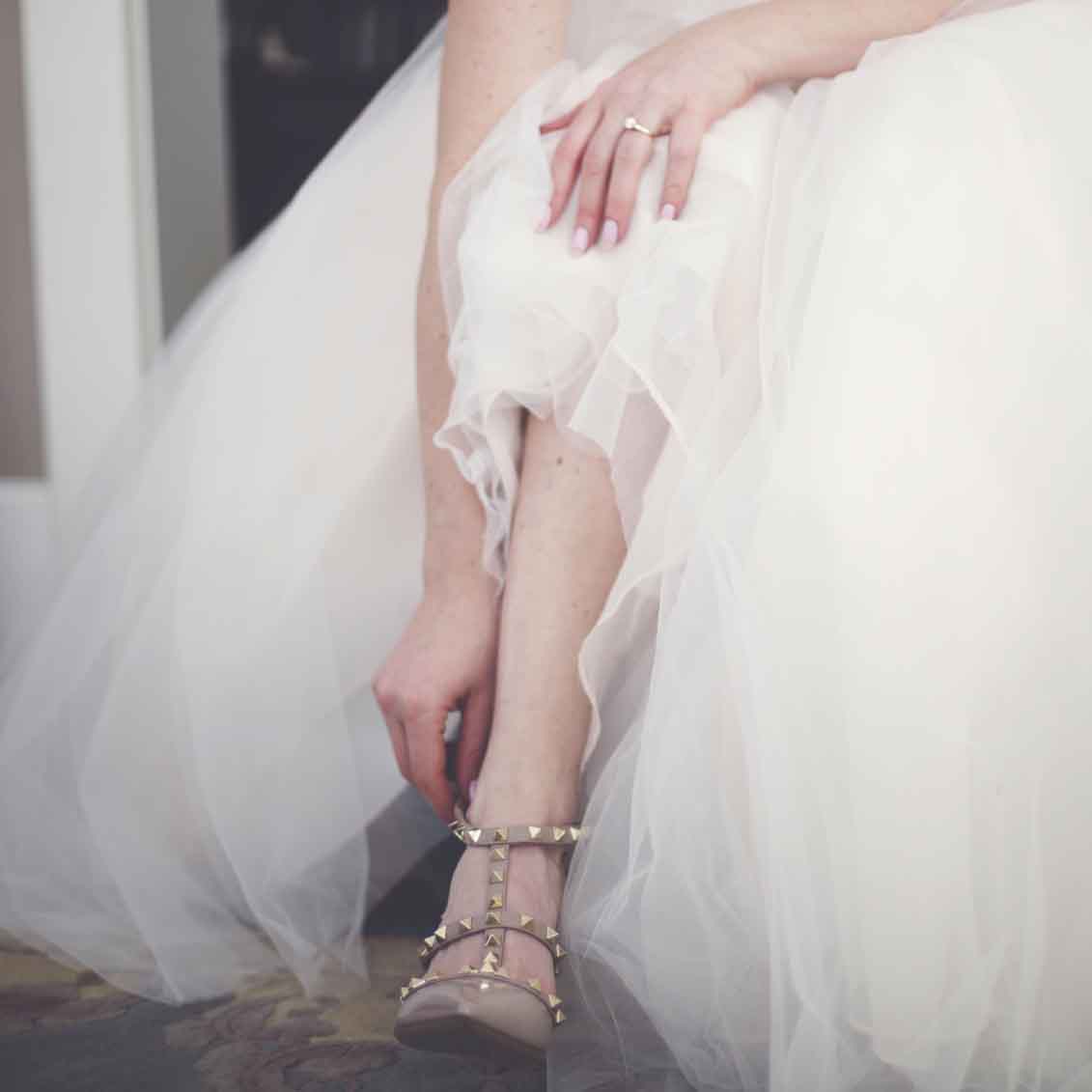 Is changing your bridal shoes an option?
It's common for brides now to choose one style for the ceremony (usually heels), and then switch to more comfortable flats for the reception and dancing. If this will work with your dress and venue, it can provide not only the best of both worlds style wise but also a great excuse to invest in two gorgeous sets of shoes. Your reception shoes can be fun and even a little silly. We've seen everything from bridal trainers to ballet pumps and flip-flops! Make up for a lack of heel with plenty of beautiful detailing.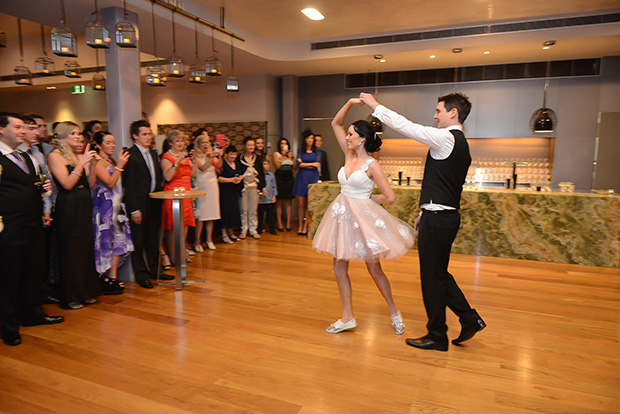 Have you already fallen in love?
Sometimes no amount of common sense can prevent you falling head over heels with a pair of beautiful but entirely impractical shoes. If this happens, and you really can't get them off your mind, go for it. It's your wedding day and the odd bit of self-indulgence is more than justified. Maybe bring some secondary shoes in as back up though, as the most beautiful shoes are often the most painful!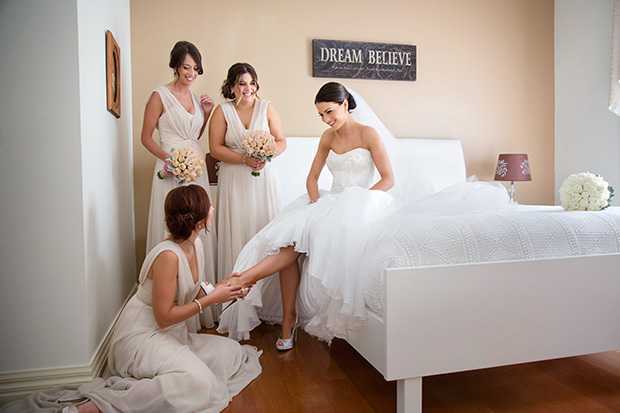 Bridal heels tips
If you're wearing heels on your big day, follow these tips to give your feet a fighting chance.
Practice makes perfect. Wear your shoes around the house for a few weeks pre-wedding to get used to the fit and height.
Treat your feet to a pedicure. By ensuring your toes are in tip-top condition you are less likely to end up with sore and damaged feet.
Invest in gel insoles. Add an extra layer of protection by choosing comfortable and invisible insoles that offer an extra layer of protection.
Choose a block heel. A thicker heel will add extra support and reduce the pressure on your ball and heel.
Ensure a great fit. Get your feet measured before the big day. Many women wear the wrong size and even half a size can make a big difference to comfort.