The main focus for the bride tends to be picking the right wedding gown and lingerie is just an afterthought but bridal lingerie helps you feel that extra bit more confident, sexy and special. You want to spend some time thinking about your bridal lingerie and pick just the right pieces to make you feel like a princess.

Picking the right colour
What colour bridal lingerie you buy is very much conditional on the colour and material of your wedding gown.  White underwear is not always a great choice, even under a classic white gown, because it can often shine through.  Picking off-white, ivory or flesh coloured lingerie can stop your beautiful gown from being ruined by glaring lingerie.
Choosing a material
Before you think about the material for your bridal lingerie think about the likely temperature on your wedding day.  If you're getting married mid-summer synthetic fabrics like nylon should be avoided and you will want to pick cotton or possibly silk. Bustiers or corsets are currently very fashionable bridal lingerie as they can give shape to your waist and bust, and they are especially popular in satin or tapestry fabrics.
Prioritising comfort or sex appeal?
When you imagine bridal lingerie you might be more bothered about the groom's reaction when you make it back to the hotel than with how comfortable it is to wear.  Don't forget you'll need to wear it all day, so make comfort an equal priority. You can always purchase a sexy nightdress to slip into when you and your new husband arrive at the honeymoon suite.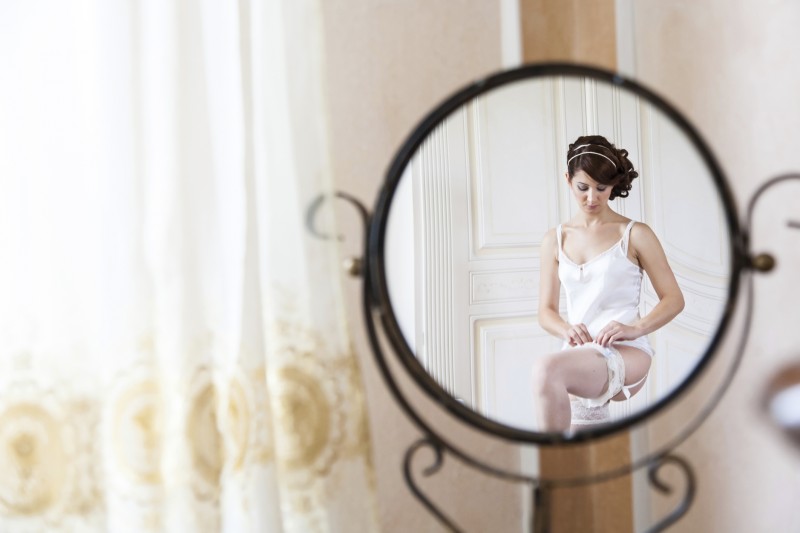 Feel great in your lingerie
When you're shopping for bridal lingerie go with something that makes you feel good.  There's no greater boost to your self-confidence as you walk down the aisle than knowing you are sporting fabulous lingerie that nobody else is aware of.  Select underwear that suits your personality and body shape, and don't squeeze into something that will make you uneasy just because you have a set idea of what bridal lingerie should look like.
Bridal lingerie shopping
If possible you should purchase your wedding lingerie in time to take it to your dress fitting so you can ensure it works with the dress.  Because you will be wearing your lingerie to the fitting you might want to avoid anything too raunchy to avoid embarrassing the dress maker.
It's worth visiting a specialist retailer and getting a professional fitting for your bridal lingerie. A large proportion of women regularly wear the wrong size bra and getting a professional fitting so you have the right size can improve your whole posture and body shape as well as the look of your gown.
You will need to keep in mind the style of your gown when picking your underwear and an expert should be able to help you with this. If you are wearing a strapless or backless gown you will need to find a supportive bra that sits under the gown, particularly if you are well endowed. Even a gown with sleeves may require a particular shape of bra to be sure that the straps do not show and ruin the look of the gown.
Use Easy Weddings to connect with your dream wedding suppliers.
Browse the directory and start planning today!