He Says
If there is one thing I am sure of, it is – you can't please everyone. So just aim to please yourself. Wow that sounds pretty selfish.
We have thrown a few ideas around of a gift for all of our guests, the one key criteria being that it has to be "us".  Our flavour, our style and our sense of humour.
We are no-where near choosing what it will be, it will definitely be a surprise, but I can confirm it will not be a whoopie cushion (although that would be pretty funny). The drawing board is getting a work-out.
She Says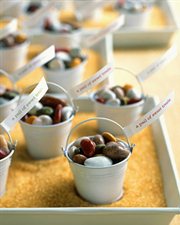 Wedding Favours… That old chestnut! Or should I say, that old sugared almond…?
We want to do something that represents our style and that is original, but I'm not sure if that's even possible! Whether you've seen it at a wedding or heard about it from a friend, it seems we know about it all… From sugared almonds to personalised rock candy to little gingerbread bride and grooms, they are all cute ideas, but as I said, I feel like it's all been done, and done well!
So how do you be original without it costing a fortune… Or… Is it one tradition we simply just skip???