Getting married abroad these days has less to do with eloping to avoid family disapproval and far more to do with affordability, the allure of sandy beaches, and the convenience destination wedding packages. Here are some great reasons to have a destination wedding: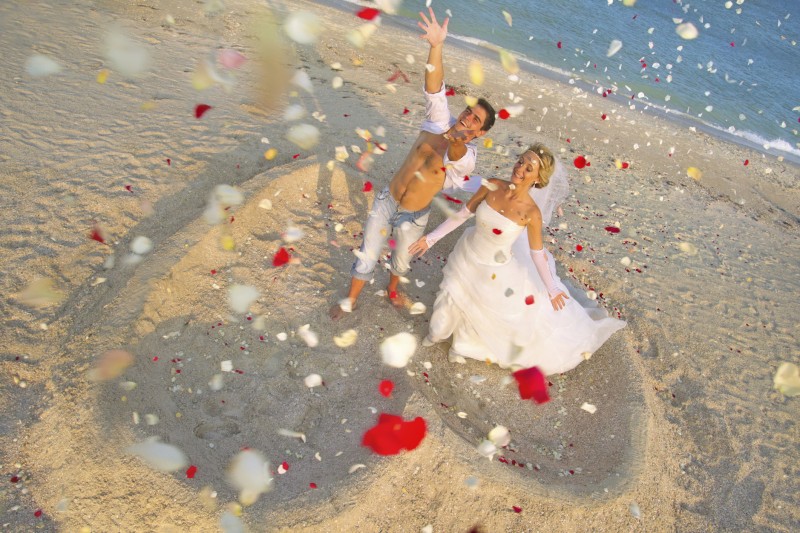 Intimacy
Instead of hundreds of guests you feel you just have to invite whether you want to or not, you can limit the invitations to closest family and friends. Some couples choose to marry with nobody else around except the registrar and two witnesses.
Affordability
The difference in cost between getting married abroad with eight guests and a traditional reception with two hundred guests is huge, and it usually includes the cost of the honeymoon as well.
Simplicity
There is much less planning involved in a destination wedding as there will be fewer guests. Most couples decide to marry in a resort that has experience in weddings and will make all the necessary arrangements on your behalf.
Flexibility
You don't have to follow all the usual wedding rituals, the white dress, the receiving line, and the cake cutting. You set the rules and you can choose exactly what you want for your dream wedding. You can get married in your swimming costume if that's what you prefer.
Relaxation
Hassle free weddings are always appealing, and having a destination wedding can avoid the stresses and tension of getting your two families together in one location, which is almost guaranteed to result in disagreements and conflict.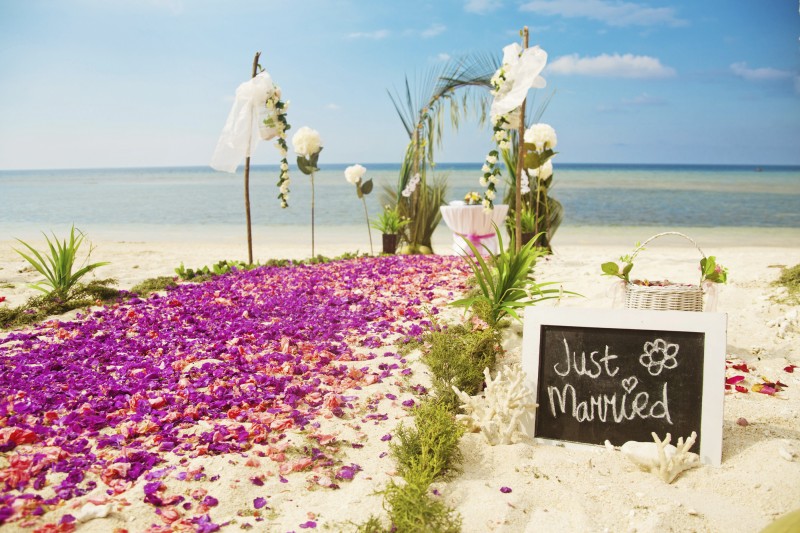 Tips on getting married abroad
Although getting married abroad usually requires less planning than a traditional ceremony and reception, there are still a few things to consider before you fly off to your dream destination:
Let your family and friends know where you are planning to marry before you invite them to be a part of your wedding party. That way they can politely decline if the trip is too expensive.
Check if a local wedding planner is included in your package, and if not book one so they can make most of the necessary arrangements for you.
Organise transport for your wedding party from the airport, and to the wedding venue if necessary. You can't expect guests to find their way around in another country.
A trip to your destination before the wedding itself is an excellent excuse for a holiday, and allows you to check out the venue, as well as local suppliers. Depending on the location you have chosen, this is not always possible.
Instead of wedding favours, welcome your guests with a basket of goodies in their hotel rooms, including sun lotion, a guide to the location, and some local produce or souvenirs.
Think about the climate when you choose your wedding dress. Something plain and lightweight is often more comfortable for a sun drenched wedding than a fitted bridal gown.
Don't be offended if some of your guests turn down your invitation. The costs involved, as well as the amount of time they may have to take off work, are all legitimate reasons for not being there on your big day.
Once you have booked your destination wedding, just relax with close family and friends and enjoy yourself. Be prepared for events to run late, or not according to schedule, simply regard this as some of the great features of a destination wedding. If you have an exciting trip with great memories and come back as husband and wife, your destination wedding has been a success.
Use Easy Weddings to connect with your dream wedding suppliers.
Browse the directory and start planning today!