Choosing a buffet for your wedding instead having a meal served by waiters or waitresses is a great way to cut costs, while also allowing guests to choose what they want to eat. If you're catering for a lot of guests and you want to reduce your expense without compromising on quality, a wedding buffet is probably the way to go. Here are the answers to some common wedding buffet dilemmas: .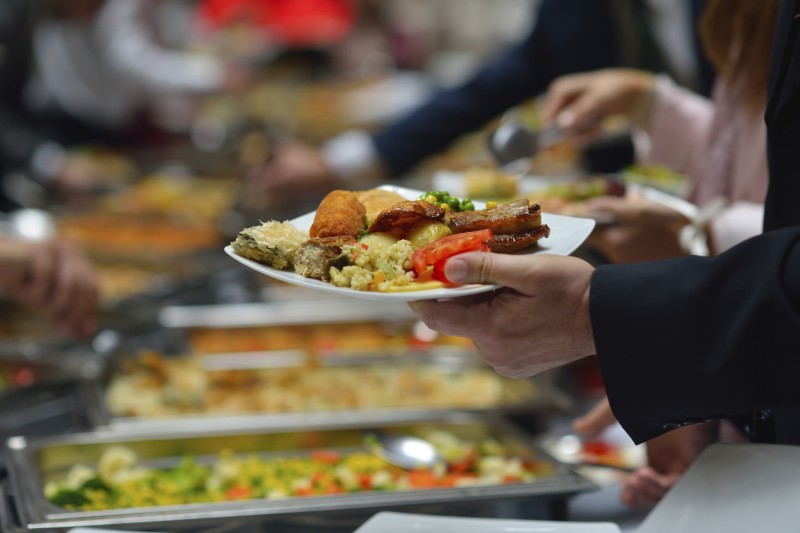 One you have agreed to have a buffet you may think the difficult decisions have been made, but there are still a few buffet dilemmas you might face.
Here are three common wedding buffet dilemmas:
Hot or cold?
Your decision on whether to choose a hot or cold wedding buffet will be influenced by the season in which you are tying the knot. A selection of cold meats and salads could work well in summer, though a number of hot dishes would be recommended should you be marrying in early spring, winter or late autumn.
The advantages of having a cold buffet is that it can be served whenever you are ready, affording you more flexibility over the timetable of your big day. A hot buffet means you will be more restricted with the food needing to be eaten as soon as it is presented.
Similarly, there is a need for efficiency when your guests are queuing in the buffet line, or those that are last in the line will receive lukewarm 'hot' dishes. You can get around this by ensuring you select foods that can be eaten both hot and cold, while also providing hot plates to increase the time the meals stay warm.
Self-service or staffed?
If you have decided to have a hot buffet you will need to decide whether you will have staff to serve the food to your guests or whether they will be helping themselves. A staffed buffet is more formal than a self-service buffet, allowing you to exercise more control over portion sizes, and avoiding guests covering their hired suits and dresses in food debris as they serve.
The one drawback to having staff oversee your buffet is that it will be more expensive than a non-staffed buffet, with extra wages needing to be paid. A staffed buffet is seen as a half measure between having full waiter service and a self-service buffet.

Finger or fork?
While the style of these buffet types are self-evident from their names, one eaten with the fingers with the other eaten with a knife and fork, it is not always easy to know which will best suit your occasion.
A fork buffet includes hot dishes and sauces with an array of vegetables and side dishes. Here your guests will help themselves before returning to their places to eat. Guests should only fill their plates a couple of times, and they will eat over a relatively short period of time. As it is easier to squeeze such meals between the roster of speeches and cake cutting, the fork buffet is best suited to a day-time reception.
A finger buffet is a less formal option than a fork buffet, with guests having the choice to eat while sitting down as normal or as they walk about and mingle. Guests will tend to refill their plates numerous times over a longer period of time and a finger buffet is, consequentially, best suited to the evening reception.
Use Easy Weddings to connect with your dream wedding suppliers.
Browse the directory and start planning today!