Flower girl dresses are the perfect excuse to indulge that inner princess and go mad with pretty pink ribbons, frills, and satin rosebuds. Check out these tips on flower girl dresses as well as some options for dressing your flower girl.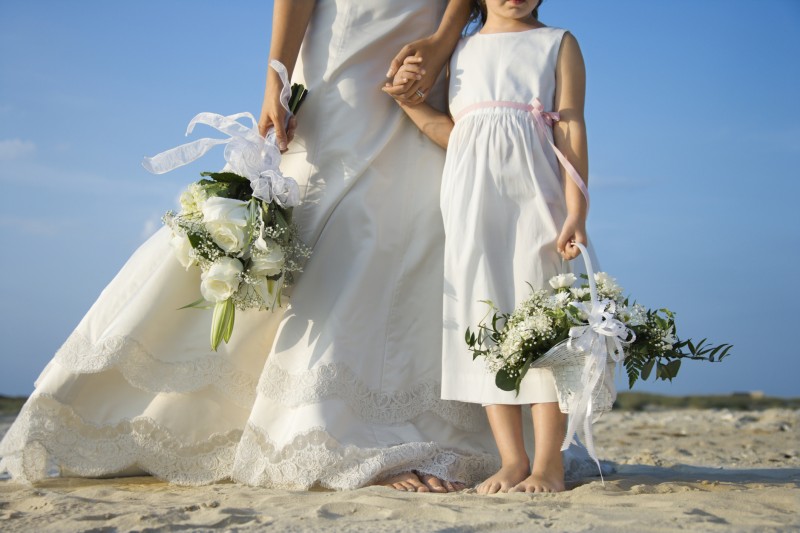 Choosing flower girl dresses
Before you start dreaming about the look of your flower girl dresses, here are some practical things you must keep in mind:
Don't overspend on your flower girl's dress as it's likely to get damaged or grubby on the wedding day. If you want her to be able to hold onto it as a souvenir of the wedding, make sure it can be dry cleaned together with your wedding dress.
Ensure your flower girl has a pretty cardigan or shawl that goes well with her dress to wear if it gets cold. Her dad's dinner jacket really won't provide the perfect match to her gorgeous dress – although it will make a super cute wedding photo!
Full length dresses are beautiful but if your flower girl isn't used to wearing them she may end up tripping down the aisle instead. Consider a knee-length or tea-length dress or simply get the hem turned up a little.
Test the fabric you have chosen to guarantee it won't be itchy, or irritating to the skin, and that it's not too heavy for your flower girl to wear for the whole wedding. You want her to be as comfortable as possible.
Ask your flower girl's parents to ensure she is wearing white underwear on the day. Her blue teddy bear knickers may well be her favourite but you don't want them to take centre stage in your wedding pictures. If you want her to wear tights it's essential to have a spare pair to hand in case of ladders or snags.
Look for flower girl shoes that are flat and simple so she feels comfortable. Slip on pumps or white sandals are a fantastic pick. Make sure she wears them around the house in the week prior to the wedding to break them in.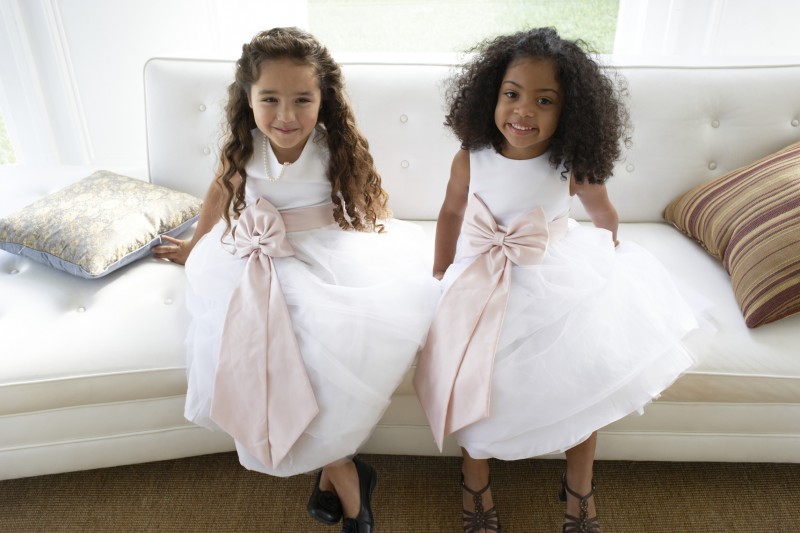 Here are three options for dressing your flower girl:
Creating a unified look with accessories
You might have multiple friends with young daughters that you want to have as flower girls, but you don't have the budget to purchase flower girl dresses for all of them. Ask their parents to dress them in dresses that look similar, perhaps basic white knee-length dresses and then finish their look with matching accessories like a coloured sash and floral head band.
One of the bridesmaids
One fantastic look is to dress your flower girl in the same style gown as the bridesmaids, but in a lighter or darker shade of their dress colour. A number designers have flower girl dresses in smaller versions of the bridesmaids' dresses so you can get a co-ordinated wedding party look. Keep in mind that styles for grown up bridesmaids won't always suit young flower girls; for instance if your bridesmaids are wearing strapless dresses your flower girl might choose something similar but with added straps.
Just like the bride
A classic look for a flower girl is a miniature version of the bridal dress, without the stiff bodice and veil. Flower girls look very cute in white or ivory dresses that resemble the bride, perhaps with a coloured sash to complement the bridesmaids.
Use Easy Weddings to connect with your dream wedding suppliers.
Browse the directory and start planning today!