Wearing a tie is becoming more unusual in everyday life and casual dressing in offices starts to be the norm. Deciding on a wedding tie could therefore be a big decision, so here are some frequently asked wedding tie questions along with a glossary of wedding tie types.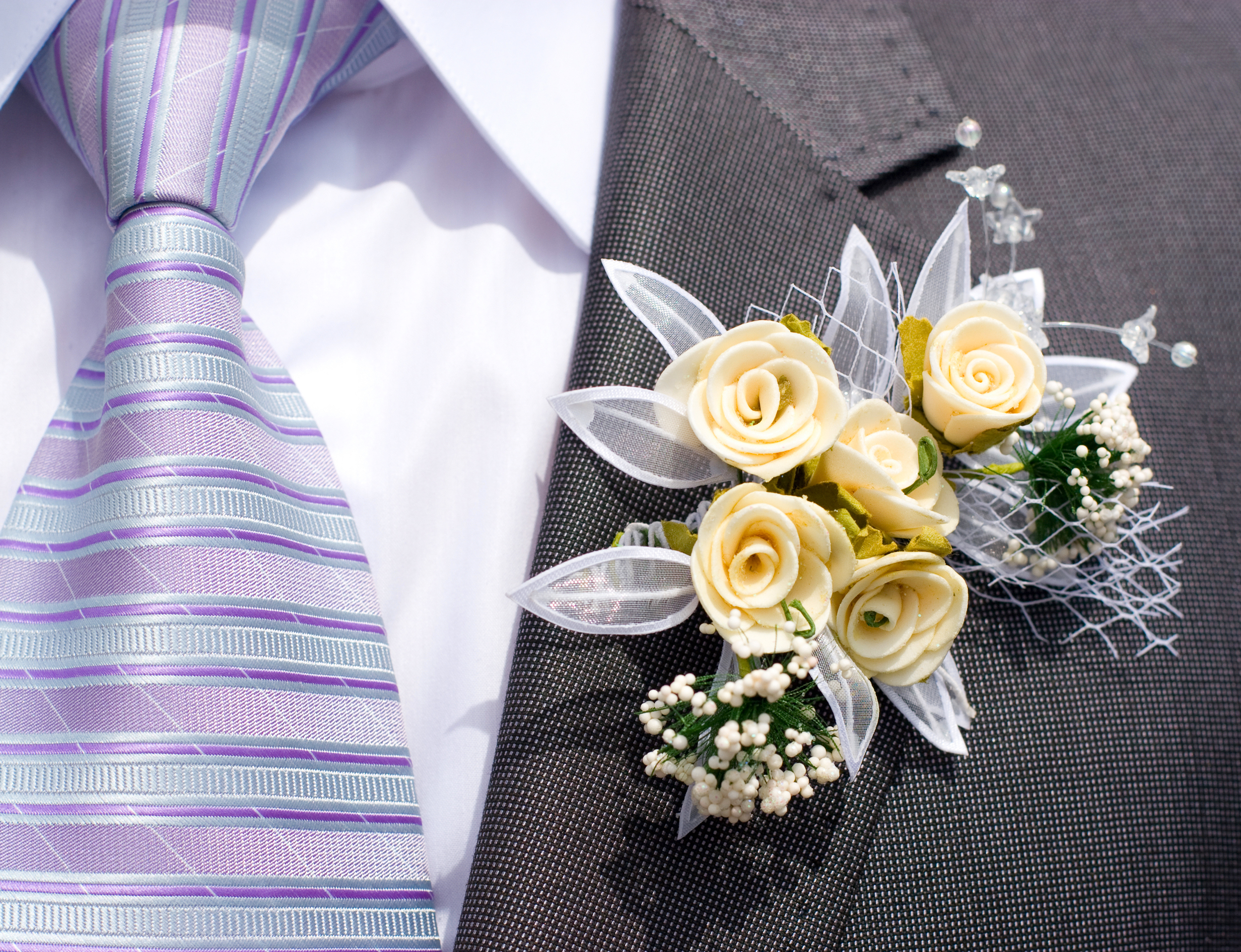 These are three most commonly asked questions about the wedding tie:
Must the groom's tie match the ushers?
The wedding tie is often the place where the groom can showcase his own personality, and while the ties should preferably be similar in style, they can definitely be different colours. Traditionally the groom would dress up in exactly the same outfit as the ushers, but as with most wedding etiquette, the rules have become more loosened.
Should the groom wear a self tie bow tie?
There is a kind of satisfaction to tying a bow tie, and an untied bow tie hanging loosely around the neck at the end of the night can look really sexy. That said clip on or ready tied bow ties can look as good as self-tied ones, and occasionally neater if the groom isn't good at tying one.
Is a black tie ok for a wedding?
If a black tie goes well with the groom's outfit then he should wear it; but try to ensure there is a little colour somewhere in his ensemble. Traditionally black neckties were only worn for funerals and mourning so weren't seen as very fitting choice for weddings. Nonetheless, these days the rules have become more relaxed, and any colour can be worn to any occasion.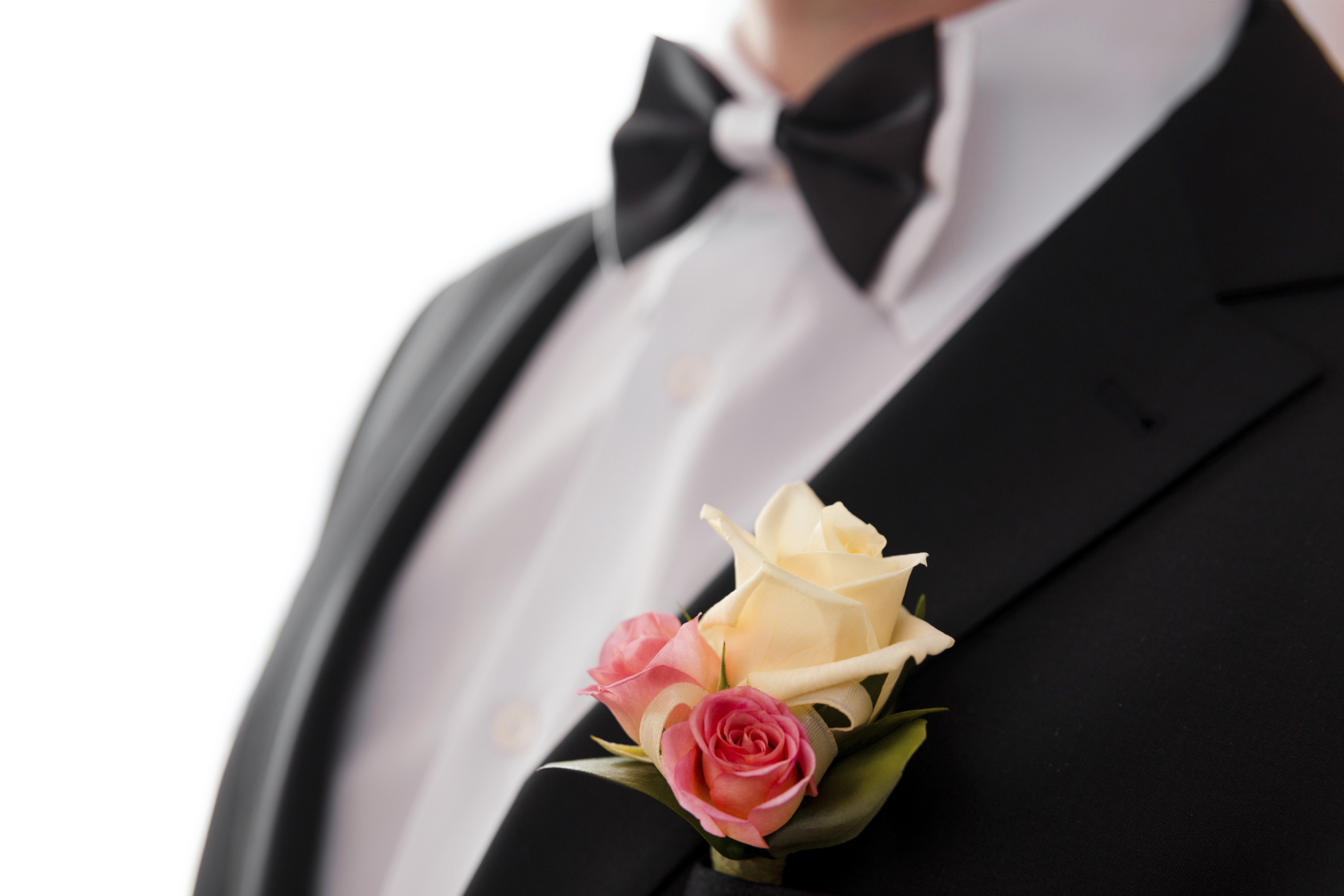 Here are some common styles of wedding tie:
Wedding tie 1: The necktie
A necktie is the long tie that a number of businessmen wear to work with an office style suit. It is the perfect choice for a less formal wedding, where the groom is dressed up in a lounge suit. It can still be formal enough for a wedding, but the groom may wish to look for something he wouldn't usually wear to work like a silver or gold tie.
Wedding tie 2: The classic bow tie
The bow tie is typically worn with a tuxedo and the common colour choice is black, even though bow ties are available in a variety of colours, fabrics and patterns. Black is usually thought to be a more formal option, so a coloured bow tie is a clever way to dress down a tuxedo. Many grooms opt to match their bow tie with the bridesmaids' gowns.  A bow tie is composed of a ribbon of fabric that ties around the collar symmetrically in a manner that leads the two opposite ends to form loops.
Wedding tie 3: The Ascot
The fabric of an Ascot is typically patterned and the tie is very wide in shape, being folded over and tightened with a stickpin or tie tack. Quite a few grooms enjoy the chance to dress up in a cravat or Ascot which definitely isn't an everyday tie. Commonly referred to as a cravat, the Ascot is a very formal tie which is typically worn with a cutaway jacket and grey striped trousers.
Wedding tie 4: The Euro tie
This is a long square bottomed tie that is tied at the neck and matched with a wing or spread collar shirt. The Euro tie is the ideal compromise for grooms seeking the formality and modernity of an Ascot style cravat, with a little less of the pageantry and ceremony. Similar to the Ascot it is best worn with a morning suit.