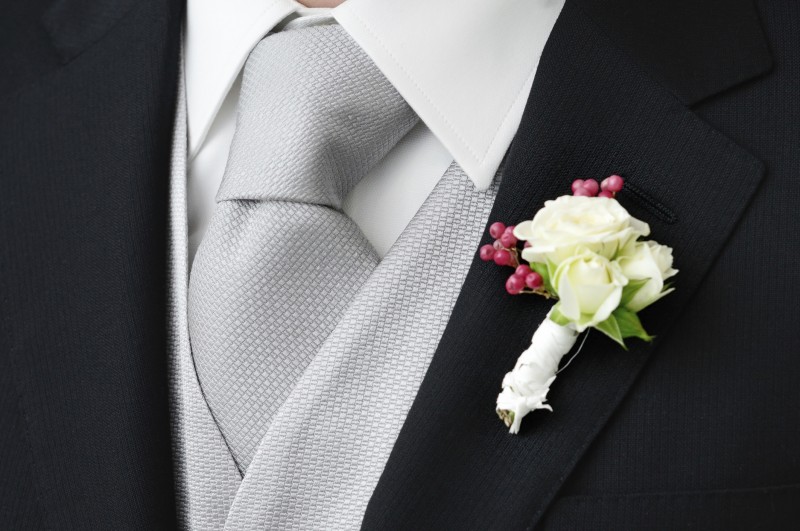 Most couples choose to hire the wedding suits for the groom and ushers so they can achieve a uniform look without spending a fortune on new clothes. Here are a few top tips on wedding suit hire if you're planning to hire your groom's suit.
Check details with the supplier
Make sure you ask the rental company for details of the hire. Find out if fittings and alterations are included in the rental price. Even though menswear tends to need fewer alterations than a bridal dress, the odd stitch here and there may be necessary to get a proper fit. Find out whether extras such as waistcoats or cummerbunds, and ties, or even wedding shoes, can be hired.
In addition you should check the policy on damaged or stained suits and confirm when suits need to be brought back to the rental company. Think about how ushers from out of town will get their suits. Does the supplier have a rental shop in the usher's neighbourhood or would they allow measurements taken by a local tailor?
Complement the groom's body shape
The traditional double breasted tuxedo fits great men with of slim build, but bulky or muscular grooms will most likely look better in a single breasted alternative. Tuxedo jackets come in a variety of lengths, but the shorter the groom, the shorter the jacket needs to be.
A cummerbund will draw attention to the waist, so heavier grooms should choose a slimming waistcoat instead. Similarly pleated shirts will provide bulk, so chunkier grooms should opt for plain fronted shirts. While tall men can look good in flat fronted trousers with little or no cuff, shorter grooms might want to go with pleated or tuxedo trousers.
Understand the formality of the wedding
Keep in mind that your male guests will pick the style from the groom when thinking about what to wear, so the more formal he is, the more formal will the guests be as well. The majority of weddings do lend themselves to certain amount of formality, and the groom might enjoy the chance to wear a morning suit, tuxedo, or other formal option for a change. For a casual wedding, the groom might not need a formal suit at all, but might be able to get away with smart trousers and an open collared shirt.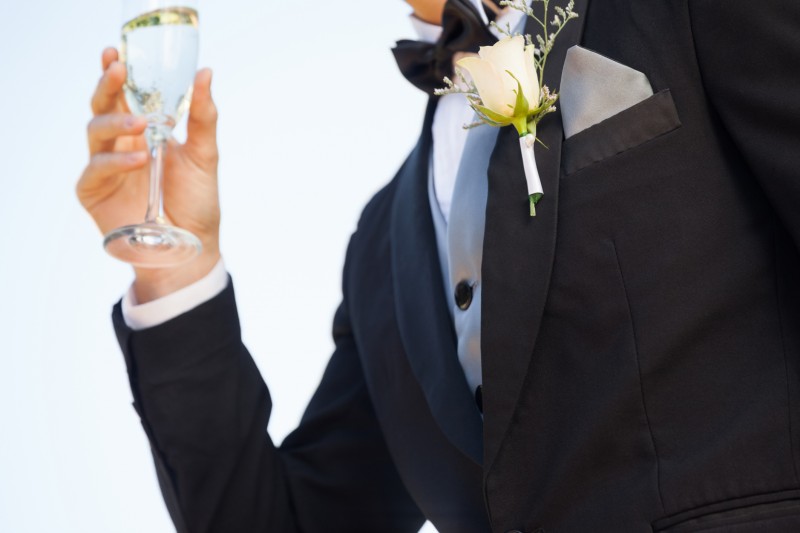 Match the suit to the time of day
A morning suit, typically in black or grey, with a wide tail at the back is often a great pick for a daytime wedding. Menswear etiquette orders that tuxedos and dinner suits should only be worn in the evening, thus, if you are organising a lunchtime or afternoon wedding, you should ideally find an appropriate alternative.
If you are decided on a tuxedo the rules can be bent a bit for weddings because quite a few of them start early in the day and keep going well into the evening. Maybe a white jacket and black tuxedo trousers could be a less formal choice to use during the day.
Stay away from extreme menswear trends
To avoid having to cringe each time you see your wedding photo on the sideboard, try to pick a suit style that is classic and timeless. Even though the groom might think he looks great in this season's latest colours or cuts, you may not agree when you look back at the pictures in twenty years' time.
Hire suits in plenty of time
Ensure you arrange fittings and collection dates while you are booking the suit rental. Arranging suit hire for your fiancé and his ushers, together with the other male members of the wedding party like the father of the bride, should be done six to eight months before the special day.
Use Easy Weddings to connect with your dream wedding suppliers.
Browse the directory and start planning today!