Royal weddings are hugely exciting especially in the UK. Us Brits love our royalty more than we love digestive biscuits and cups of tea. What makes having royalty so exciting in the UK, is that they're still such a strong ruling family and new additions are being added all the time.
We all fawned over William and Kate when they said 'I do'. And now, as the next exciting royal wedding between Harry and Meghan quickly approaches, we think it's time to look back at 100 years of royal wedding dresses. Because there is nothing more exciting than a royal wedding.
Let's start in the 1920s in the country we all know and love, the United Kingdom. Elizabeth who married Prince Albert, later to become King George VI, was wed in a perfectly elegant 1920s gown. It was very reminiscent of the era with a drop waist and straight silhouette. Made of a delicate silk crepe moire, this beautiful gown was embellished with silver embroidery and pearls. At the time, wearing green to one's wedding was considered bad luck. Yet, this didn't stop the plucky Elizabeth from adorning her dress with green tulle.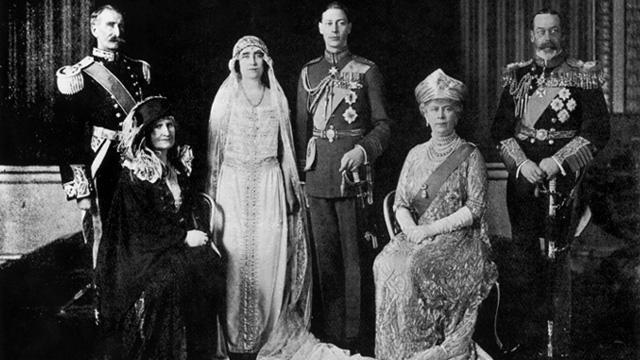 As the years went on after this treasured wedding, we saw wedding dresses begin to have more to them. They became bigger and more pronounced than the understated and elegant 1920s gown.
In 1956, the world watched in awe as Grace Kelly married Prince Rainier in Monaco. This iconic union saw movie star Grace Kelly give up her acting career to fulfil her role of Princess of Monaco. Grace's dress was made of Antique pearl-encrusted rose point with lace, silk and tulle accents. The silhouette saw a wide skirt, cinched in waist with long lace sleeves. This dress was designed by Helen Rose who was an MGM studio costume designer. This dress remains one of the most iconic wedding dresses of all time.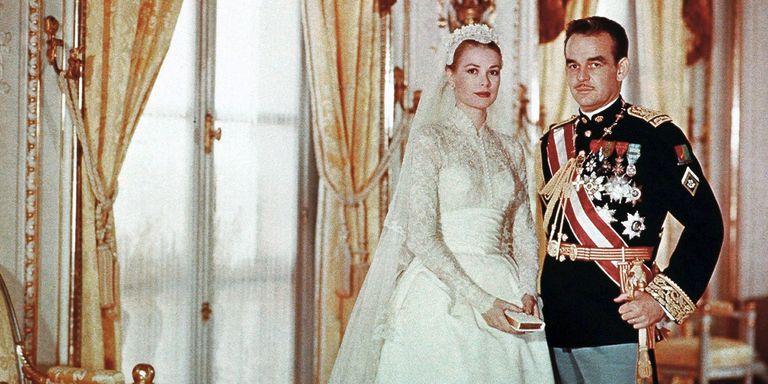 1966 saw the union of Princess Beatrix of the Netherlands and Claus von Amsberg. While this very beautiful dress seemed quite reminiscent of any bride marrying at that time, what made this dress so special was Beatrix's involvement in its production. At the time, it was unusual for royal brides to design or have much input into their own wedding dress designs. Yet Beatrix had many of the design ideas for this beautiful long-sleeved dress and even had the fabric specially commissioned and important from France.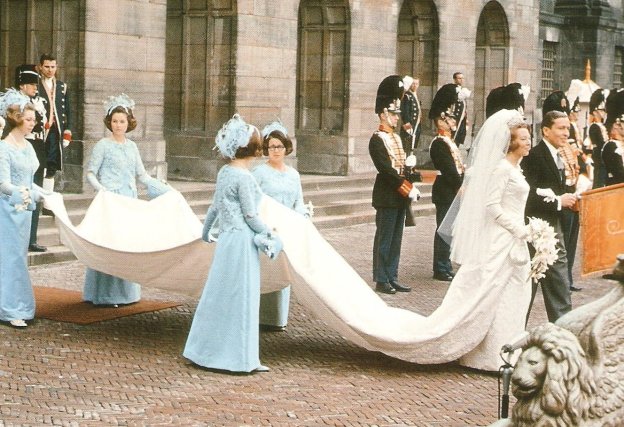 In 1978, we saw another wedding take place in Monaco. This time it was the daughter of Grace Kelly and Prince Rainier III, Caroline. Caroline married Phillipe in 1978 in a very lavish wedding ceremony which was famously attended by the likes of Frank Sinatra, Cary Grant and Ava Gardner. The dress was designed by Marc Bohan who at the time was working for Christian Dior, making this dress a true designer piece. This dress was in beautiful bohemian style. It had a sheer bodice and was embellished with lacework. What makes this dress so well-known is that the original design was leaked prior to the wedding. This meant that Dior-designer, Marc Bohan needed to make some las minute changes so the dress would be a surprise.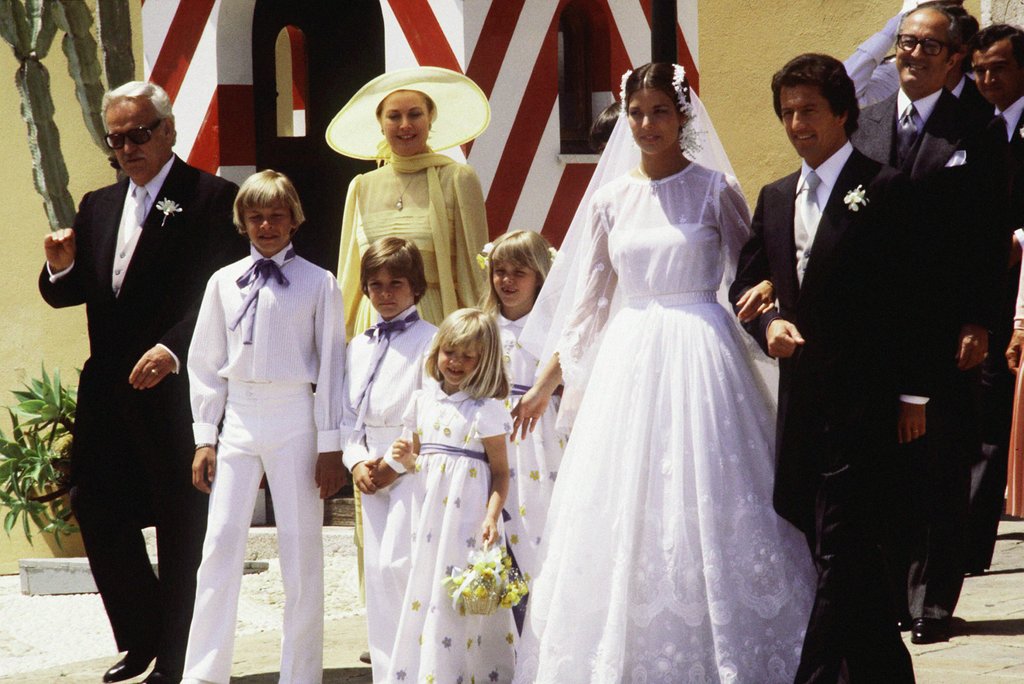 1981 saw one of the most well-known weddings and dresses the world has ever seen. We are of course talking about our beloved Princess Diana's wedding to Prince Charles. Diana's dress had a large puffed skirt that cinched in at the waist and puffed out again in elaborate sleeves. This statement dress was made of ivory silk taffeta and antique lace. What makes this dress so famous, other than the wearer, is how elaborate it was. 40 meters of fabric was used in the construction of this dress and it also had the longest train in history. Diana walked with 7.62 metres of train fabric behind her in a record-breaking feat. Apparently, the ride over to the wedding was a little squished.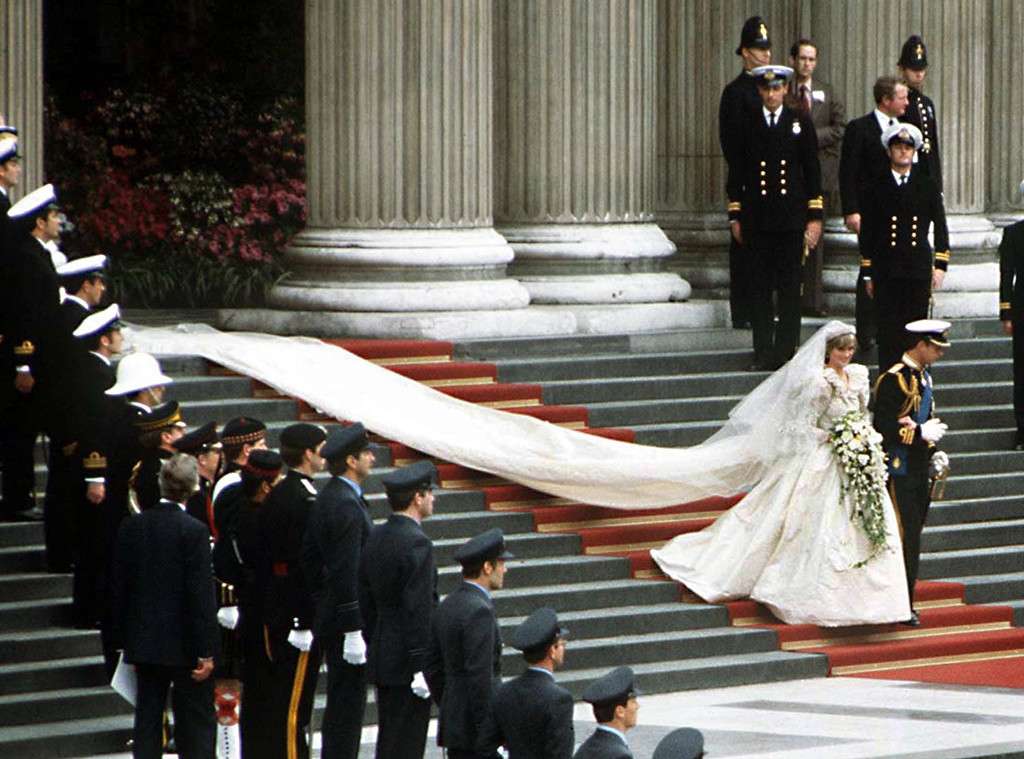 In 2002, we saw Princess Märtha Louise marry Ari Behn. Märtha Louise's dress took inspiration from a lily flower in shape. The gothic arches of the Nidaros Cathedral are also said to have influenced the design of this off-white satin gown. Embellished with a brooch made of diamonds, pearls and gold, Märtha Louise also wore a floor-length Swarovski crystal-embellished coat. What makes Märtha Louise's dress so unique was that the letters 'A' and 'M' were woven into the fabric of her dress to celebrate the love her and Ari had for each other.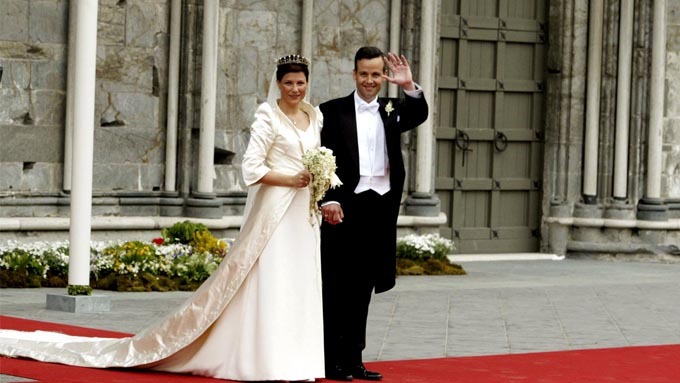 In 2004, Prince Friso married Mabel Wisse Smit in the Netherlands. You may have seen photos of Mabel's dress as it so just so unique and unusual. The material of the dress was duchesse satin and the style was a simple, floor-length a-line gown with long-sleeves. This dress was excessively embellished. Mabel's dress was adorned with a whopping 248 crepe georgette bows. The dress was created by a team of 4 who dedicated more than 600 hours creating this quirky number. With a 3.15-metre-long train to boot, Mabel was certainly not going to be missed on her wedding day.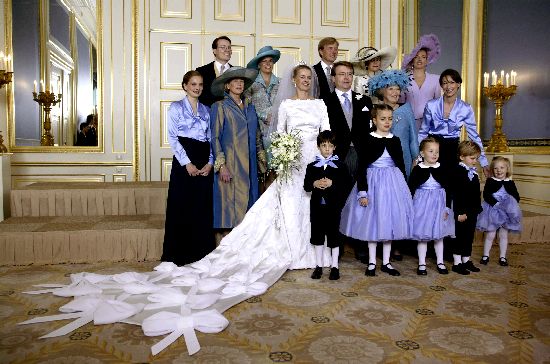 Getting into more recent years, in 2011, the world stopped to admire the wedding of Prince William and Catherine 'Kate' Middleton. Kate's dress was a beautifully elegant number, that is reminiscent of Grace Kelly's wedding dress in 1956. The dress was floor-length with long-sleeves and a princess style skirt. Made of satin gazar, silk tulle and organza, this lovely dress was then adorned with handmade English and French Chantilly lace. This dress was an Alexander McQueen original, designed by in-house designer Sarah Burton. This dress was a beautiful tribute to the UK. It featured the UK's floral emblems: the thistle, daffodil, shamrock and of course, the English rose.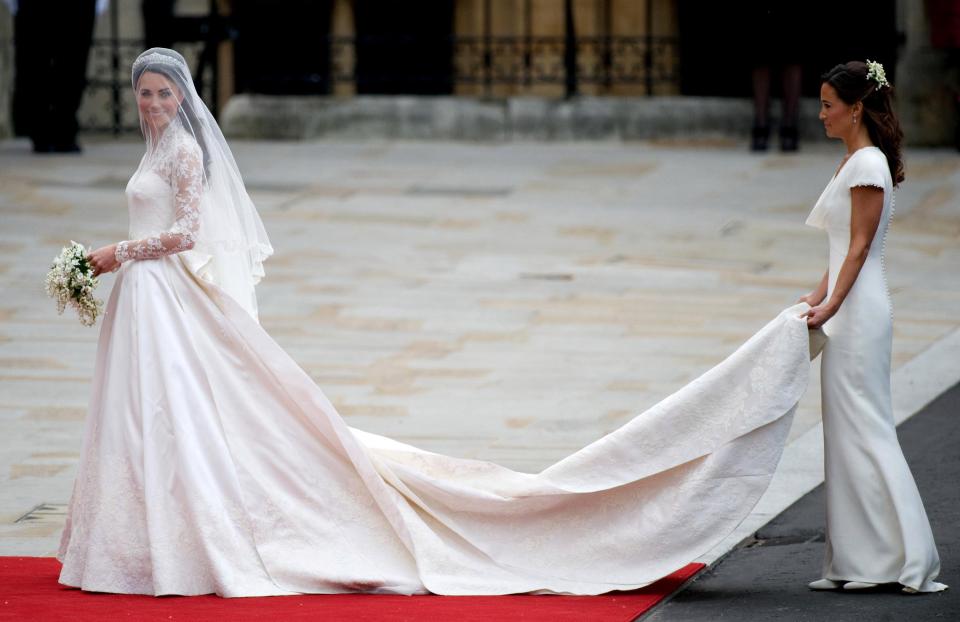 So there you have it, 100 years of royal weddings and so many fabulous wedding dresses to admire. There have been so many standout dresses from the world's royalty over the years, we just hope we can stand waiting for whatever wonderful creation Meghan Markle will surely walk down the aisle in.