Facebook, although not what it used to be in terms of organic reach, is still an important branding tool and two-way channel for communicating with wedding clients and prospects. To ensure you're maximising your engagement, here are 7 types of content that will get your followers jumping to respond with Facebook's new reactions feature.
1. Quotes
Romantic and funny quotes relating to weddings, love and relationships are relevant, entertaining and share-worthy – a winning combination for any social media platform. Brainy Quotes and Good Reads are great resources for finding quotes and Canva's free social media templates are useful for creating your own copyright-free images. Just remember to keep quotes pro-marriage and upbeat, and avoid any one-liners about marriage being the tomb of love… Casanova  was clearly delusional!
2. Wedding planning questions
People want to be heard and feel part of a community, so give them an opportunity to participate by offering feedback and advice through sharing their own personal experiences. Example questions could include…
"Using friends as wedding vendors: reliable resources or risky business?" 
"What criteria did you use to choose your bridal party…
while keeping close friendships in tact?"
"How did you and your partner settle a guest list dispute?"
"Catering to wedding guest dietary requirements and preferences…
Where do you draw the line?"
Question formats could also include TRUE or FALSE and multiple choice, with the option to answer your own questions by adding a link to one of your relevant blog posts.
Think about questions that could help guide your marketing, blogging strategy or product offerings; this free market research, while still fun for your audience, can provide insight into the type of content you should be creating more of, or a product or service you could start offering that would add value to you customers.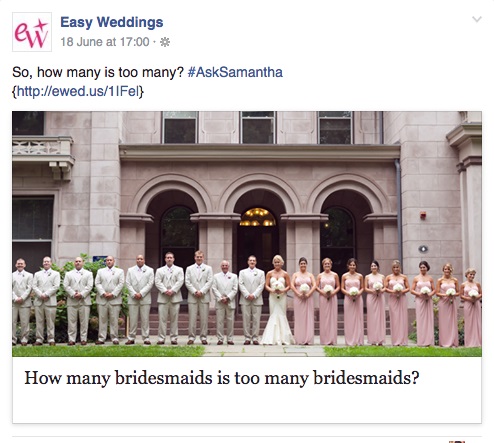 3. Trivia questions
Hollywood, fashion, food and romance trivia are light-hearted ways to engage your Facebook fans that are guaranteed to inspire a response. Using a hashtag like #TriviaTuesdays can also add structure to your social media strategy so you know exactly what type of post to schedule each week for this day. Some example posts are…
"Which Hollywood celebrity couple are celebrating their 50th wedding anniversary today?"
"Which award-winning French designer released a new bridal collection this week?"
"Which iconic wedding movie was released this day in 2001?"
4. Polls
Creating your own poll is easy with Facebook's official polling app. It allows you to build fully customisable forms using images and videos with no programming skills. Plans start at $8p/mth and you can create and publish a poll in as little as five minutes, then view the results in an easy to understand dashboard, or by exporting to excel. Question suggestions include…
"How many bridesmaids are you having: 1, 2, 3, 4, 5, or more than 5?"
"Which destination honeymoon do you rate the most: Bahamas, Thailand, Africa or France?"
"Which type of bouquet do you rate the most: paper, floral, feathers,
broaches or succulents?"
"If you had to give up one thing to save for your big day, what would it be: coffee, gym membership, chocolate, alcohol, pay TV, other?"
You can also easily create a poll within a regular Facebook post for free (see below) without the need for any polling software or apps. Remember, think about the types of information you could ask to find out more about your audience that will help you provide additional value and potentially increase your revenue.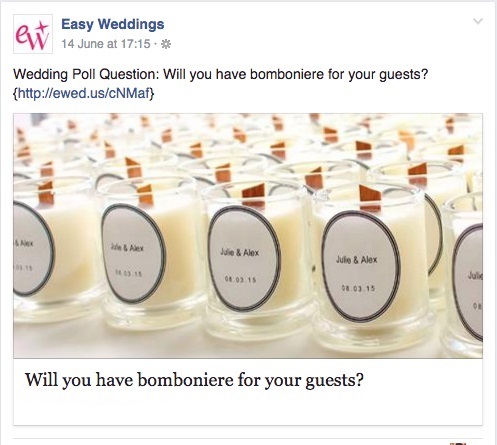 5. Videos
Time-lapse videos are a huge hit, giving people the whole picture in a quick to consume, summarised format. You don't even have to be a professional photographer – have a play with the Time-lapse feature on your iPhone under the Camera icon.
Time-lapse can also be used for tutorials; hair and makeup videos on how to create smokey eye effects; catering tutorials on how to create your own DIY edible food bowls; floristry tutorials on how to make your own native bouquets; or the process involved with creating an ice sculpture.
Video testimonials are also great for engaging Facebook visitors, as prospective customers want to hear the real weddings stories from those who've used your products or services before.
6. Before & afters
Before and after images show prospective clients real world examples of your work, which can be worth so much more than a thousand words. Hair and makeup before & afters are particularly engaging and likely to inspire a tonne of compliments, along with questions around which products you used and how they can recreate the look themselves – an opportunity for you to respond with an offer or invitation to trial your services.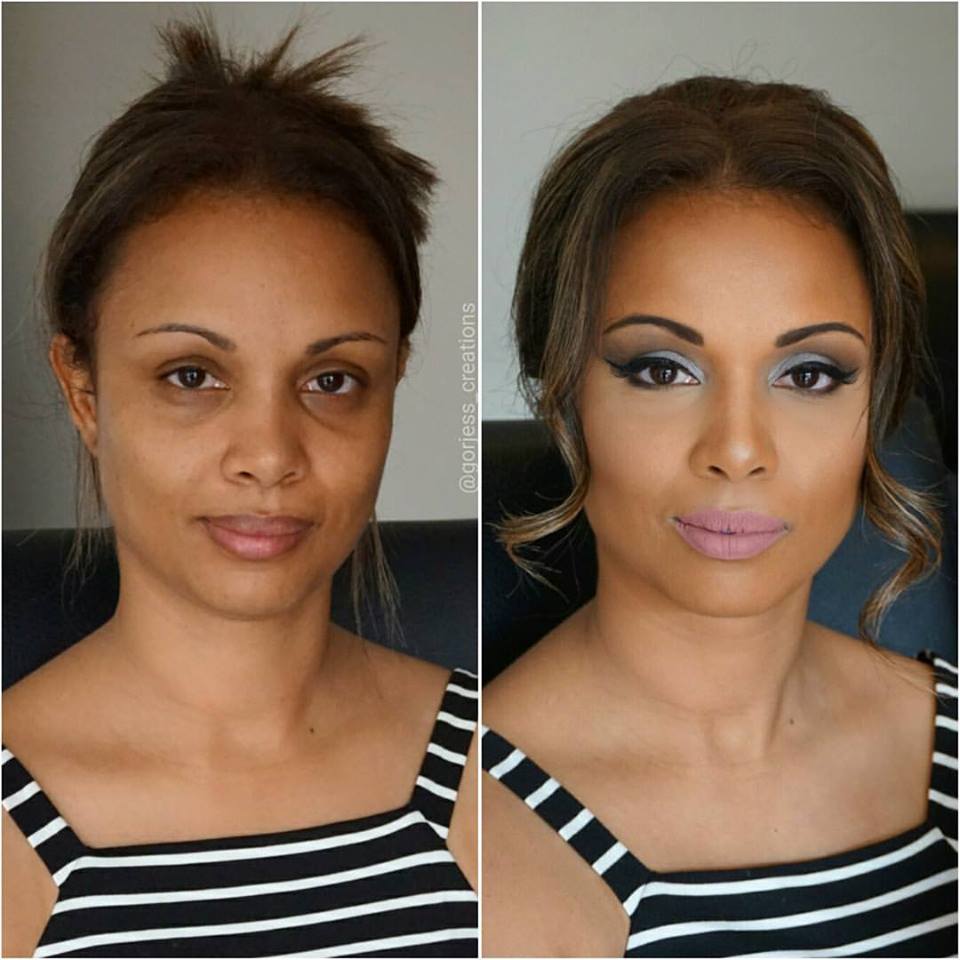 7. Fill the blanks
Asking people to finish a sentence by filling the blanks can be provoke some entertaining responses….
"If somebody objects to my marriage when the celebrant asks…
I'm going to________________________"
"Whoa! I have ______ days left until the big day!"
"If I could have my wedding day all over again, I would change____________"
"If I could have any celebrity (dead or alive) sing at my wedding, it would be_____________"
In the clever example below, Disney has used an image to ask a fill the bank question, rather than status update text. They have cleverly included their own logo in the content of the question with a bright blue, eye-catching background to attract the attention of scrollers by. How could you create your own version of this post?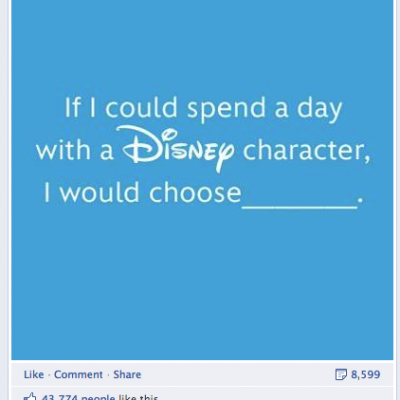 What works best for your business? Is there a type of post you find your audience responds to most? We'd love to hear about it – let us know in the comments! For more tips on optimising your Facebook Page and engagement, check out these five Facebook features every small business needs to know.