Looking for something slightly different as an engagement ring? Maybe another style of ring altogether, away from the classic halo and solitaire styles would suit you or your partner? Then take a look at these amazing rough and raw diamond engagement rings: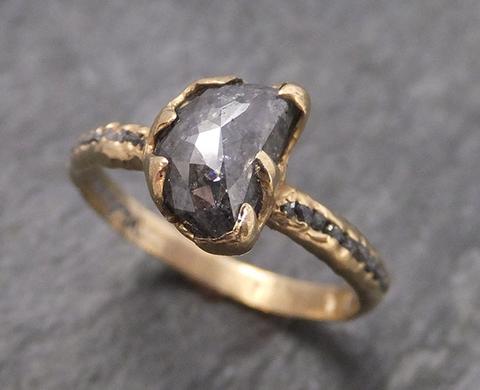 This gorgeous salt and pepper diamond is framed by an almost organic looking 14k yellow gold band. The raw diamond is framed by smaller diamonds along the band in a similar grey tone. Many would call this diamond a "rough" cut diamond.  A rough cut diamond is a diamond as it was found in nature and is mined just like other diamonds- but not cut and polished like most diamonds that you see as the feature on engagement rings.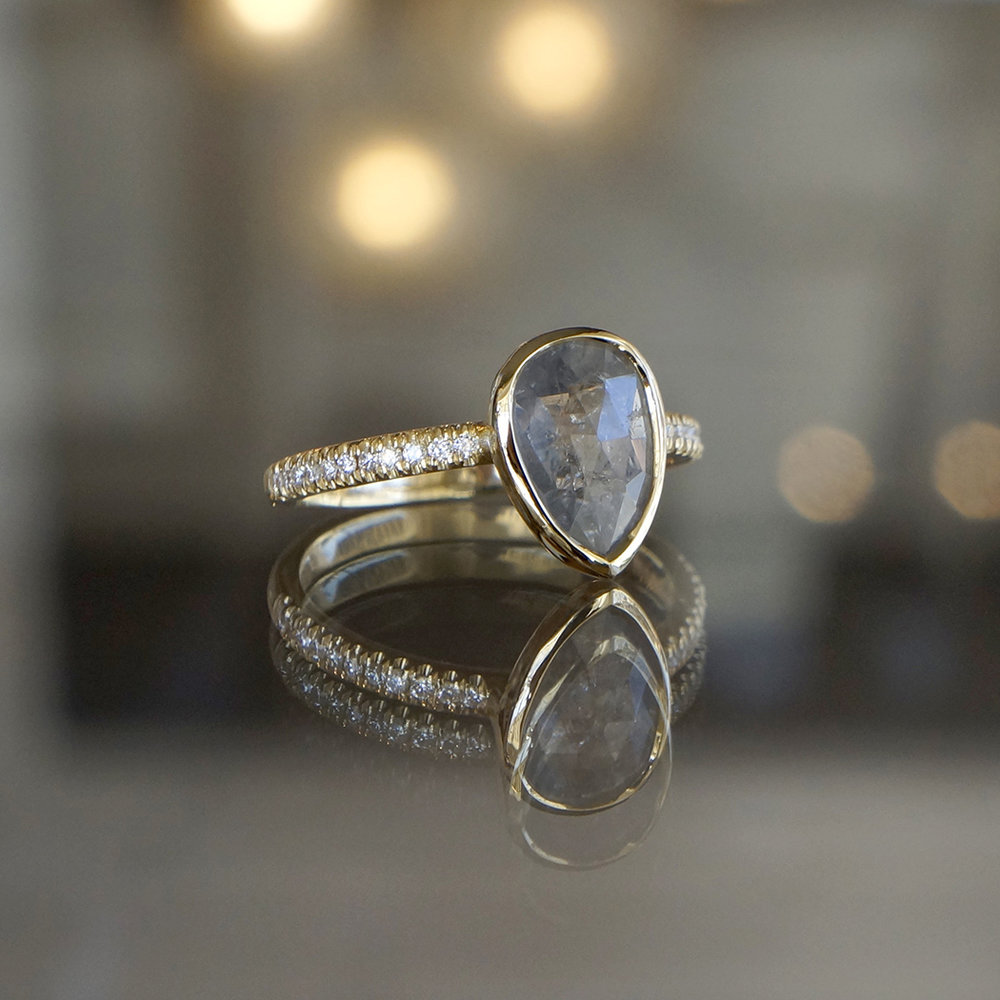 The gorgeous oval shaped rough diamond ring is framed by round cut diamonds through the band and set in a bezel cut setting.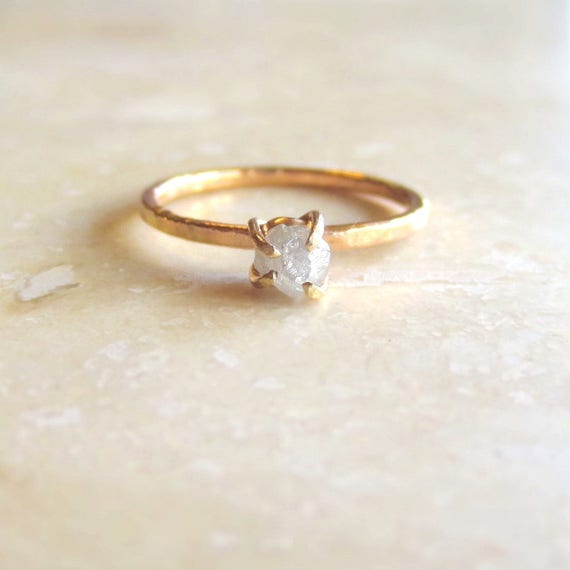 This simple recycled gold band features a bohemian style uncut diamond in colours varying from off-white to gray. The ring is available in three diamond sizes and in white gold, rose gold or yellow gold. You can also personalise the finish to be shiny hammered, matte texture or shiny and smooth, depending on your preference.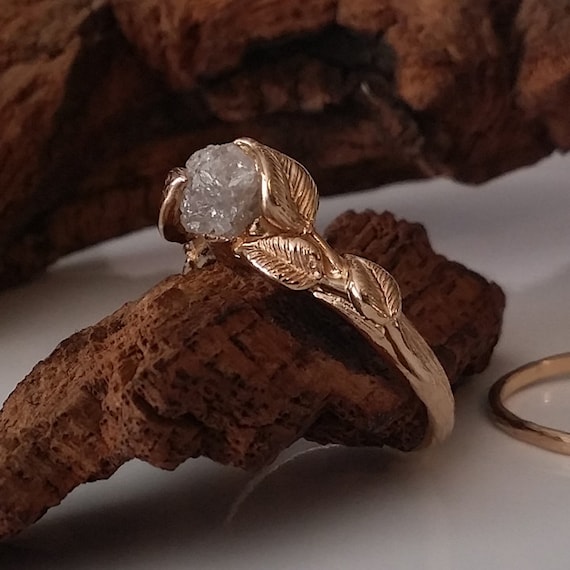 Who says that raw diamond engagement rings have to be on a plain or simple band? This gorgeous golden leaf design shows off the raw diamond perfectly. Each leaf is individually hand sculpted!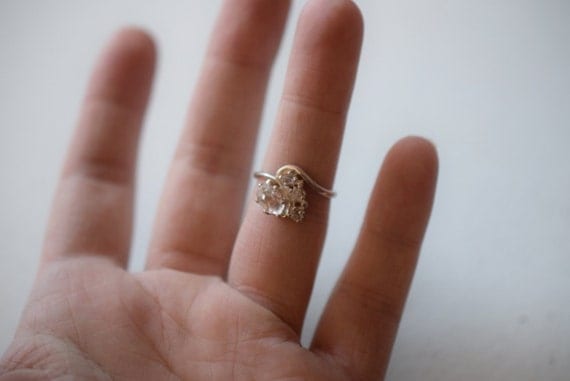 A raw diamond engagement ring doesn't have to be a solitaire style, either! This unique ring is set with four natural stones, "fresh from the earth" and set in solid sterling silver.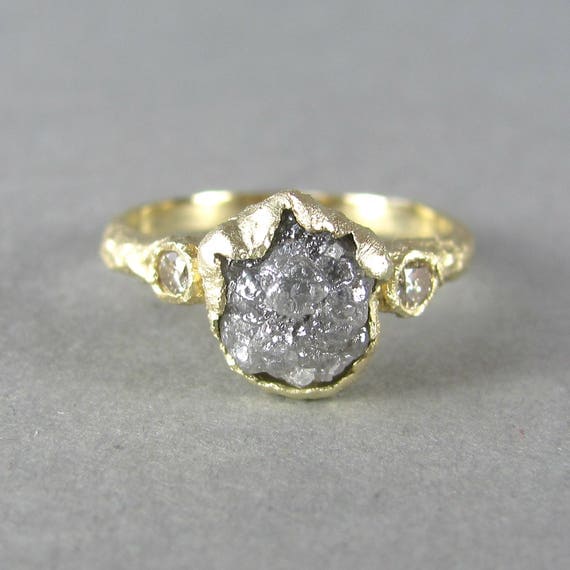 This elegant gold and gray diamond trilogy ring is another gorgeous example of a raw diamond engagement ring. It features two champagne diamonds on either side of the huge 2.5ct gray uncut diamond.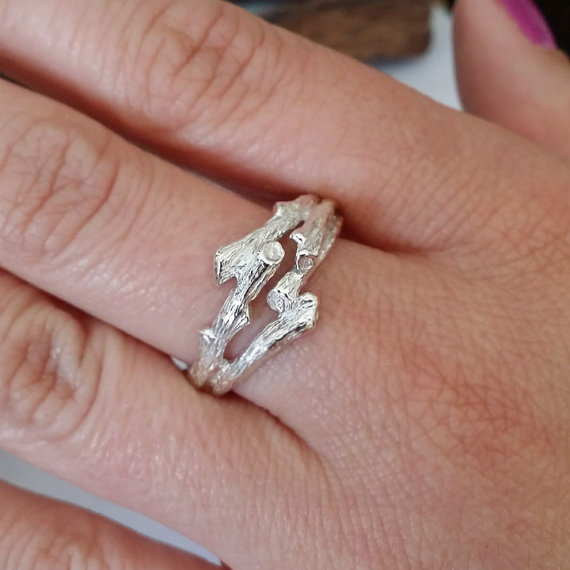 Raw diamond engagement rings don't have to be particularly feminine either! This ring could suit any gender.
Still want to see more engagement ring and wedding ring options? Take a look at jewellers here.