Now that you're engaged, you're going to need to find that amazing dress. The dress that makes you feel like a million pounds. The dress you'll become someone's wife in. Buying a wedding dress is an experience that (usually) only comes around once in a lifetime so make sure you enjoy the process and make the most of it. If you're not sure where to start or you're feeling a bit overwhelmed, don't fret. We're here to help. Here are our essential tips for wedding dress shopping.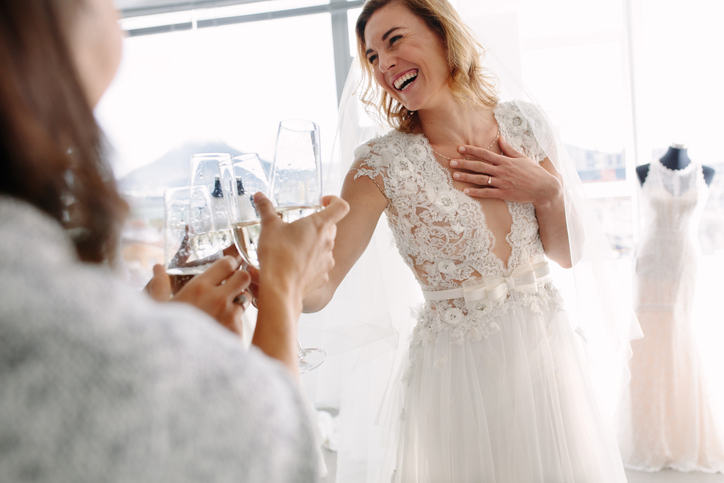 Know your look
Throughout your life you've likely worn many dressed or skirts. You'll have a good idea about what suits your body and what doesn't. And you'll also have an idea about what you feel comfortable wearing. If you are someone who loves their waist, but hates their hips, then a 1950s style cinched in at the waist style dress will be perfect for you. If you have a curvy shape that you are proud to show off, then consider a mermaid style dress. Now that you're beginning this process, start to think about what you like your body in and what works for you.
Do it early
Many brides start looking for their wedding dresses at least 6 months in advance. This is simply because the process of finding your perfect dress is going to be a lengthy one. You'll be incredibly lucky if you find your wedding dress on your first visit to a dress shop so keep this in mind. You'll also want lots of time for any alterations to be made so it fits you like a glove. The other thing to consider is that some wedding dress shops that are more boutique only do fittings by appointment. If you need appointments to shop, then starting early is definitely wise.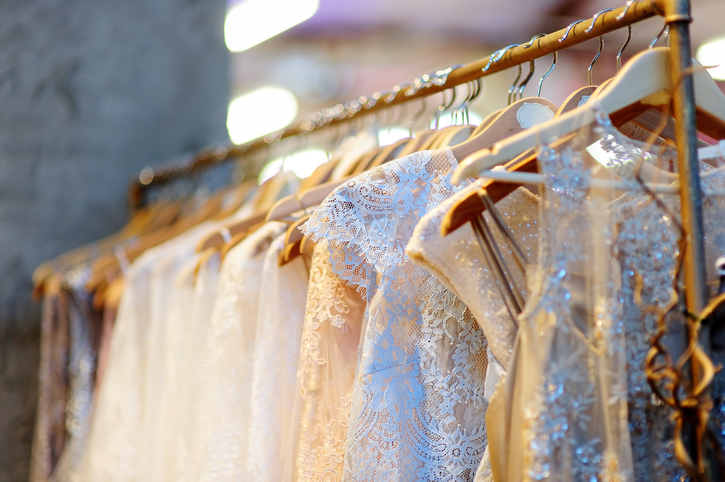 Set a budget
This may be one of the hardest tips to stick to if you're someone who likes to splurge, but it's imperative. Having a budget is essential. It'll allow you to have a game plan when you shop. If the shop assistant is bringing you dresses to try on, then ask them to only bring ones that are within your price range. It's very important that you don't try on dresses that are outside your budget otherwise your wedding may become a big source of financial stress which is something you don't want.
Shop on a weekday
Consider shopping for your dress on weekdays rather than weekends. Weekend shopping in a wedding dress shop can be intense business so if you're not that into crowds then take the day off and go within the week. A day off work will be worth it for having the shops practically empty. This goes for boutique too. Booking your fitting appointments on weekdays is definitely the best option.
Ask for opinions, but not too many
Obviously you're going to ask for opinions from your nearest and dearest. Your bridesmaids and your mum are likely going to come along for the dress shopping ride. But your aunt Bertha and your cousin Mary don't need to see the dress before your big day, do they? The problem with asking too many opinions is that sometimes you don't get the answers you're looking for. You might love a dress that you've got on but then someone makes a comment that makes you doubt the way you look in it. Or you might just get really overwhelmed by too many people being there and offering their thoughts. Keep your group small and you'll be much happier.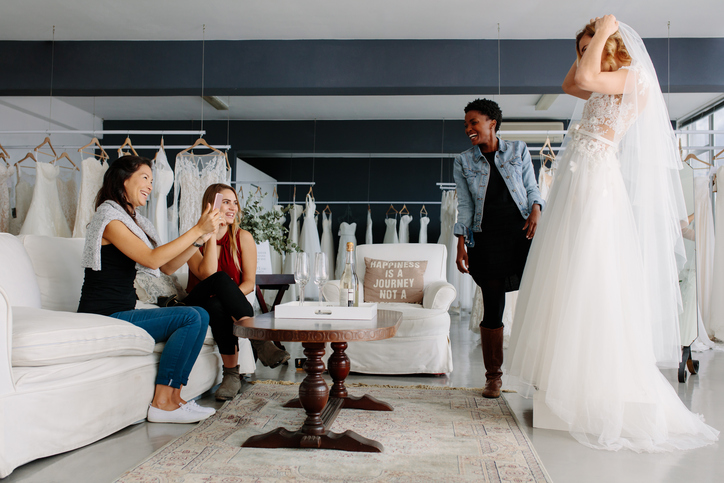 Consider colour
If you're not a white dress kind of girl, consider opting for something with a little colour. You might go for something that's a rose pink or go with something of champagne tones. You could also consider something a little more vibrant like a mauve, sage green or even orange dress. Keep your mind open as you might be surprised at how much a beautiful colour suits you over the classic white.
Personality is important
Everyone has a unique personality. This comes out in everything we do in life and so picking a wedding dress that reflects your personality is important. If you're super artistic, you're hardly going to wear a white princess style dress. You're much more likely to buy something bespoke, something colourful or vintage. Choose something that says you.
Let the professionals help
Seeing as you've probably never done this before, let the bridal shop staff guide you to find your perfect dress. They have dressed thousands of people before you and they'll definitely have an idea of what will suit. Just go with the flow and see what happens. Click here to browse wedding dress boutiques near you.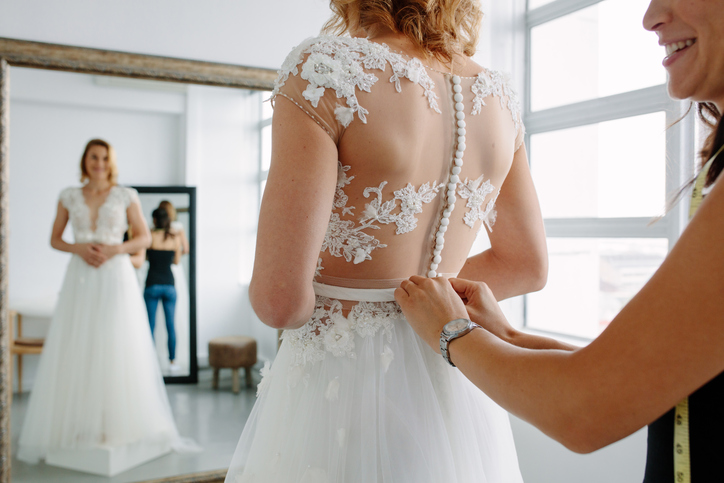 Shop smart
If you happen to get engaged right when the sale season is starting, then begin looking for dresses early. You might end up grabbing a fabulous bargain!
Bring water and snacks
I don't know about you ladies, but I often suffer from a condition called hangriness (hunger + anger). If this is also an ailment you tend you get, then bring water and snacks with you when you're trying on dresses. You'll be shopping for a good few hours so come prepared.
Take photos
Ask before you do this, but if you're allowed then definitely take photos of you in the dresses. You'll likely try on quite a number of them so they may start to converge into one huge white cloud of tulle in your mind if you don't take a visual souvenir.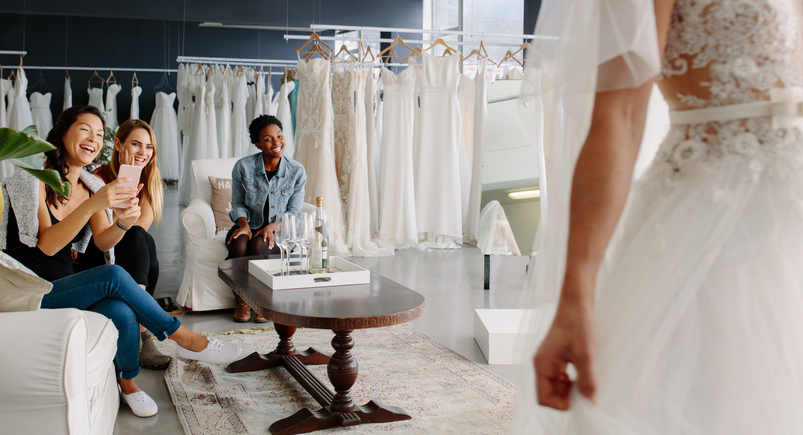 Browse online
If you're not much of a shopper, you might prefer to browse at online wedding dress shops. This will eliminate the stress from visiting a physical store and you may find some bargains. Shopping for a vintage or second hand dress is also great to do online. Just be careful with online shopping. If you don't know what style of dress suits you then it will be a challenge.
Try everything
There may be styles that you haven't considered so try a bunch of things on. Try on dresses that you didn't think would suit you. You may end up finding your perfect dress this way.
Buy a dress that fits
This is one of the biggest tips we can pass on. You may have grand plans to lose weight before you tie the knot but if you don't make the deadline, then you'll be stuck with your dream dress being far too small. Buy the size you are and get alterations along the way. If you lose weight then your dress can be sized down, but you can't really go the other way.