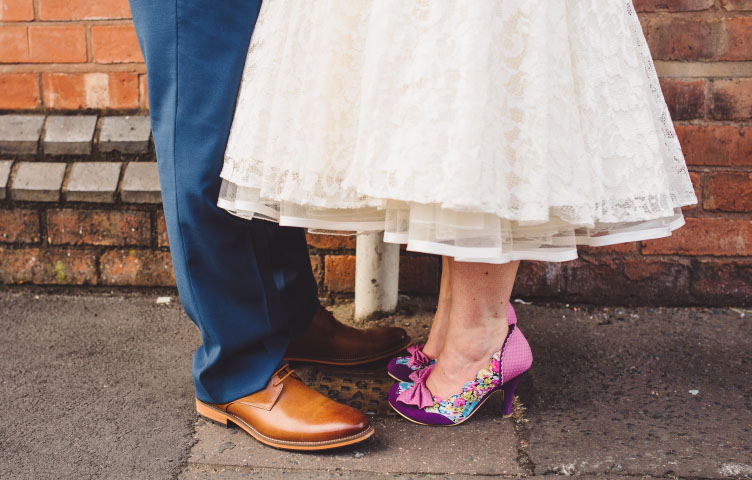 So many brides spend a mammoth amount of time and energy devoted to picking the dress, that, often, their wedding shoes end up being somewhat of a rushed afterthought. But, choosing your bridal footwear doesn't have to be a last minute decision, nor do you have to choose shoes with the intention of having them simply be a demure accompaniment to your gown.
Every shoe-obsessed woman would certainly agree that a great pair of heels deserve to be more than just an afterthought. Particularly, when there are so many beautiful and unusual shoe options that can bring a bridal look to life, rather than simply complement it.
Amy Beckwith, the E-Marketing Coordinator at popular home-grown shoe label Irregular Choice, says that "finding the right wedding shoes can really uplift you on the day and give you a Cinderella moment."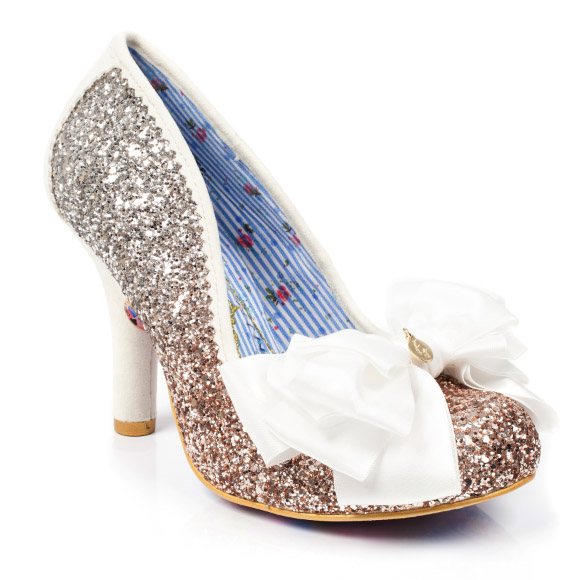 And we couldn't agree more. For the shoe-obsessed brides who love nothing more than pairing a great outfit with a fantastic pair of heels, opting for stand-out bridal shoes is a must when it comes to the biggest fashion moment of their lives.
Irregular Choice, who are a London-based shoe company with a unique and strong brand identity, make it clear they are not influenced by passing trends, and instead give their customers, "a reason to stand out for the crowd."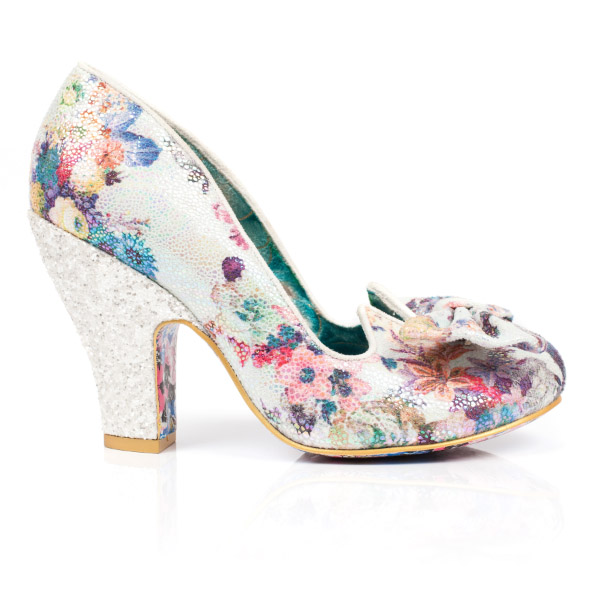 Their current bridal range is something like a glorious melting pot of glittery metallics, whites, creams and pastel colours with a sweet-as-candy feel. The collection features ornate touches of lace, pearls, bows, ribbons, splashes of gold glitter, eye-catching floral patterns and novelty figurine heels.
"The bridal collection has something for everyone," says Amy. "We have lace ornate boots for a vintage look through to ombre glitter heels for a glamour puss."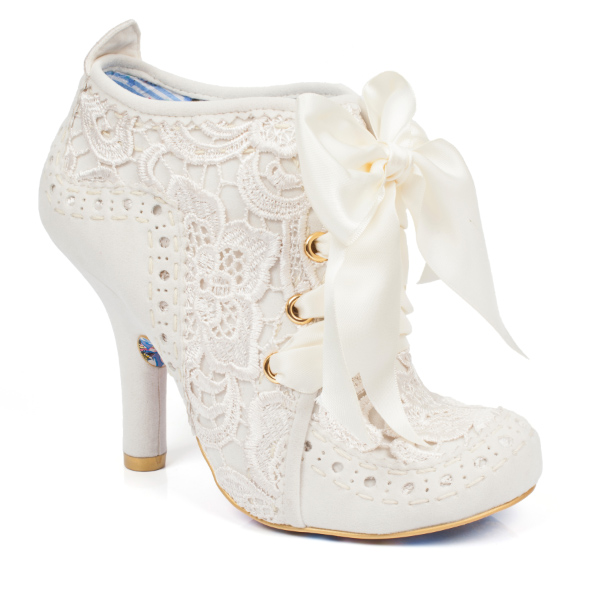 Scrolling through their various collections, it's obvious that Irregular Choice offer something fun, special and unique for every individual bride, and, they even cater to those planning a themed-wedding too, (the Dark Empire or Glitzy Artoo heels are a must for Star Wars fans).
Amy, who is a self-proclaimed sucker for anything quirky and kitsch, explains that their shoes regularly feature film and literary references, and, these styles are particularly popular with brides planning themed-weddings, "many of our main range and collaboration collections like Alice in Wonderland and Star Wars have been featured in more quirky wedding themes."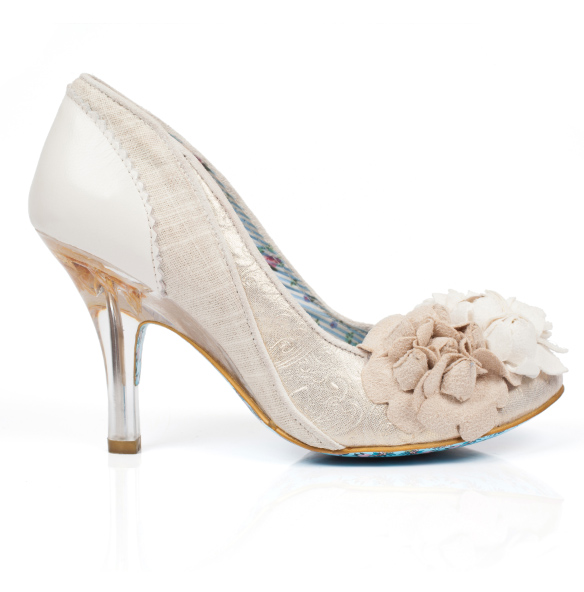 The 'Odette' heels, (which are Amy's current favourite from the bridal range), feature tassel detailing and a figurine swan heel. "Swans historically symbolise eternal love and they have the most stunning glitter-heart toe and detailing," explains Amy.
"I have seen brides wear them with pink frilly socks and wedding dress and it just adds even more cuteness to the whole outfit. The little fluffy swan heel is just the cherry on the top."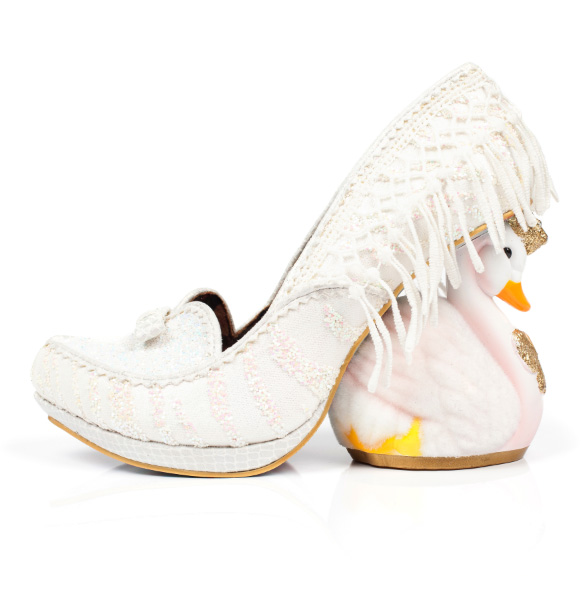 If that's not the cutest thing you've ever heard, Irregular Choice's distinctive 'I Love You' heels will surely make your heart skip a beat.
"People love the bride and groom heels," says Amy, in reference to the 'I Love You' shoes which feature bride and groom figurines in lieu of regular heels. (Irregular Choice also have a Mrs & Mrs shoe too).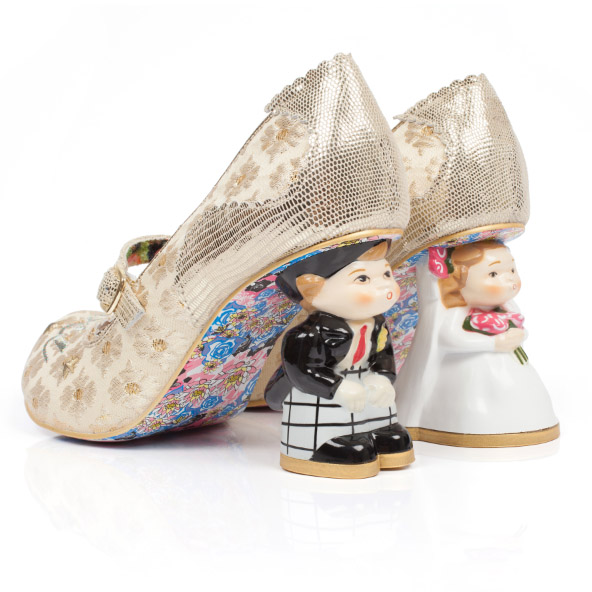 For the brides who don't want to wear heels, Irregular Choice offer flat options as well. However, don't be fooled into thinking flats equal boring or plain, the Irregular Choice version of a flat bridal shoe is nothing short of special or unique.
Take the 'Casa Blanka' shoe for example, these pastel peachy-pink loafers are the perfect combination of comfortable and ornate. Also, we can't forget to point out the golden glittery gorgeousness on the heel, and to the little gold rose appliques doing their thing – we see you ;).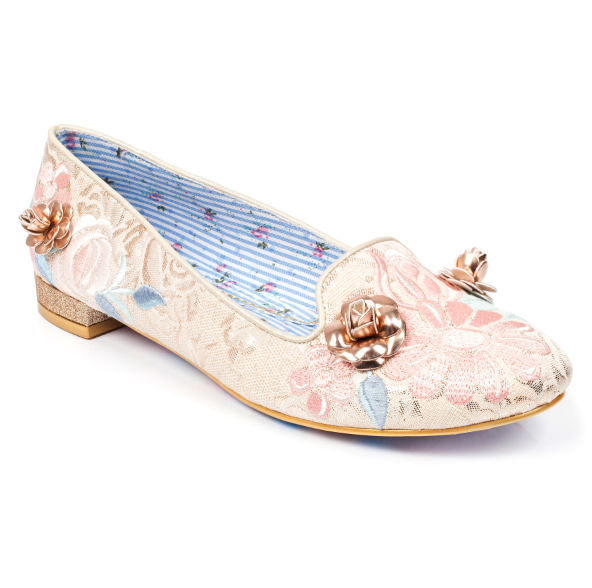 Opting for vintage wedding theme? The Pearly Girly shoe is the perfect 'something blue' and features a vintage-style blue floral pattern, gold-glitter heel and a cluster of creamy-white pearls lining the toe.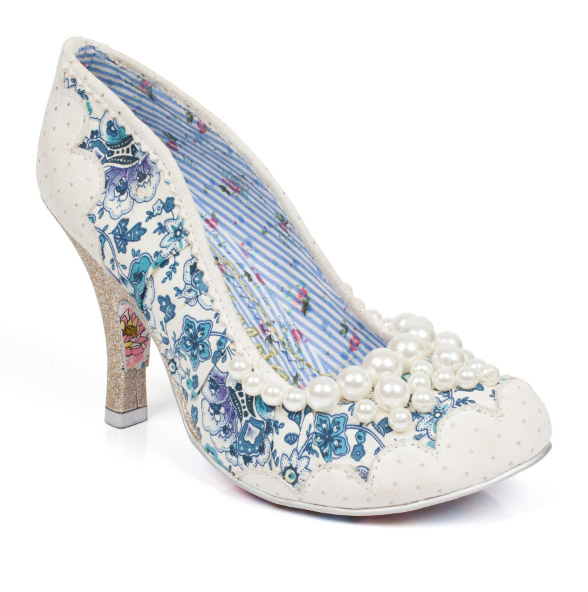 Even if you don't know exactly what it is you're looking for, chances are, you'll find something that will make squeal with delight at Irregular Choice – after all, it's not just us 'regular people' that like their shoes.
Celebrities such as Jessie J, Rita Ora, Paloma Faith, Miley Cyrus, Katy Perry, Gwen Stefani and Nicki Minaj are all fans of the label and have worn their Irregular Choice shoes more than once down the Red Carpet.
However, despite all this, for those who can appreciate a gorgeous pair of shoes, finding the perfect pair for your wedding day is possible – and with so many choices on offer it's almost a crime to not have your very own Carrie Bradshaw X Manolo Blahnik wedding shoe moment – right?
Want more inspiration? Easy Weddings' real brides Kate, Lucy, Rachel, Nikki and Lisa all purchased Irregular Choice shoes for their special day.