Since the beginning of this sweet custom, wedding cakes have become more and more elaborate and pretty far removed from what they were originally. Before wedding cakes, there was bread and then pie, both with roots in wishing luck to the newlyweds. Since cakes became the done thing for weddings, we've seen them evolve from sweet and simple fruit cakes to decadently decorated mud cakes. Just like our love of the Queen and our obsession with being far too polite, here are the wedding cake trends that will always be in style.
White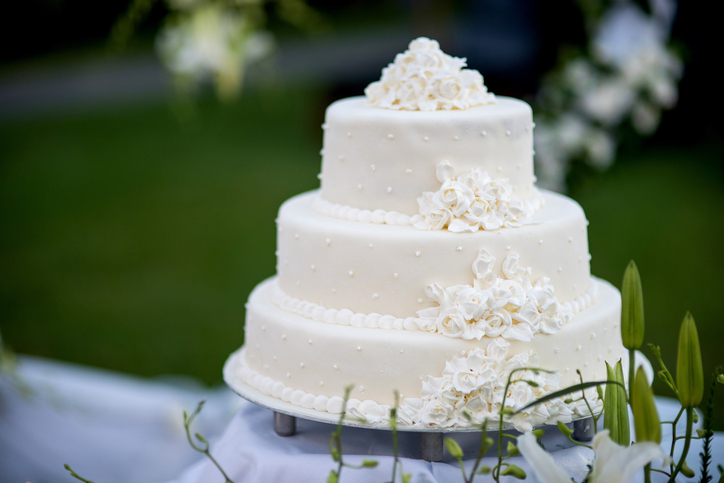 White has been the most popular colour for wedding cakes since 1840, when Queen Victoria married Prince Albert. It's clear to see why white is such a timeless colour for wedding cake. White is the definitive wedding colour and no matter how much colour we inject into our lives we don't think this will ever change. No matter what your theme is a white cake will always work perfectly, every time.
Even a completely white cake isn't for you, you'll often see touches of white peppered throughout modern wedding cakes hinting at the traditional colour. What's awesome about a white a cake is you can completely surprise your guests. Choose white icing for chocolate mud cake is a fun surprise. It shows the tradition and mixes it with modern flair. A white cake can hide any flavour inside from fruit cakes and sponges to mud cakes and red velvets.
Tiered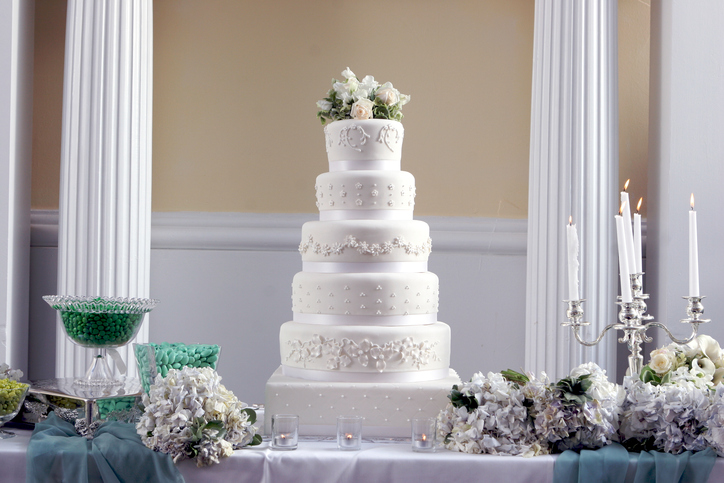 Since cakes were first introduced at weddings, they've slowly become taller and more grandiose than ever before. A towering wedding cake for a big fancy wedding is always going to be in vogue.
When tiered cakes first became fashionable, you'd see them displayed on pillars. If you've ever seen photos from your parents wedding in the 1970s or 1980s, you'll know exactly what we mean. While this type of tiered cake became less stylish over the years, tiered cakes generally are more popular than ever. You'll now see them sans pillar but looking as tall and grand as ever.
Choose a tiered cake for your wedding and you'll be super on trend.
Intricate details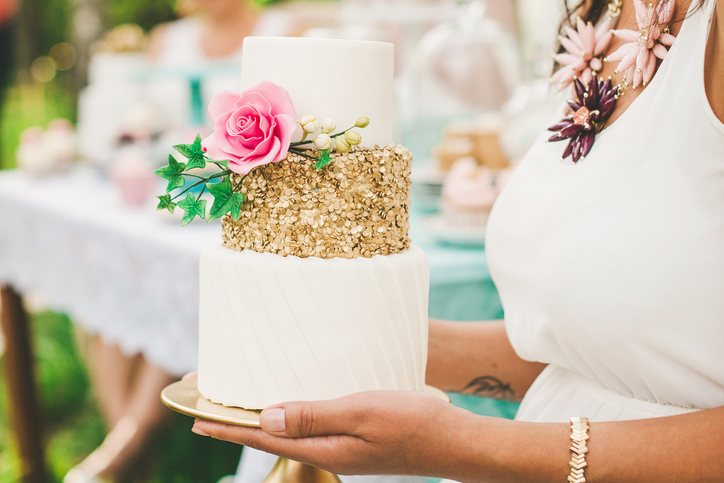 Intricate and delicate detailing on wedding cakes is what makes them so fit for the occasion. While traditional piping in royal icing may not be as common an element as it was back in its day, it's still the most elegant way to embellish your cake. Many cake decorators still choose to decorate cakes in this way as it's so easy to work with and looks simply divine.
We're not just talking about royal icing though. So while piping may not be your speed, intricate detailing is always found in wedding cakes. You may see it in the cake toppers, the sugar flowers or in hand-painting or stencilling. Details are essential for bringing a wedding cake to life and you know that even though trends may change, detailing will not.
Cake toppers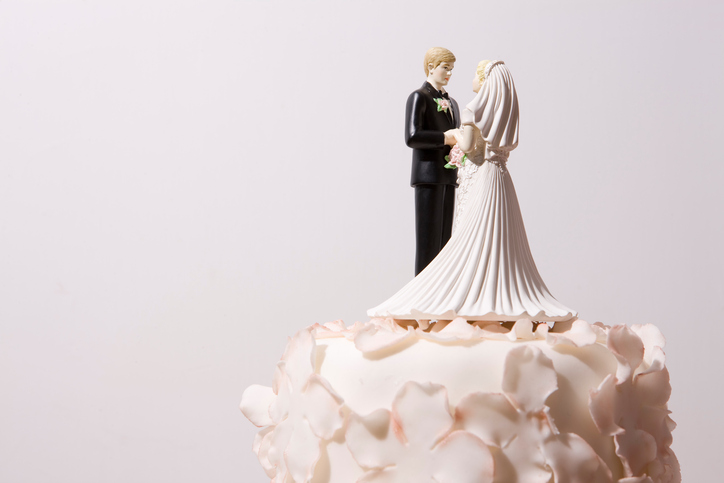 The 1950s was when we saw cake toppers become hugely popular. At the time, cake toppers were mass produced and were commonly store bought. While cake toppers are still and will always be in fashion, the mass produced quality of these figurines has lessened. Nowadays, many cake decorators make personalised cake toppers for wedding cakes. This results in figurines that can truly share your likeness, rather than ones that only have similar coloured hair as you.
You can really bring your cake toppers into the now by having a scene being played out on top of your cake, or by having your figurines dressed in something fun and recognisable to your guests. It's a very cool way to show who you are as a couple as well as individuals.
Of course, you may be a vintage lover and track down a cake topper from the 1950s. All cake toppers are good options!
Flowers
Flowers are another cake embellishment that will always be beautifully elegant and stylish for wedding cakes. If there are cakes in your table settings and flowers in your bouquet, then why not have them on your cake? Flowers are a beautiful, elegant and traditional way to embellish wedding cakes.
If your wedding cake is white or pastel, bright flowers can bring a beautiful colour palette alongside a sense of nature. For couples who are having a boho, nature or rustic theme, choosing flowers to decorate your wedding cake is ideal. You can have fresh, silk or hand crafted edible sugar flowers. Any flower is a good flower.
Flowers scream romance, so of course as long as you have flowers on your cake, you'll always be on trend.
Incorporating your theme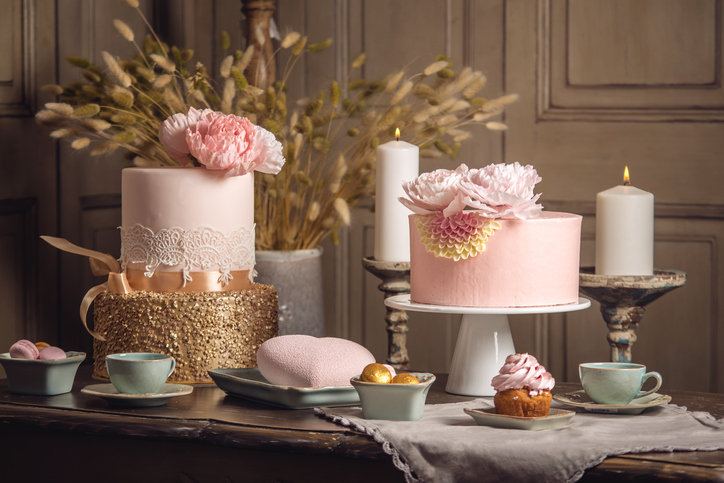 When we first saw cakes decked out all in white with perfectly piped royal icing, they certainly represented what weddings were like at that time. Weddings used to be very traditional, very serious and based in religion. These days a wedding can be any of those things or none of those things. The sky is the limit with modern weddings. One thing that has stuck though, is the way couples incorporate their wedding theme into their cake. This may sound like a complicated path to take but it's actually pretty simple.
If your wedding theme is glamourous or luxe, then a multi-tiered sleek cake with a rose and gold shimmery finish is perfect for your theme. For those who are hippies at heart, a rustically finished buttercream cake adorned with flowers is the perfect kind of cake for you.
It's not just the style though. Colours can greatly help change your cake into one that perfectly teams with your theme. This is particularly perfect for those who aren't having a particular theme only having a colour scheme. Choose a cake colour to match your flowers, table settings and décor and everything will tie together majestically. This is one cake trend that will never been unstylish.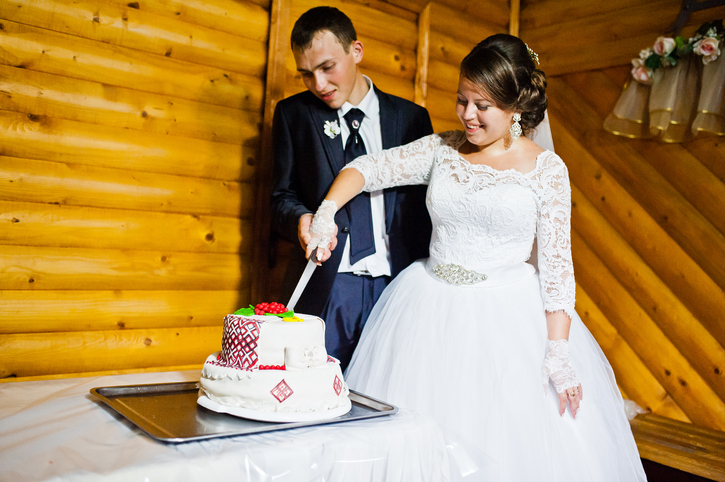 The important thing to remember about your wedding cake is that it is another unique element for you to personalise on your wedding day. Make it about you. Tell your story as a couple. That is certainly something that is sure to never go out of style.