Finding the perfect venue for your wedding can be a journey. But no matter whether you fall in love at first sight, or a venue grows on you over time, you will reach a point where you will have to start to ask the tough questions. Here are some questions to ask your wedding venue: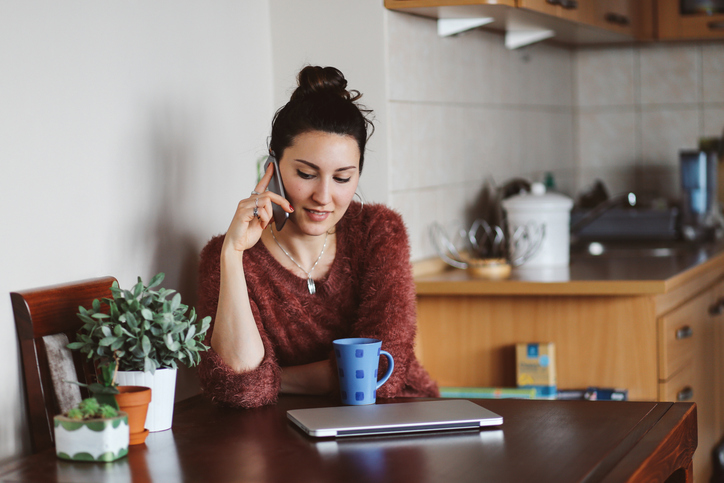 We're not talking about sussing out the capacity of the venue, the seating arrangements or the decor options – those are stock-standard questions. We're talking about the what if questions and the ones that could save your butt (and your money) if anything goes wrong.
These are the most awkward questions to ask, but the ones you absolutely need to. If you are not backwards about coming forwards, you can launch straight into these when you sit down the venue manager or co-coordinator, or you can pose them over email.
Remember, it is always wise to get answers to these questions in writing for future reference if needed, so if you do go down the verbal track initially, ask them to also send you an email with everything in it.
The dollars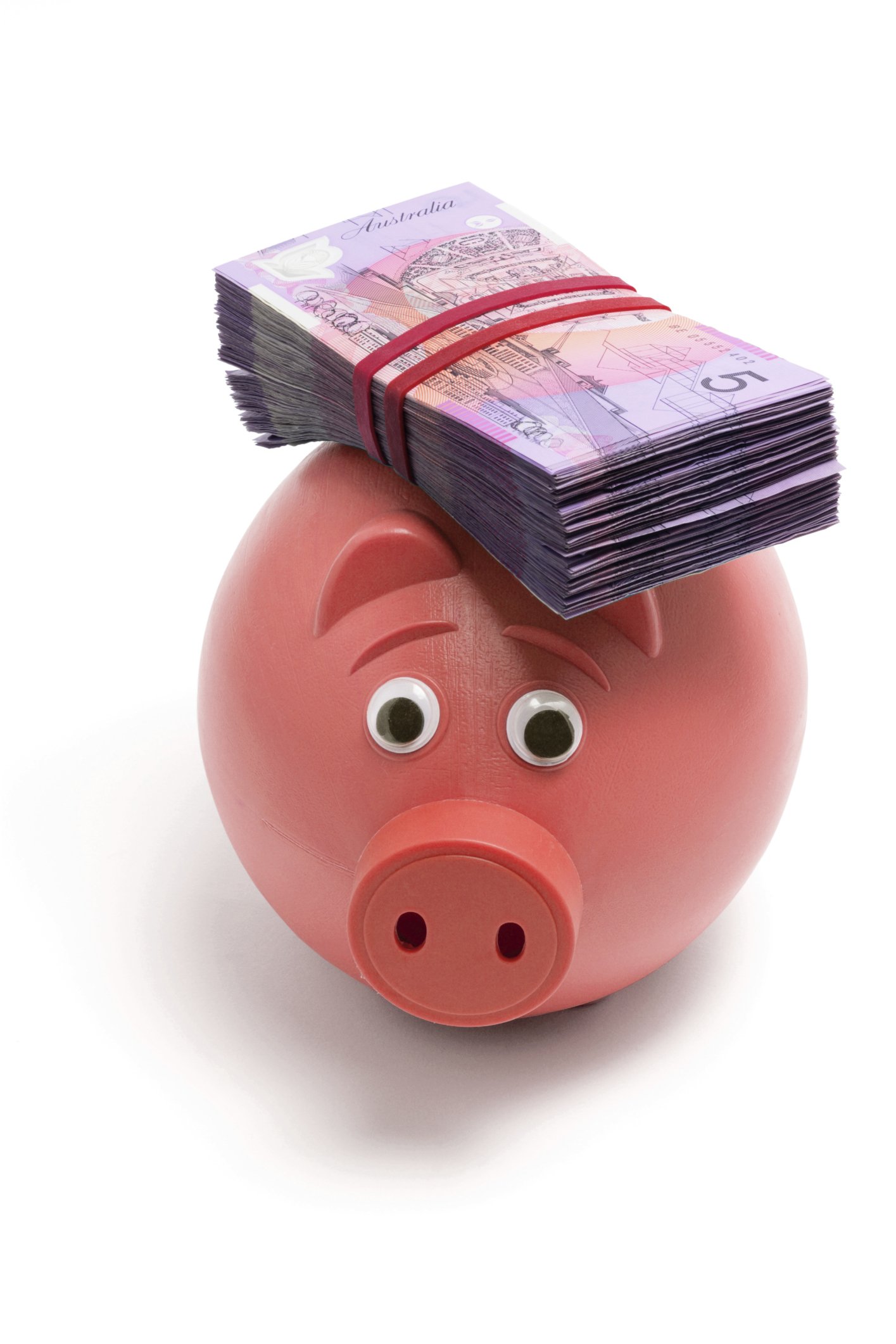 What is included in the quoted price? (Always check for possible discounts for switching days or times too…)
How much is the deposit and how much is refundable if we change our minds?
What corkage or cake cutting fees do you have?
Is there a bar minimum that must be met?
Do you charge overtime fees for staff or for the venue hire if we run over time? Please can you provide us with a comprehensive fees chart.
Click here to create and manage your wedding budget using our Budget Calculator.
The what-ifs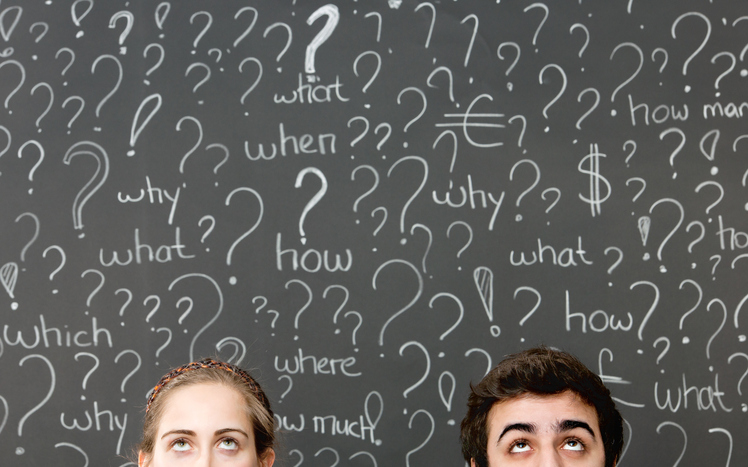 What is the cancellation policy? How close to the booked wedding date can we cancel?
Does the venue have liability insurance?
Do you require us to purchase wedding liability insurance to use your venue?
What happens if you go out of business before our wedding day?
Do we need any permits for alcohol or anything else to use your venue?
Bringing in outside help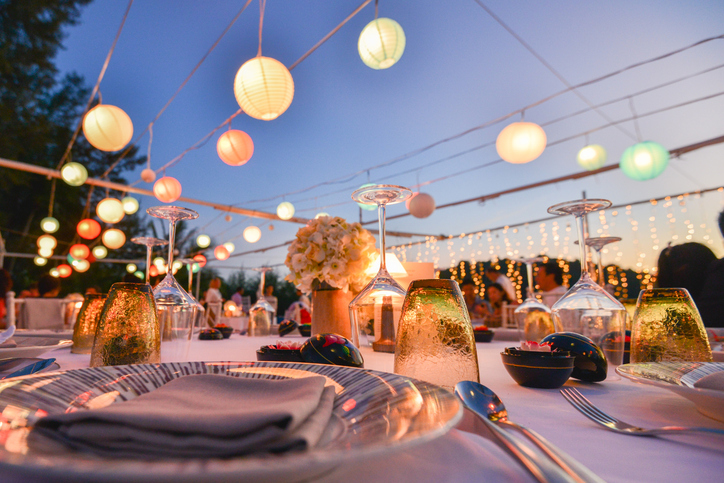 Can we use another caterer if we don't want to use the in-house option?
Do you have a list of preferred caterers that we have to stick to?
If we bring in our own caterer, can they use your kitchen without paying extra?
Can we provide our own alcohol?
When can we come in to set up and decorate? How much help can you give us with this before we have to pay anything?
Can we move furniture and other items around when decorating?
How early can our suppliers make deliveries?
How long do we have to clean up after the reception?
There are, of course, many, many more questions you will ask about your venue that will cover more detailed aspects of your wedding day, but make sure you cover the tough questions too.
This will give you peace of mind that if something does happen, you will know the best course of action that you can take and how your venue can help you to work through any issues.
Which dates are available on our chosen wedding month?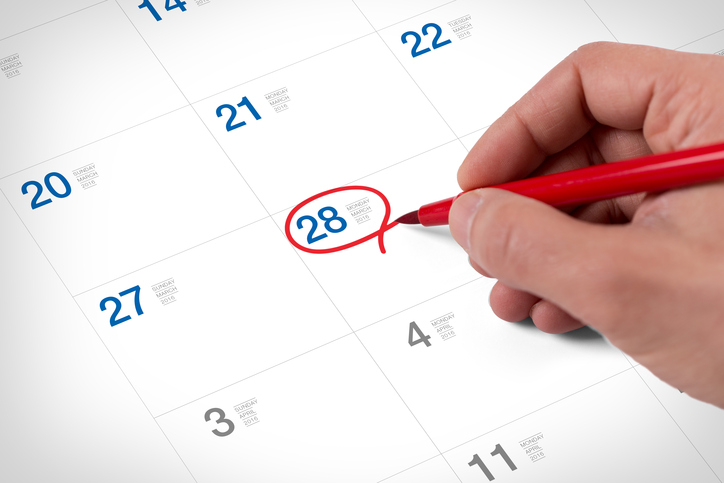 When you have found the wedding venue you like the first thing you need to find out is if its available for your chosen month, you might have a date in mind or just a month but if you can be flexible a bit then that is always helpful.
How many guests can the Wedding Venue accommodate?
Find out your numbers for your ceremony, wedding reception and sit-down meal and then your evening reception. It is important to know these numbers for when it comes to doing your guest list and that you do not go over the maximum.
Can we have our wedding ceremony at this venue?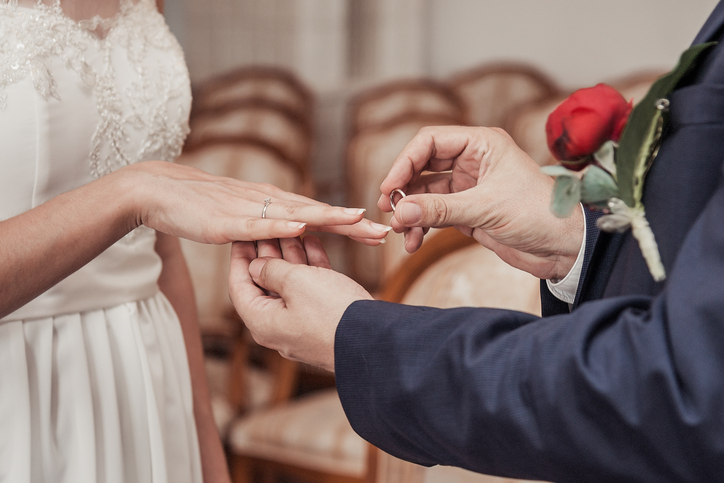 If you are planning on having a civil ceremony instead of a Church then find out 1) if this venue can offer this 2) how much this will be and 3) where can the ceremony take place and ask to see the areas. 
How long do we have the use of the venue for?
To ensure that your day runs smoothly you will need to find out what time you have the wedding venue from and until, so you can ensure you have enough time to fit your whole day in, the last thing you do not want is to be tight for time and feel like it's being rushed. If you would like to extend your time at the venue then you will need to find out if this is possible and how much extra this will cost. So venues will have a late night licence that is an extra cost.
Will you be any other weddings at the same time as ours?
Some Wedding Venues London do offer exclusivity so this means there will only be one wedding a day, however this isn't always the case so do ask the question and if there is another wedding find out where that will be, how close it is to yours and if you will be sharing any of the same facilities e.g. bar area.
When can we start setting up for the wedding?
It is important to find out when you can get into the venue and start setting up so that you can let people know, whether that's friends and family that will be doing it or suppliers. Many venues tend to say the day before but this will depend on the venue and if they have any other events booked in the day before the wedding day.
What are the guidelines for decorations?
There may be certain decorations that are not allowed due to Heath and Safety for example candles. You may also need to check about confetti as some venues do not allow this either.
Are the tablecloths, chairs, cutlery and glasses provided or do we need to rent our own?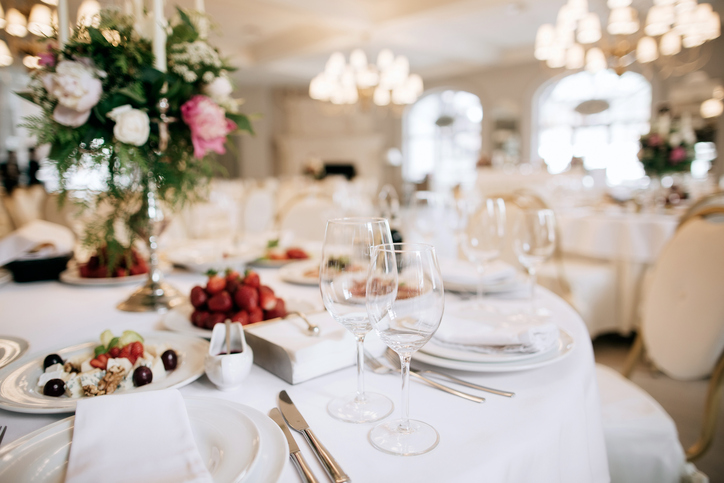 An important thing to ask the venue so you know whether it's included and if it is included is that part of the package costs or an extra. If it's not included do you need to source these yourself or can they arrange this?
Having a paid bar rather than an open bar? Would there be a specific amount that would have to be reached before the end of the reception?
If you are having a paid bar, which means your guests will be paying for their own drinks you may need to confirm if there is a minimum spend on the bar so that you know if it isn't met that you can budget this into your wedding costs. You could always put a bit of money on the bar tab which would then help to cover any minimum charges.
Can this wedding reception venue accommodate a band or DJ, including all of their equipment?
Find out whether the venue is happy for you to have a band or/and DJ and then where in the room they will set up, ensure that there are plenty of space and electric points for their equipment.
Do you have any special facilities for children?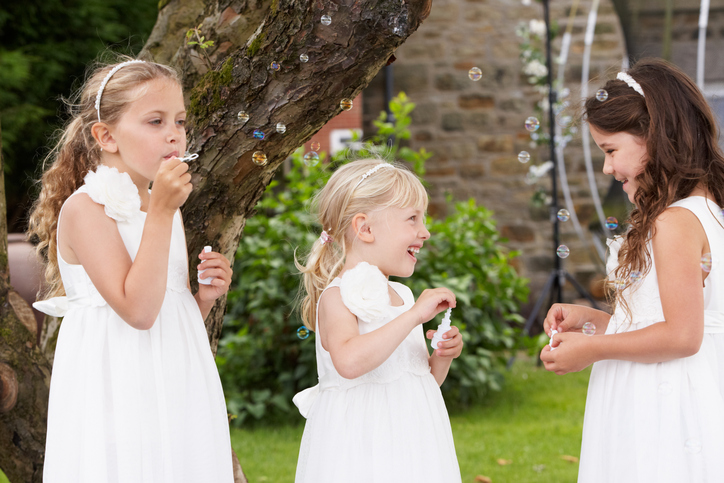 If you do have children coming it is important to know that the venue can cater for children, for example, food options, space for them to run around safely and if there is a room that could be used if you wanted to create an area for them to just chill out or to have some sort of childcare facilities.
Do you have disabled access?
Very important to know so you can inform any guests that may need to use this.
When do we need to pay our holding deposit and how much?
A vital question as you do not want to lose your date and venue. Find out when they need the deposit for and how much it will be.
Would there be a venue coordinator available on the day?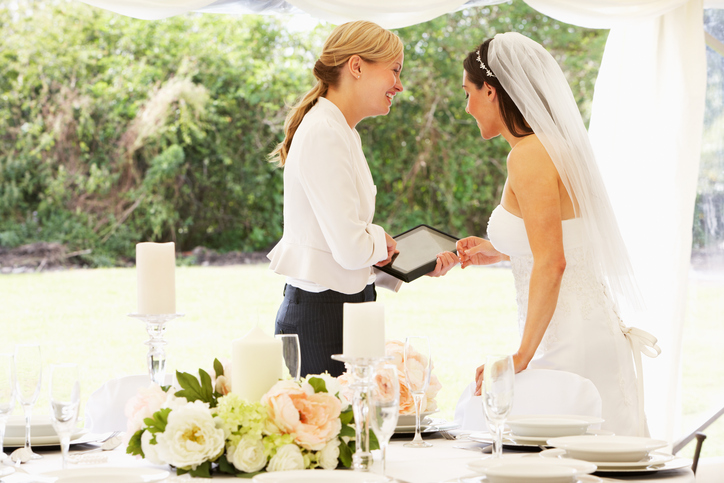 If the venue does have a wedding planner then take advantage of it, as it will be sure to relieve stress from yourselves. They will be there to plan your day and ensure it runs smoothly so you can just relax and enjoy the day.
Is VAT included in the price?
When getting your final quote for the wedding package make sure that it does include VAT on the quote so you are aware of the final payment and then it will not be a surprise when you go and book and its increased because they hadn't added VAT to the original quote.
(If an outdoor wedding) What are the backup options for bad weather?
If you are planning on having an outdoor ceremony then just ask what the backup plan will be if the weather isn't great and then ask to see the room where your ceremony would be held instead.
Are fireworks allowed?
Some couples like to add a fireworks display as part of their evening entertainment, if you are thinking of doing this then just be sure to ask the venue 1) if this is ok and 2) where can this be held so you can inform the supplier where they would need to set up.
What car parking facilities do you have?
Confirm where the car parking facilities are and how many cars it can hold. If there isn't much space for many cars then you may need to ask where else they can park or if budget allows, think about putting on a bus/coach to help transport guests to the venue.