Edible wedding favours are an established wedding ritual. Traditionally, the happy couple would offer their guests five sugared, tulle-wrapped almonds signifying health, wealth, happiness, longevity and fertility, as a thank you for attending their big day. If you are considering the advantages of edible wedding favours over some of the fancier alternatives, be sure to give our advice a quick read!

Why should we give edible favours?
As well as being traditional, edible wedding favours offer great value for money, almost always working out cheaper than a non-edible present. Whether it be the aforementioned almonds, some chocolate bars, biscuits, or sweets, buying your treats in bulk and divvying between gift bags or boxes should provide you with sweet treats your loved ones will enjoy without breaking the bank.
Pic n mix style sweet buffets are a current fashion in wedding favours. This involves filling up bowls, jars, or baskets with a variety of your favourite sweets and chocolates, and supplying bags or boxes for your guests to fill. As well as providing a unique favour that they will love, this gives your guests an activity to keep them occupied.
Edible favours can be cooked or baked at home for a particularly personalised treat. Chocolate chip biscuits stacked in a cellophane bag tied with a length of ribbon is an example of an easily made favour that your guests will love. Making a non-edible thank you present can be nigh on impossible unless you're a dab-hand with a needle or a paintbrush.
By giving out edible wedding favours, particularly if they consist of chocolate or cookies, you are also providing an alternative to wedding cake or pudding for those guests that aren't keen on either.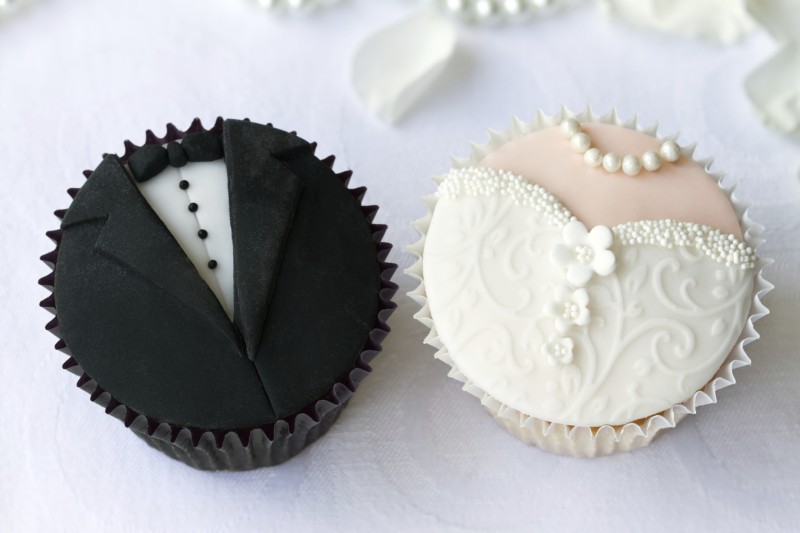 Why shouldn't we give edible favours?
One of the biggest problems with edible favours is that many of your guests will eat their favours on the day and discard the wrapping you worked so hard on all over the wedding tables. They might also spoil their appetite for your very expensive wedding breakfast. Edible wedding treats do not last long, and are not something your family will have to look back on to remind them of your special day. Should you want this, a non-edible gift would be much the better choice.
Handing out edible favours means thinking about how they will be packaged and stored so that they don't melt, or get sticky. This is a particularly pertinent worry if you're having a summer wedding. Your treats may have to be prepared just days before your big day as opposed to non-edible gifts that can be constructed well in advance.
Use Easy Weddings to connect with your dream wedding suppliers.
Browse the directory and start planning today!