Most brides don't need much excuse to look at wedding dresses. Browsing online, flicking through wedding magazines, and strolling around bridal stores is all a lot of fun when you know you're actually going to get to buy a dress! Here are some of the latest wedding gown trends to inspire you.

Trend 1: Jackets and wraps
Especially practical for autumn or winter evening weddings, a few designers seem to focus on the cover-up as much as the actual gown. Wedding gowns that include a cover-up such as a fitted jacket, beaded cape, or fur shrug or wrap are extremely stylish this season.
Trend 2: Shorter skirts
Most brides won't choose miniskirts unless that amazing legs, but a tea length dress, which falls to mid-calf, is flattering to most figures and is a very popular look this year, especially for casual or informal weddings. A number of designers are featuring short skirted wedding gowns in their current collections.
Trend 3: Structured skirts
Structured skirts are the best way to create a dramatic effect as you walk in to the ceremony whether you select the mermaid, which flares below the knee, or the modified A-line which widens just below the waist.
Trend 4: Asymmetric necklines
One shoulder type wedding gowns are re-emerging in designer collections for brides that wish to stand out and make a statement. Having the single strap decorated with corsage style flowers is an enchanting look.
Trend 5: Sheer fabrics
Fabrics such as organza and tulle are really making a comeback this year, and provide a soft, flowing appearance to wedding gowns. Including scallops to the sheer material is also a big trend and adds to the flow of the dress.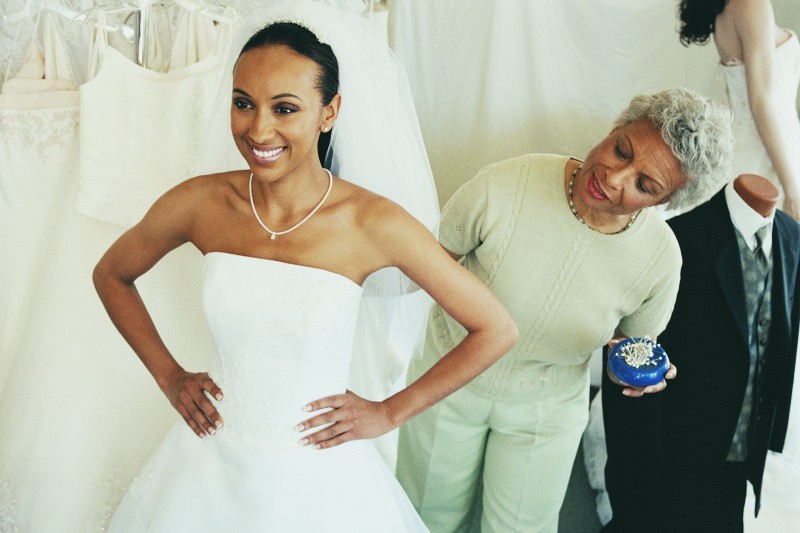 Trend 6: Feature straps and sleeves
Favourite strappy dress styles are tank straps, keyhole halter necks, double beaded straps, and short capped lace sleeves. Even though strapless gowns will always be popular with brides the world over, the hottest bridal dresses this season use straps and sleeves to create an interesting neckline.
Trend 7: Doubling up
It is becoming popular for a bride to alter her look including hairstyle, gown accessories, or even the whole gown itself between the ceremony and the reception. Quite a few brides who cannot decide on the perfect look for their wedding gown are choosing two instead. An easy way to follow this trend would be to go with detachable straps or sleeves that can be removed or altered during the day.
Trend 8: Splashes of colour
Sashes, ribbon, corsages, and embroidered embellishments in yellow, green and magenta are becoming increasingly popular. While designers tend to utilise muted colours such as pale pink and blue, or silver and gold for fully coloured gowns, they are being more adventurous in their use of brightly coloured details
Trend 9: Flower accessories
Floral brooches are becoming very popular bridal accessories and are an excellent way to showcase a family heirloom. Massive silk flowers attached to bridal dresses have become very popular, and these can be located at the waist, on the straps, or trailing down the back of the skirt. Both embellishments are a good way to add colour into your wedding dress.
Trend 10: Vintage inspired gowns
Vintage details like lace sleeves and beading are making a comeback along with delicate materials like chiffon. A number of designers are looking to the past, rather than the future for wedding gown inspiration.
Use Easy Weddings to connect with your dream wedding suppliers.
Browse the directory and start planning today!