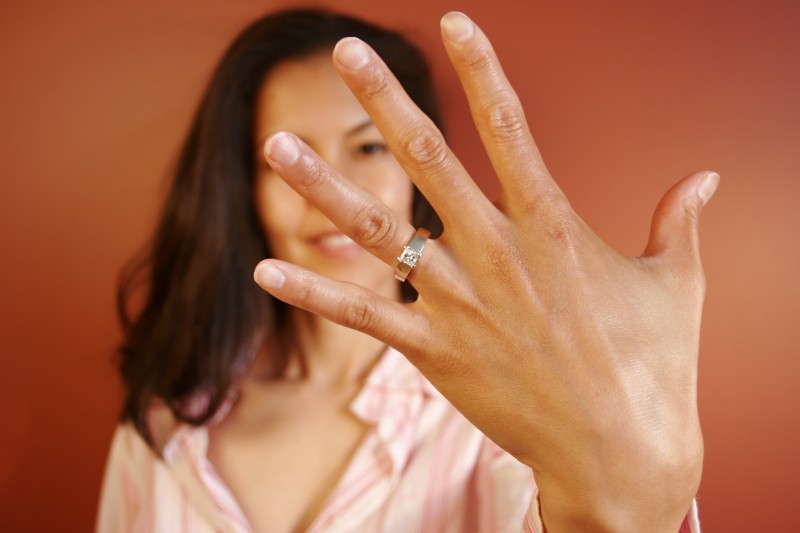 Once you're engaged you'll be dying to show off that sparkling diamond to the world and his wife. Before you dash of and wave it anyone within a one mile radius, here are ten top tips on showing off your engagement ring.
Get a manicure
Before you begin showing off your engagement ring, ensure you get a proper manicure. Classic red nails will literally make a diamond seem more sparkly, so that is a fantastic choice if you want something bold. Something simple like a French polish is also a great choice as it won't draw away attention from the ring.
Keep your hands down
If you wish to use the ring to announce your engagement you will already be subconsciously glancing at your hand and moving your fingers more than usual, so someone is going to notice the new addition. Don't start making exaggerated hand movements, and waving your fingers around in the air.
Share a selfie
If you wish to show off your ring to friends and family living further away, why not take a selfie while flaunting the ring and e-mail it or post it on Facebook?
Use hand cream
You will never have this number of people touching your hands in such a short period so you need to be sure they are soft to the touch. Invest in some good calibre hand cream with a pleasing scent.
Wait until the proposal
Perhaps you have been to select the ring together and you are aware it is sitting in the bedside drawer, but allowing friends or family members have a sneaky peek prior to you being actually engaged says you are more interested about the ring than the engagement. The golden rule of flashing out your ring is never to let people see it until the actual proposal has been taken place.
Be discreet
It might be you wish to wear your ring continuously from the minute of the proposal, yet you don't want to announce your engagement just yet. Maybe you wish your family to be the first to see the ring instead of everyday acquaintances, or maybe you have a colleague going through a difficult divorce and you don't wish to flaunt the ring. In this case just wear the ring upside down, with the stone facing inwards, or wear it on a necklace around your neck.
Consider personal space
Put your hand with the palm towards you and the fingers upwards, rather than pushing your fingers under people's noses, then they can choose whether they wish to take you hand and get a closer look or not. When you are flaunting your ring, be aware of others' personal space.
Dress to complement your ring
If you are organising an engagement party ensure your outfit is elegant yet understated so the ring can have all the attention. A little black gown and a sleek up do are the best accompaniment to a sparkling diamond. Dress gracefully but keep it simple so the focus is on your ring.
Get it resized
You want the ring to be at its best when you flash it out to your nearest and dearest, and this means a comfortable fit. If your fiancé has picked the ring himself and it isn't the perfect fit, you might want to delay announcing your engagement before you get it resized.
Carry a soft cloth
Ensure you have a soft cloth handy to give your ring a quick clean when it gets marked. For the first few of months of your engagement, people are going to wish to glance at your ring on a regular basis. A few of your female friends might even want to try it on.
Use Easy Weddings to connect with your dream wedding suppliers.
Browse the directory and start planning today!