When we think of wedding favours, the image that first springs to mind is a handful of sugared almonds wrapped in tulle. Although its' a symbolic way to thank your guests for attending your wedding, most couples these days tend to look for favours that are a bit more unusual. Here are ten ideas on choosing unique wedding favours: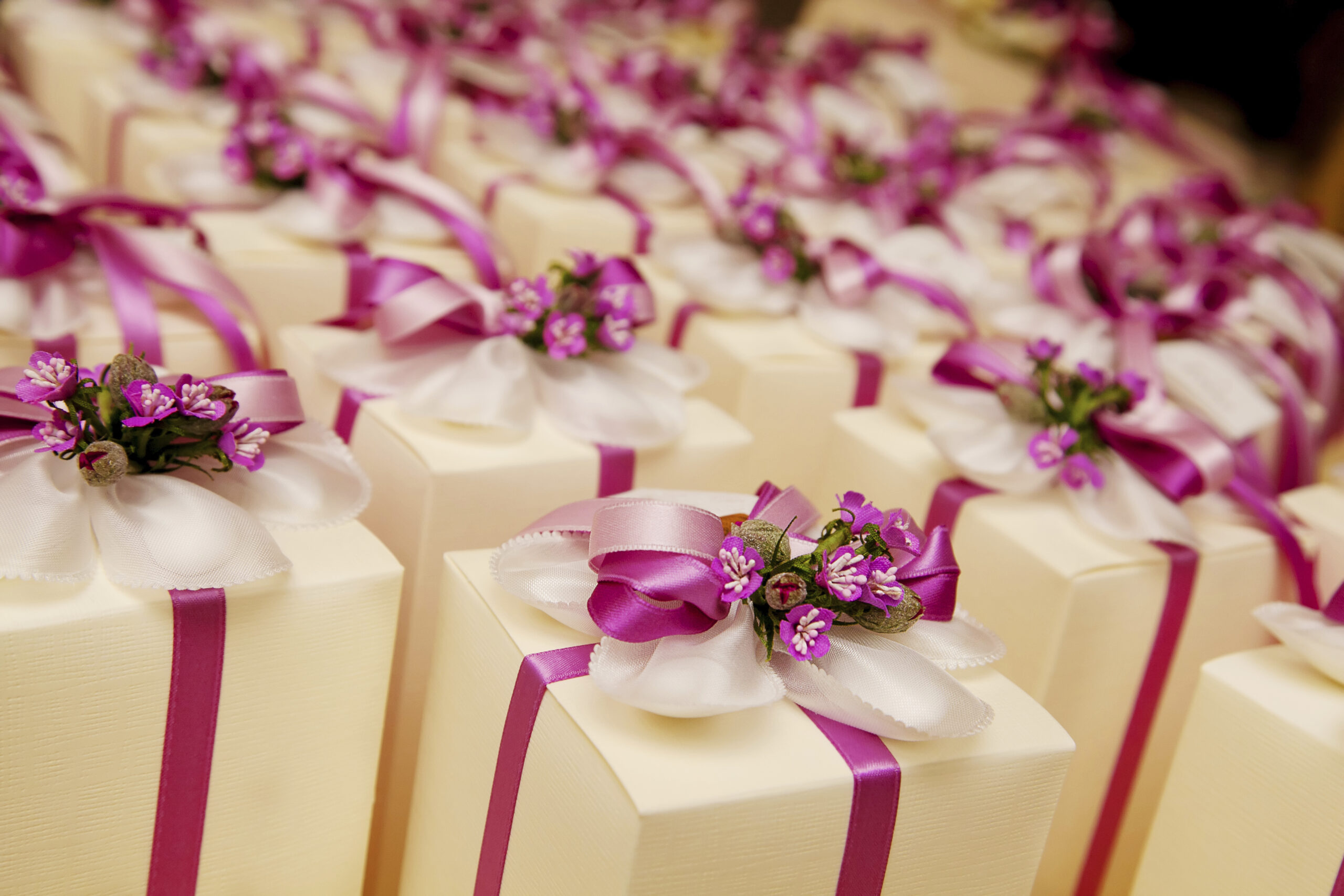 A customised glass
A champagne or martini glass, or a shot glass engraved with your wedding details can make an elegant wedding favour. You may need to provide boxes for your guests to take their favours home as glass is very fragile and you could make an extra special gift by filling it with sweets or chocolates.
A homemade jam
Homemade goodies work well as unique wedding favours, so whether it's a jar of onion chutney or a delicious strawberry jam, your guests will relish it. Accessorise the jar with a material lid and a ribbon, and attach a note with a recipe or ideas on how the contents of the favour could be consumed.
Personal caricatures
A caricaturist is a great way to add an element of amusement to your wedding reception. If you give the pictures to your guests to take home, perhaps with a small frame, they make completely unique and original wedding favours.
A lotto ticket
Buy your guests the dream of riches, for a short time at least by getting lottery tickets as your wedding favours. Although they won't last forever unless one of your guests strikes the jackpot, it will be an unusual gift. Insert the ticket into your place names and be prepared for your guests to get distracted around draw time if your wedding is on a Saturday.
A potted plant
Miniature potted plants make lovely wedding favours and will look fabulous on your wedding tables. Be sure to attach a label to the pots with the care instructions and have the plant pots painted with your wedding details, your initials, or just a colourful design, before the plants are potted.

A photo frame
Small decorative photo frames that blend in with your wedding theme can be used as place names, or can contain a personal note for each guest from the bride and groom. Guests can take them home as favours and use them afterwards to show off a photo from the wedding day.
Personalised fans
Fans are great idea for a unique wedding favour if your wedding is on a hot day, and Japanese style fans will look superb on your wedding tables. Have them printed in colours or patterns matching your bridal theme with a personalised message to your guests.
A pic n mix favour bar
Create a pic n mix area with glass jars of sweets, cake pops, and chocolates, as well as empty boxes or bags to be filled up, and ribbons and stickers to accessorise, and let your guests make their own unique wedding favours. Display a sign telling guests to help themselves.
Deck of wedding cards
A pack of playing cards is a fun yet practical wedding favour, and you can have them customised so that they show the groom, bride, and best man as the king, queen and jack. You could also have images of other main members of the wedding group on the remaining cards.
Wine glass charms
Wine glass charms are a great wedding favour that guest can use at the reception to make their glass look extra special and ensure they don't mix their drink with someone else's. Charms come in a range of designs to suit any wedding theme