So you've finally knuckled down and chosen your wedding theme. But now you're faced with a new dilemma: what style of wedding cake suits the theme?
Because wedding cake making is such a personalised and creative industry, anything you can imagine can become a reality. So, before you go in to meet with your cake supplier, here are some tips on which styles of cakes will best suit the wedding theme you have in mind.
Traditional
For couples that are dedicated to honouring tradition at their wedding, you can't go past the three-tiered white cake. It is all about minimal embellishment, with a simple flower arrangement or the classic newlywed figurines on top.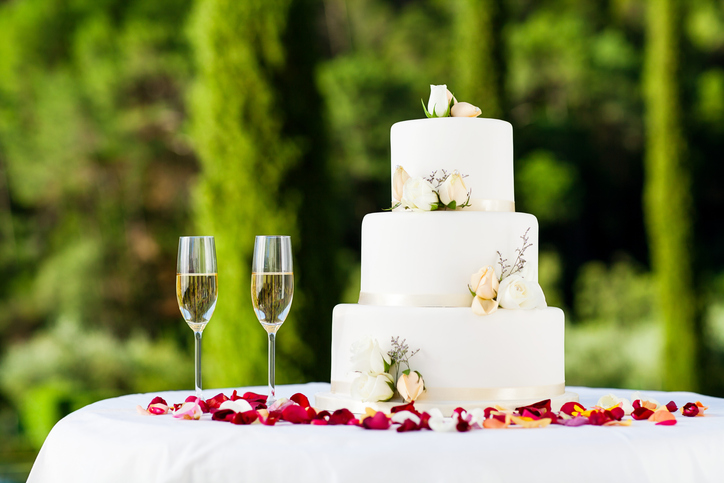 Vintage
Vintage wedding cakes allow couples to get creative with floral decorations, ribbon, bow and lace embellishments. The frosting can be textured or smooth and is usually in pastel or other subtle colours.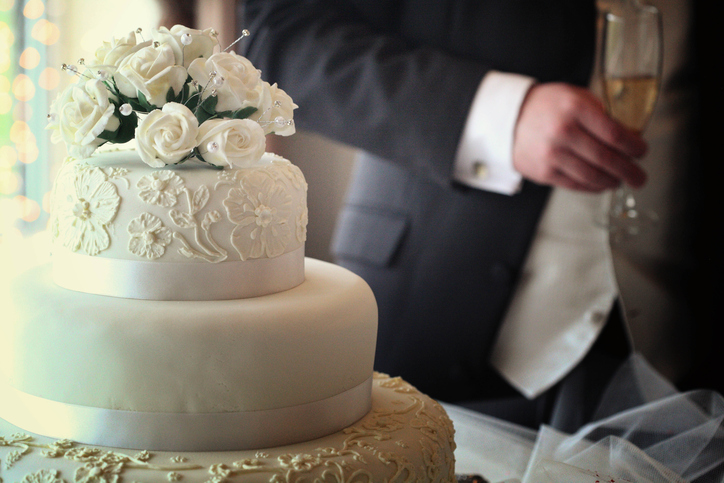 Boho
A boho theme wedding cake is natural and organic looking, which is why naked or semi-naked cakes are the best suited. Just a smear of buttercream and some decorations with fresh flowers or foliage are all that is needed to create a stunning cake. You can also get further into the spirit of the theme by using dream catchers, lace streamers, or feathers as embellishments.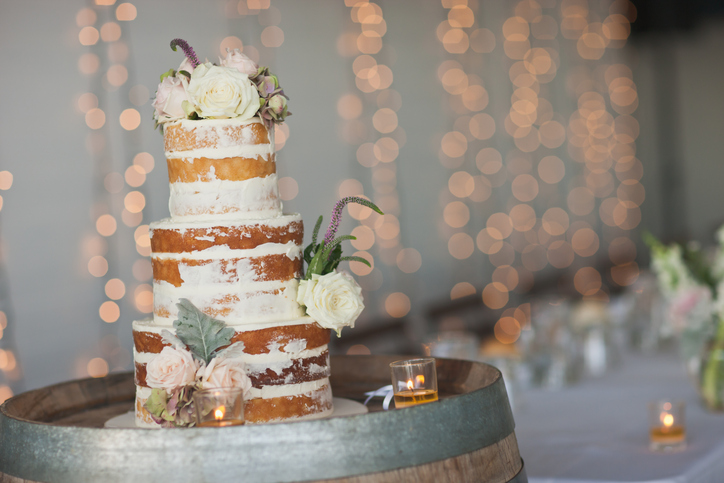 Rustic
Rustic themed cakes can be very similar to the Boho style, with naked and semi-naked cakes the favourites. You can add another dimension by creating a drip cake adorned with berries, flowers or foliage. While rustic is all about understated features, you can place the cake on a rustic chunk of wood to enhance the look.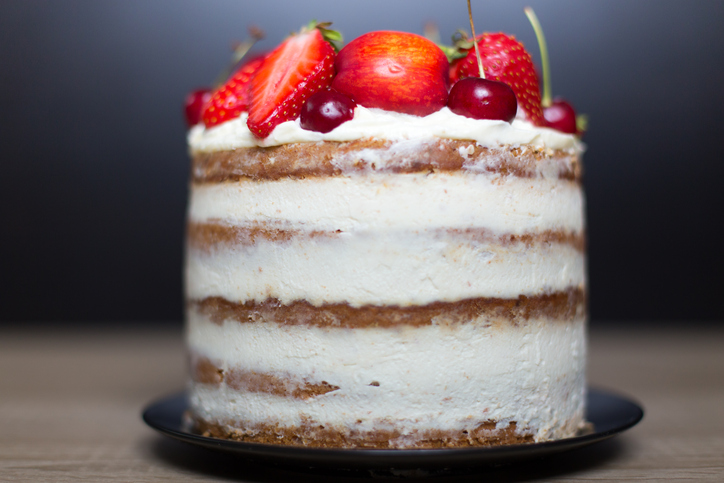 Vineyard
Weddings at vineyards are increasingly popular because they embrace a whimsical outdoors setting with a taste of sophistication. This gives you a great opportunity to choose a cupcake-style cake. You can be as outgoing or understated as you like, following the trend of mini-versions to match the top tier cake, or creating individual cakes that tie in with the vineyard location or colour theme.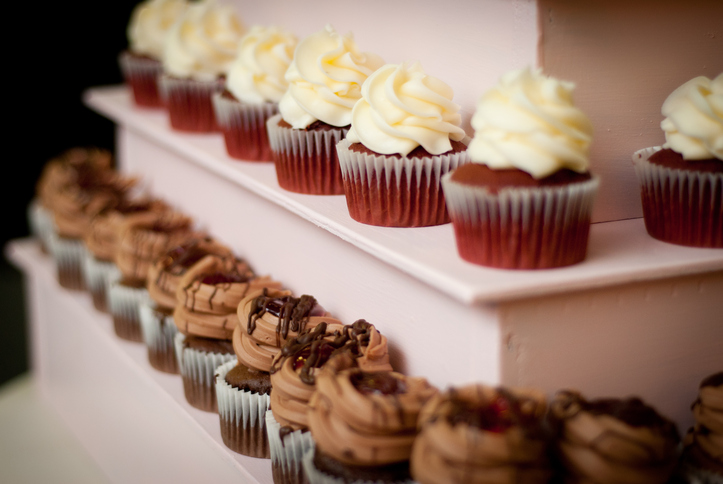 Beach
Much more casual and relaxed, there is a lot of space to be creative with this theme. Cakes can incorporate nautical colours like blues and sea greens and include embellishments like shells (real or icing), seahorses and starfish. The icing itself can be smooth with design accents or unformed to create the illusion of ripples on the water or waves in the ocean.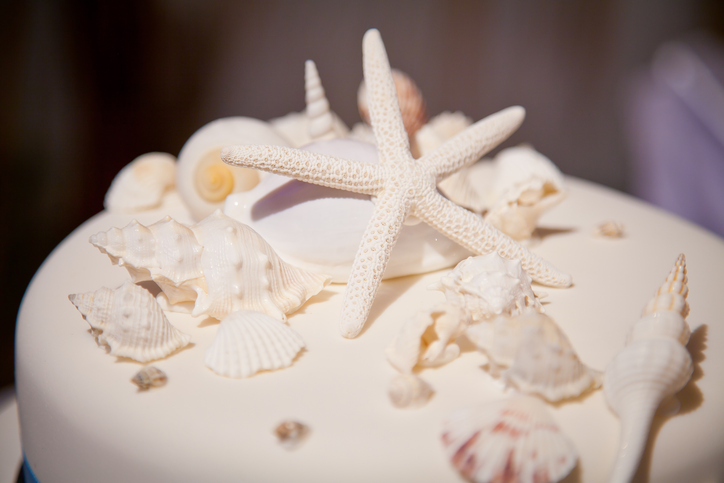 Garden
With Greenery being named the Pantone colour of the year, many couples are seeking garden weddings and tying their colour palettes around natural tones. For this reason, a garden cake could be iced in subtle greens and earthy browns, or decorated with brightly coloured flowers and butterflies. Or if you have a really talented cake maker, you could end up with a unique hand-painted masterpiece.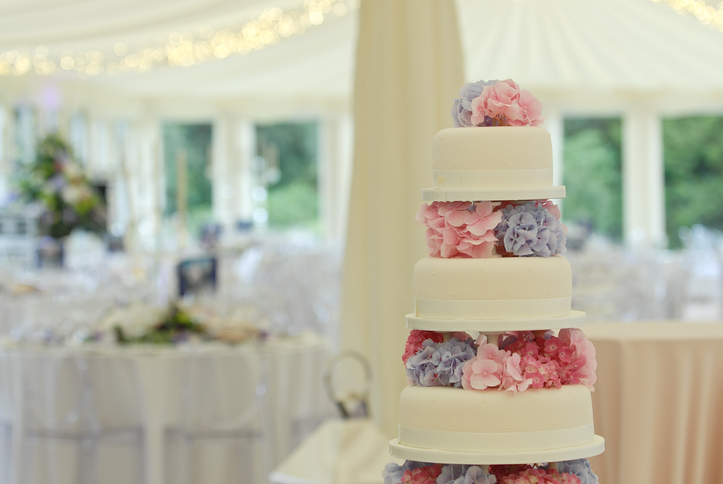 Romantic
Romantic wedding themes are often quite classic and when it comes to cake, think roses, deep reds, and hearts. The contrast between the reds and greens make them really pop on a traditional white icing backdrop, but you can get creative with the colours to best suit your venue.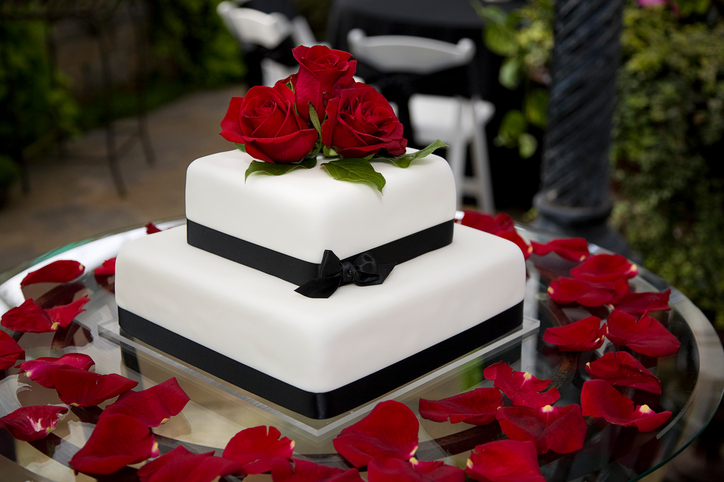 Contemporary and glamorous
There are no rules when it comes to contemporary and glamorous cakes. Think gold leaf, glittery tiered and as OTT as you dare to go. These styles of cakes are all about the wow factor and make for an eye-catching addition to your wedding.