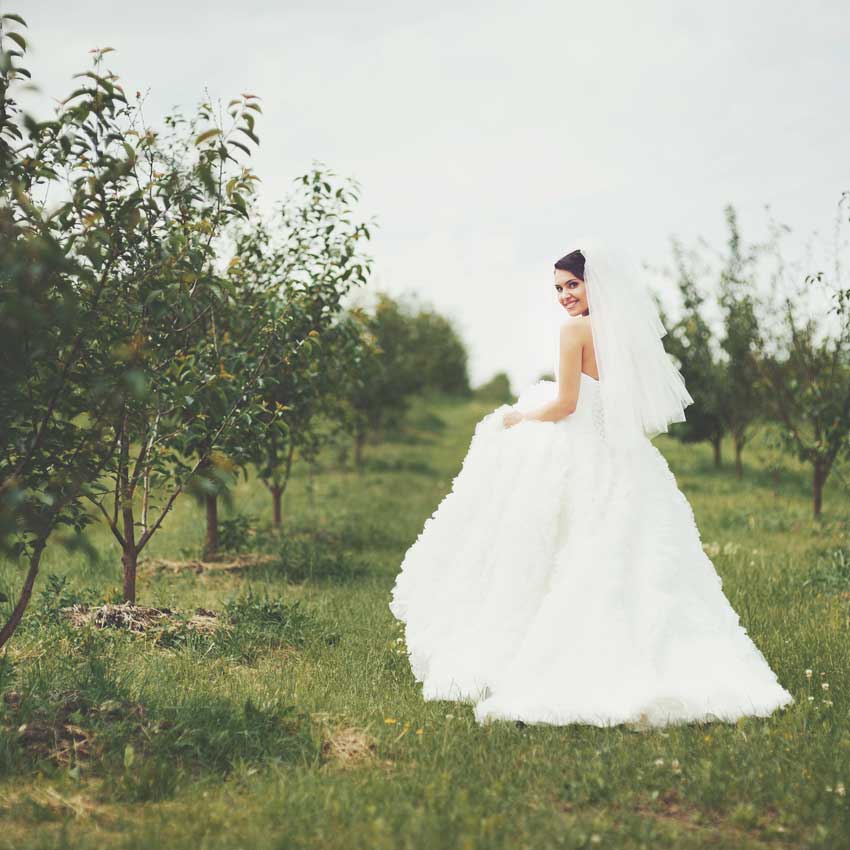 Picking out a wedding dress is tough enough before you figure out that you have to choose your fabric too. There are so many types of fabric that it's easy to get lost in the French names, such as georgette and tulle. Have no fear, we're here to be your guide through the overwhelming drapes of wedding dress fabric.
Satin
With a high sheen on one side, satin is one of the most common fabrics used in bridal gowns and there are many options to choose from. Duchesse satin is a blend of silk and rayon, which makes the dress more affordable.
Taffeta
Though considered by some to be old fashioned or only for prom dresses, this crisp fabric can easily be modernized with an interesting cut and style.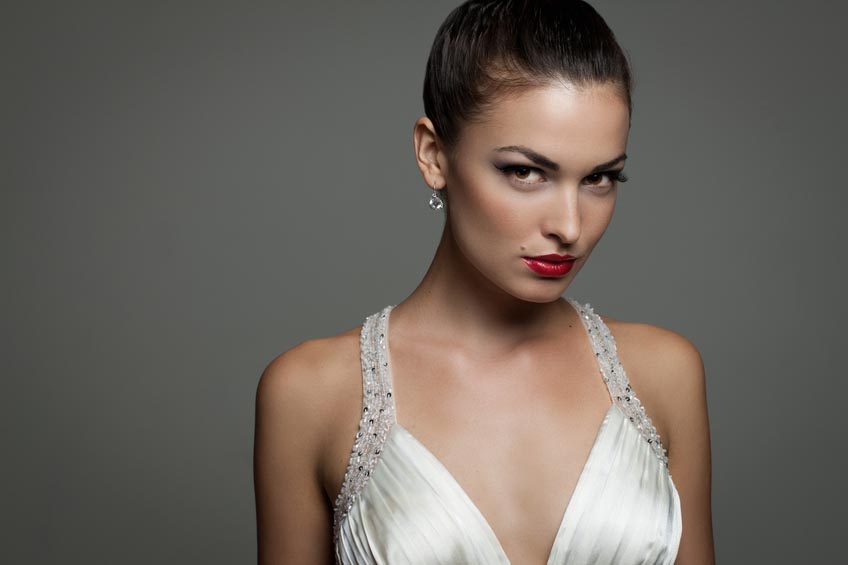 Silk
By far the most popular wedding dress fabric, silk is sought after by most brides, but is not always affordable. Silk is a soft, smooth, natural fabric that makes a luxurious, elegant wedding dress. Silk can be used to create many other fabrics, including charmeuse, chiffon, organza, satin, and tulle. Some brides also choose a fabric that is a silk and rayon blend to keep the cost down.
Dotted Swiss
Originally from Switzerland, this lightweight fabric has a raised, sprinkled dot pattern that can add texture to any dress. This is also a very popular fabric to use when making a veil.
Crepe
A very lightweight wedding dress fabric, crepe has a crinkled finish that will bring texture and life to your wedding dress.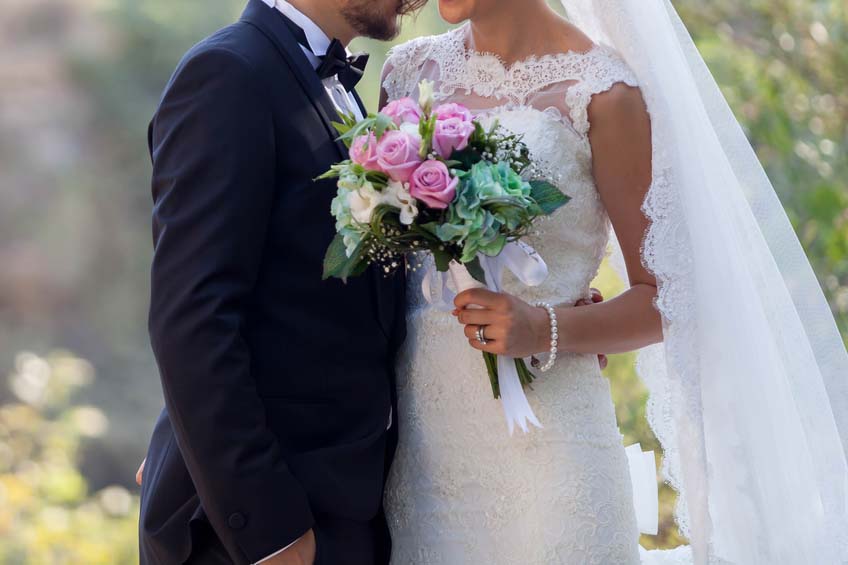 Tulle
Basically, tulle is netting made of silk or rayon. You might find tulle underneath the dress to create a ball gown look, used in your veil or on top of another fabric to create the look of fluffiness.
Georgette
This lightweight fabric is often made from polyester or silk and has a crepe-style or crinkled finish.
Organza
Made of rayon or silk, this stiff fabric can create fullness and drama to your dress. Organza is less stiff than tulle.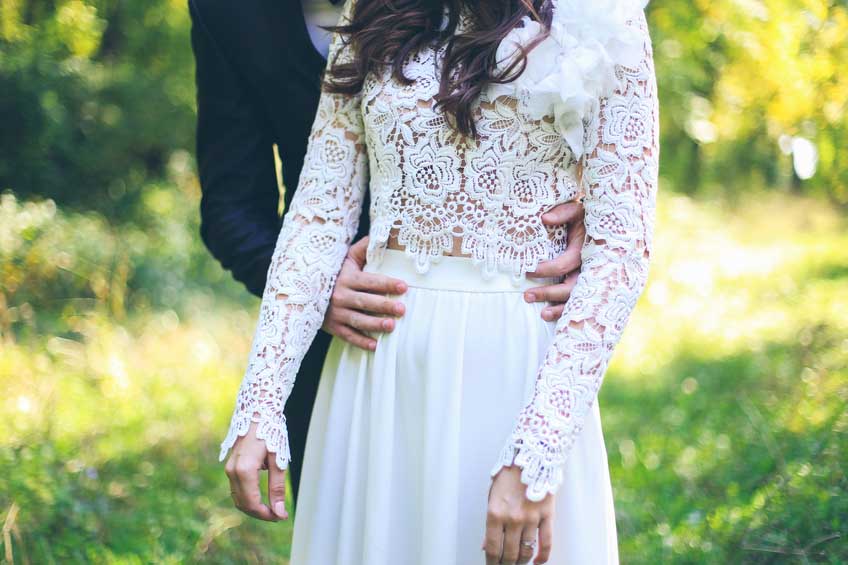 Lace
Common and well-known, lace is an open knit fabric, usually used to accent part of the dress. When properly lined (or not if you're going for the risque look!), the entire dress can be made of lace.
Brocade
Typically worn for a winter or fall wedding, brocade is a jacquard-finished, heavy fabric that has raised designs. Though heavy, brocade can sometimes be used for parts of a summer wedding dress to add texture and weight.
Organdy
A stiff, transparent fabric that is often used to give a wedding dress structure. Organdy is similar to organza, but has the added bonus of a light sheen.
Rayon
You've likely heard of this man-made, synthetic fabric and might consider it a cheap material, but it has a similar look to silk and is easier to work with and more affordable.
Voile
Perfect for the summer bride, voile is made from cotton or wool, making it ideal for hot weather weddings.
Chiffon
This fabric is most commonly used to layer upon parts of the dress to create a light, airy look. Chiffon is made either of silk or rayon and is a delicate, sheer fabric.
Charmeuse
A soft, lightweight wedding dress fabric that has a slight sheen, and feels satin-like to the touch.
Of course this list only scratches the surface of fabric options, if you're looking for something unique or with a touch of extra flair, consider these other fabric types: brocade, jacquard, batiste, dupioni, damask, faille, gabardine, illusion, jersey, moire, peau de soie and pique. Whew. That's a lot of fabrics to choose from! Just remember, no matter what fabric you choose for your wedding dress, if you feel beautiful, you'll look radiant, confident and gorgeous on your big day.
Looking for your dream wedding dress? You'll find the best local wedding dress suppliers here.