Pearl jewellery for brides is a popular choice and can create a very elegant look for your big day. Whether you go with simple stud pearl earrings or add a pearl necklace to complement a soft ivory wedding dress, nothing looks prettier and more feminine. Pearl jewellery for weddings can often be more forgiving than other materials and suits many brides better than diamonds or crystals.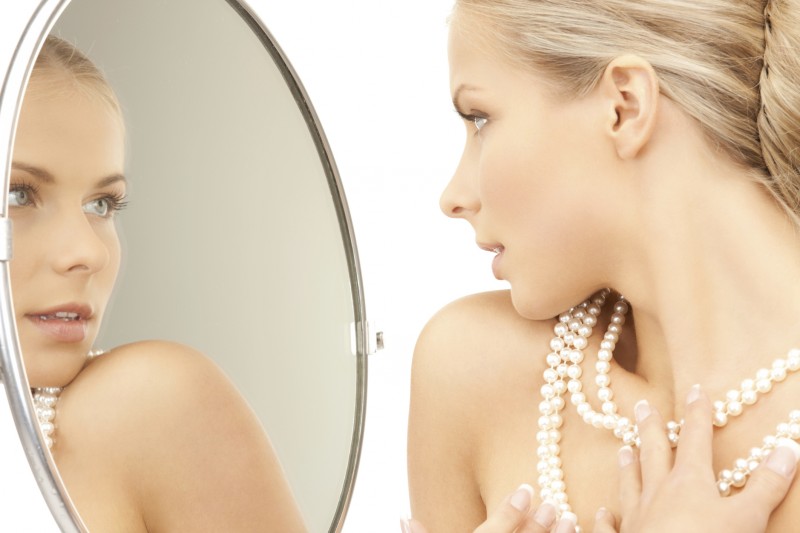 Sadly quite a few brides are put off pearl jewellery because of certain myths and misconceptions associated with the jewellery. Here are four most recurrent myths about pearl jewellery for brides;
Myth One – You can only find them in white
Natural or imitation pearls can be coloured to whichever shade you want, but you might do better pairing white pearls together with coloured glass beads. Mixing white pearls with glass beads in your accent colour along the length of a necklace adds contrast and a touch of colour. Natural pearls are most often found in white or off white, but they can also be discovered in pink, lavender, and grey. For something different black Tahitian pearls are a breath-taking option, and South Sea pearls can be found in contrasting gold.
Myth Two – They aren't an affordable option
You can purchase beautiful pieces made from imitation pearls, which look just like the real thing and your guests won't know unless they are actually going to feel your jewellery. While high quality natural fresh water pearl jewellery can be extremely expensive, your bridal pearl jewellery doesn't have to be unaffordable. You can easily match a genuine antique pearl necklace with contemporary imitation pearl earrings and nobody will notice anything.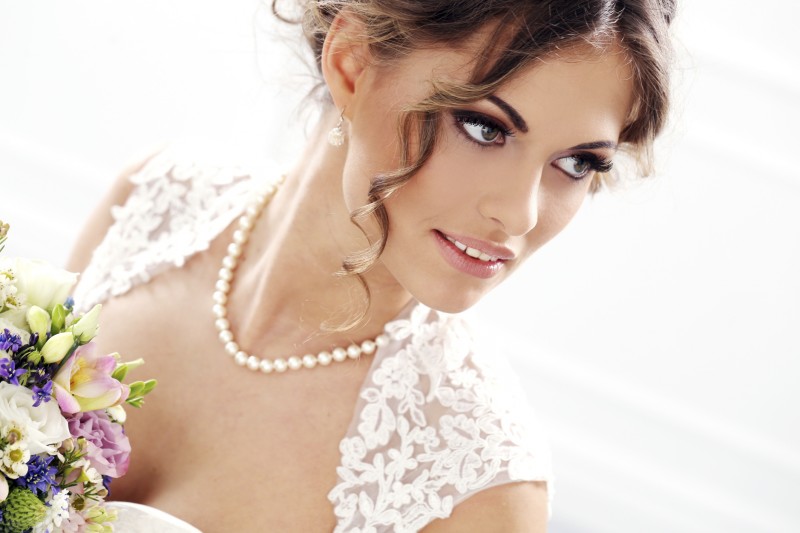 Myth Three – Pearls only look good on older brides
Don't avoid a pearl necklace just because you feel that only old women wear pearls. Pearl jewellery looks perfect on women of every age, and if a classic look doesn't appeal to you there are a number of modern styled pearl necklaces and pearl earrings for you to pick. Pearls look great with gold and create a warm vintage style, but they can also be paired with silver, white gold or platinum for a colder, more contemporary style. Select bright white pearls if you want to use them together with silver jewellery. Consider multiple strand necklaces, with pearls sparsely spaced all the way around the neck, or perhaps drop style pearl earrings, with bigger pearls as the base and smaller pearls on top. You can even pick a tiara or hairband made with pearls to add a coordinated look.
Myth Four – Pearl jewellery for brides brings bad luck
Pearls are thought to be unlucky because they are associated with tears, but there is no reason to think this is a bad thing. Legend has it that an angel tear falling inside an open oyster made pearls, and that is how the myth got started. In truth, pearls are a symbol of purity, innocence and a successful marriage, and the Greeks believed that having pearl jewellery on your wedding day would encourage marital bliss and prevent newlywed women from crying. If you want to go with your grandmothers beautiful pearl earrings, but have heard about pearls being unlucky, don't be afraid – you can still pick them as your something old.
Use Easy Weddings to connect with your dream wedding suppliers.
Browse the directory and start planning today!