Music a big part of the wedding reception and having specific songs for different parts of the reception helps to make the occasion more memorable and also gives your wedding DJ something to work with. Here are some great ideas for wedding cake cutting songs.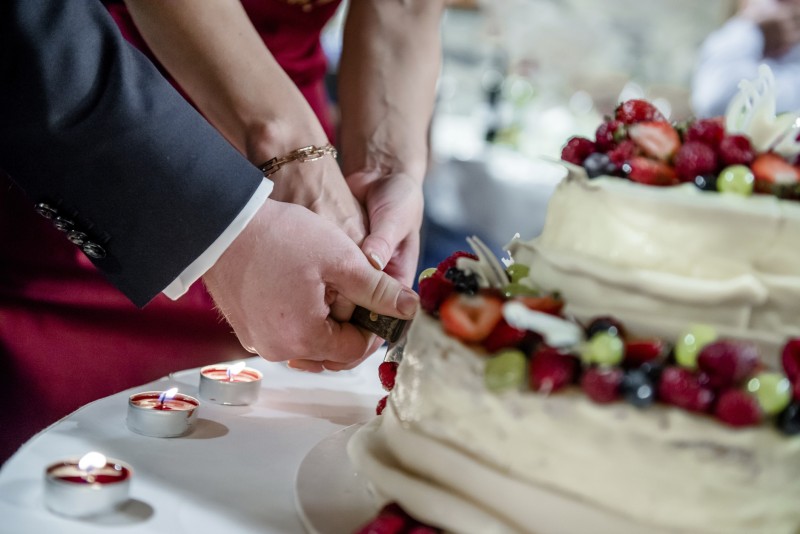 Songs that are upbeat and fun
Cutting the cake is one of the more relaxed parts of the wedding reception, so it's a good idea to pick a fun, cheerful song to accompany the moment.  Upbeat songs to cut your cake to could be 'When I'm sixty-four' by The Beatles, 'Hey mambo, mambo Italiano' by Rosemary Clooney, 'That's amore' by Dean Martin, 'What a wonderful world' by Louis Armstrong, 'Only wanna be with you' by Hootie & the Blowfish, or 'A wink and a smile' by Harry Connick Jr'.
Songs that are very romantic
When you're looking for a first dance song there are bound to be romantic tunes that the two of you love but that don't quite make the final cut.  The cake cutting is a good time to play these songs so you still get enjoy them at your wedding. Famous love songs to cut your cake could be, 'So happy together' by The Turtles, 'The way I am' by Ingrid Michaelson, 'Everlasting love' or 'Our love is here to stay' by Natalie Cole, or 'Love is all around' by The Troggs.

Songs about cutting the cake
While a song about cutting isn't likely to be all that romantic, there are some that can be quite fitting for the occasion.  Some examples include 'Cut the cake' by Average White Band, and 'Cuts like a knife' by Bryan Adams. You could go with 'The first cut is the deepest' by Cat Stevens, but keep in mind that it's about looking for love again after a failed relationship which might be pushing your luck a bit!
Songs that are sugary and sweet
Plenty of songs have sugar or sweet in the title or lyric and so, it might be difficult to pick which one to use at your wedding. Some of the options include 'How sweet it is' by James Taylor, 'Sugar, sugar' by the Archies, 'The sweetest thing I've ever known' by Lauryn Hill, 'The sweetest thing' by U2, 'Sweet love' by Anita Baker, 'Pour some sugar on me' by Def Leppard, 'Sweets for my sweet', by Ben E King, or 'Memories are made of this' by Dean Martin.
Make sure you understand the length of the song you want for your cake cutting ceremony; you might think it will only last a minute or two but by the time you've got to the cake and posed for pictures you'll easily need a four to five minute song.
Use Easy Weddings to connect with your dream wedding suppliers.
Browse the directory and start planning today!