Your wedding dress will probably be the biggest purchase on your mind when you start planning your wedding, but how do you know the best time to order it? Here are some things to think about when you're deciding when to order your wedding dress.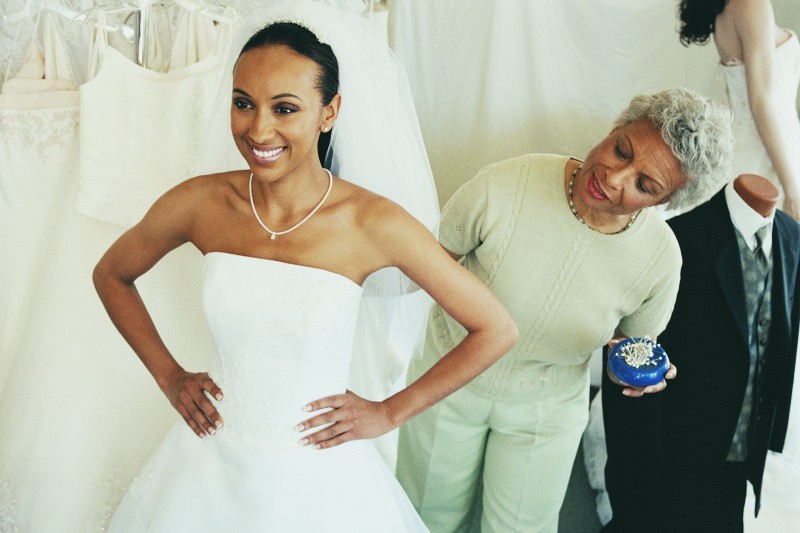 You need to order your wedding dress early enough for any alterations to be done properly, and for you to find the appropriate accessories, flowers, and hair style to go with your dress. Ideally, you should start looking at dresses twelve to eighteen months before your big day, and aim to order your dress about a year in advance.
Having a dress custom made will take quite a while, as you will have to have three or four fittings, so give yourself at least twelve months. Brides buying a dress off the rack will still need to have some alterations done, but they may be able to get away with ordering their dress six to nine months prior to the wedding. Around three months should be scheduled between the initial and last fittings to allow sufficient time for alterations.
Brides that are ordering a dress online, or looking for a pre-owned gown should also order a year in advance to give them time to find an alternative if they are not happy with the gown once its delivered.
Seasonality of wedding dresses
Some brides are concerned that if they order their dress a year before the wedding it will have gone out of fashion by the big day. While it's true that a complete new range of gowns and styles will be released before your wedding if you order more than a year before the big day, bridal fashion is always a year ahead of itself because it is anticipated that brides order their gowns a year in advance.
There is rarely an extreme change in styles of wedding gowns from one year to the next, and you can be sure your guests won't notice if you are wearing last year's designs. If you buy a wedding gown at the end of its season you could even ask for a discount. If you are really worried about wearing the latest trend, you should wait until the bridal wear ranges for your wedding season have been revealed.
Losing weight before the wedding
Many brides decide to shed a few pounds before their big day, but even if you lose weight your basic body shape should remain the same at your initial and final fitting. Unless you plan on losing a lot of weight, you will probably only drop one dress size, and most gowns can be altered to the next size down. For this reason it's not recommended that you wait to order your dress until you have achieved your dream weight.
You need to make sure you've reached your desired weight in time for your final fitting. This is usually about six weeks before your wedding, and after this point it will be difficult to have your dress altered to accommodate any further weight loss.
Use Easy Weddings to connect with your dream wedding suppliers.
Browse the directory and start planning today!