Your wedding to-do list usually includes things like picking your wedding gown, choosing the photographer and sorting out the flowers, but what about your jewellery and bridal hair accessories? When it comes to necklaces, tiaras, and headbaands the choices are endless and picking your favourites can be tough. To help you make the process a bit smoother, it is worth remembering few golden rules on bridal jewellery and hair accessories.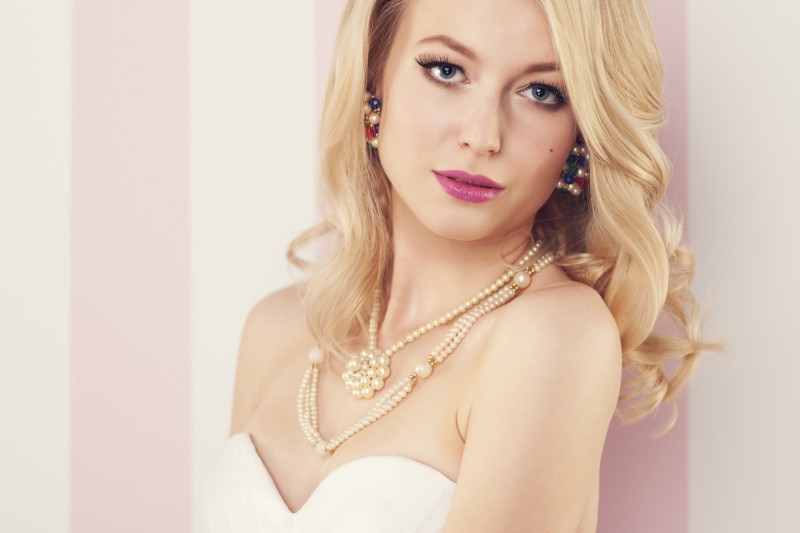 Check out these tips on choosing wedding jewellery and bridal hair accessories:
Your bridal hairstyle
If you have short hair you will want to pick up a lighter, more delicate tiara or headband that will not need lots of pinning to keep it in place. Brides with shorter cuts look best in headband styles or tiaras with a smaller styled comb.
Longer hair will give you more alternatives with hair accessories. Keep in mind that if you are having an up-style you will most likely need a larger tiara, clip or headband to balance out the look.
The colour of your hair is something to keep in mind when choosing your wedding hair accessories. Intricate hair accessories with diamantes and crystals are more distinguishable in darker hair whereas you should choose a chunkier piece if you have blonde or light brown hair.
Your bridal veil
Whether you are using a wedding veil or not will also help you decide on what jewellery and hair accessories to wear. If you decide not to use a veil, then there are some gorgeous options around like fascinators with or without netting, diamante pins, or a just simple hair vine.
If you are using a veil you need to think whether you want it placed high on your head or at the bottom of your head, for instance above a low bun. If you are using a higher veil, you will most likely want a tiara placed in front of it to finish off the style. A lower placed veil looks fantastic with a diamante combed tiara or floral headpiece.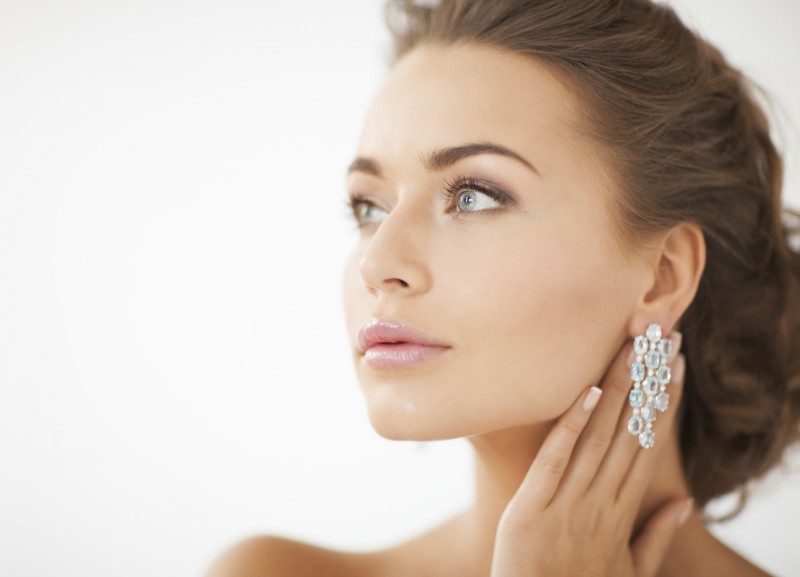 Your wedding dress
Most brides will choose the dress first, then pick their bridal jewellery to complement it. Is the dress traditional, simple, modern, rustic or romantic? Your jewellery should reflect the style and feel you are going for with your bridal gown. For instance if you pick a modern dress, try choosing accessories with a contemporary edge, a simple gown may mean that you could have more fun your with your jewellery and go with a striking necklace and smaller earrings.
The most important thing when picking bridal jewellery is not to overdo it. If your dress is elaborate, try to keep the jewellery minimal and just go for an earring and bracelet combination. Pair the type of sparkle in your dress with similar sparkle in your bridal accessories. Match pearls with pearls, rhinestones with rhinestones and crystals with crystals. Find a headpiece with similar detailing. Gold-tone or ivory pearl-accented tiaras are a perfect complement to ivory or cream dresses, while silvery, rhinestone, and white pearl tiaras work best with the tones of a white dress.
Your gown's neckline
Your wedding dress's neckline is another thing to keep in mind.  It is also a good idea to mirror the necklace with the neckline of the gown so a V-shaped or sweetheart neckline would look better with a V-shaped or Y-shaped necklace that falls down to a drop. For gowns with higher necklines, you may want to select a more striking head-piece or tiara, or perhaps choose some chandelier earrings.
Strapless gowns are very trendy at the moment however they mean that a lot of skin is on show. A beautiful choker or elaborate necklace with drops can be very good at finishing your look without detracting from the dress and will cover more skin so that you don't look too naked.
Above all, the most essential thing is feeling comfortable on your big day so select pieces that feel like you and that you can wear later on as well. Don't be sad if you can't quite find the jewellery you are looking for as you could draw a sketch and have anything you like custom made.
Use Easy Weddings to connect with your dream wedding suppliers.
Browse the directory and start planning today!