The diamond is usually the star of the show when it comes to engagement rings but what about the metal band and setting? Check out our hand guide to engagement ring metals to decide on the best choice for you.

Platinum engagement rings
Platinum is a rare, precious metal. Its heavy weight and durability is advantageous in that the metal will not wear away with constant use. It is also easy to maintain, its natural lustre ensuring it does not need to be plated.
Platinum is heavier than gold and, naturally, more platinum will be needed to make a ring than the amount required white gold. While it is also more expensive than white gold per gram, it will give you a lifetime worth of pleasure.
Platinum does make certain demands on the jeweller's skills. It requires high temperature melting and casting equipment and a scrupulously clean working environment. Attention to detail when polishing is also necessary to achieve the highly reflective finish which shows a stone at its best.
If your piece of jewellery is hallmarked as being 'platinum', it should contain at least 95% pure platinum. If this is not the case a number will appear before the word as a way of announcing the amount of the pure material in the mix.
Gold engagement rings
Pure gold is very soft and therefore not practical for daily wear, so other metals are mixed with it to make rings more durable and lower the cost. Adding other metals to the mix also allows metallurgists to change the colour of gold. Twenty four carat gold is yellow though when palladium or platinum is added it creates white gold while adding copper produces a rose or pink tint.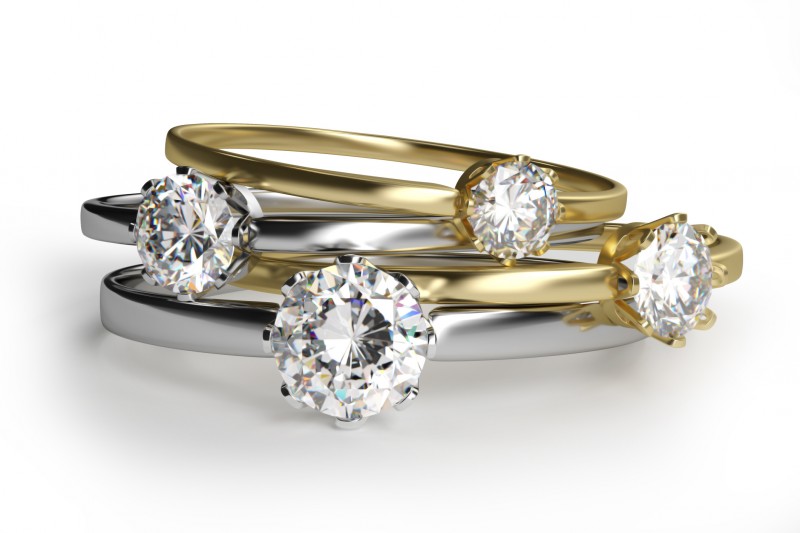 White gold engagement rings
White gold can be purchased in different carat weights and was invented to imitate the look of platinum. The materials have similar properties though white gold is available to buy much cheaper.
All white gold is rhodium plated. Rhodium, a naturally white metal belonging to the platinum family, is used as a 'coating' to give white gold its bright and polished look. This rhodium should be regularly renewed, 12 to 18 months on average, in order to maintain your ring's polished look.
When asking the jeweller about white gold rings, always enquire about the metals used in producing the ring. A mix of metals are added to the pure gold to produce white gold and this will affect the colour and strength of the resultant.
Yellow or rose gold engagement rings
Both yellow and rose gold are available in different carat weights. You should have your yellow or rose gold jewellery polished or buffered by a jeweller.
Article provided by Deborah Windfield Jewellery, edited by Easy Weddings UK
Use Easy Weddings to connect with your dream wedding suppliers.
Browse the directory and start planning today!