If your groom decides to wear a wedding ring he will have plenty of styles to choose from. These days, grooms wedding rings come in all sorts of intricate designs and materials accommodating various tastes and budgets.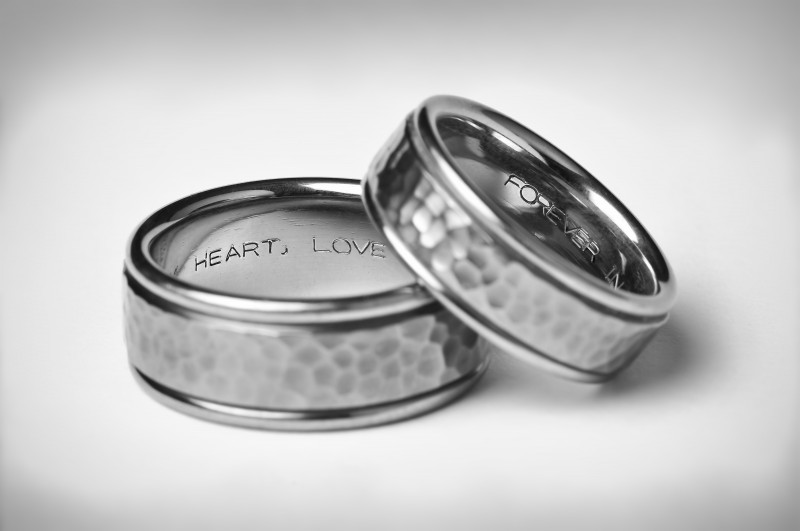 For decades a groom's wedding ring has been a plain metal band but as it becomes increasingly acceptable for men to wear jewellery, wedding ring designs are becoming more intricate and stylish. Here are three major trends in grooms wedding rings:
Diamonds
Maybe grooms are rebelling against the largest part of the ring budget being spent on the bride, as many are now deciding to include diamonds in their wedding bands. The majority are subtle with perhaps a single square diamond embedded into the ring so that it is flush with the surface, or a line of tiny diamonds outlining the centre of the ring.
Brushed platinum
Brushed platinum gives a more masculine look for those that are self-conscious that a polished ring would appear too feminine. Brushed platinum is also an ideal material for a groom's ring from a practical view point as it is durable and hardwearing, and does not mark or tarnish easily. It is a popular choice for men that carry out a lot of physical work where a softer metal band could easily be broken.
Combined metals
An extremely fashionable choice for modern grooms is to have a mixture of metal bands making up their wedding ring. Silver and gold, two-tone gold, or brushed and polished platinum are mixed to produce a striped effect, adding interest to the traditional wedding band.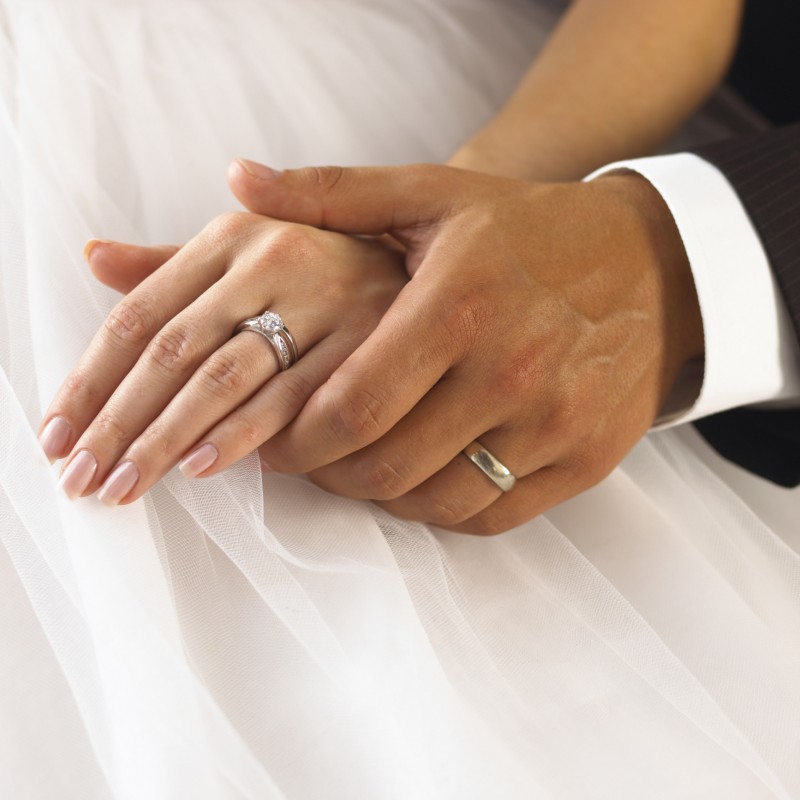 So why should grooms wear a wedding ring?
While the exchange of rings has only been a standard part of the wedding ceremony for the past four decades, the tradition of married men wearing a wedding band had been present for much longer. Regardless of this, some men dislike the idea of wearing a symbol to show they are married, and believe that they don't need a physical object, such as a ring to show their love and commitment to their wife. Others don't like the idea of wearing a piece of jewellery, as they feel that rings are something that only women should wear.
If your partner really objects to wearing a wedding ring, you will probably have to respect that, but you could always propose that he has one for the ceremony itself, and perhaps to store it to wear on special occasions. If, on the other hand your husband-to-be is uncertain about wearing a ring or not, here are some of the reasons why he should:
A sign of love and commitment
A wedding band is a visible sign of your husband's deep feelings for you. By getting married and wearing a wedding band he is conveying those sentiments openly.
A signal he's not available
When a woman is attracted to a man she believes is single, she is quite within her rights to approach him. It can be very awkward and embarrassing for both individuals if he turns out to be married. Something as straightforward as wearing a wedding band is a clear sign that your husband is unavailable and can prevent this type of situation occurring.
Something physical to remind him of you
In some ways your wedding bands are a physical link between the two of you, that is, if you are both wearing them. When you and your husband are apart for whatever reason, be it at work during the day, or for a longer duration of time, your wedding rings serve as a reminder of each other, and every time he looks at his ring, you will be in his thoughts.
Use Easy Weddings to connect with your dream wedding suppliers.
Browse the directory and start planning today!