Cutting the wedding cake is an important wedding ritual and one that your guests will be looking forward to as much as you are, so put some thought into your wedding cake design. Read our wedding cake FAQ to find the answers to all those wedding cake related questions.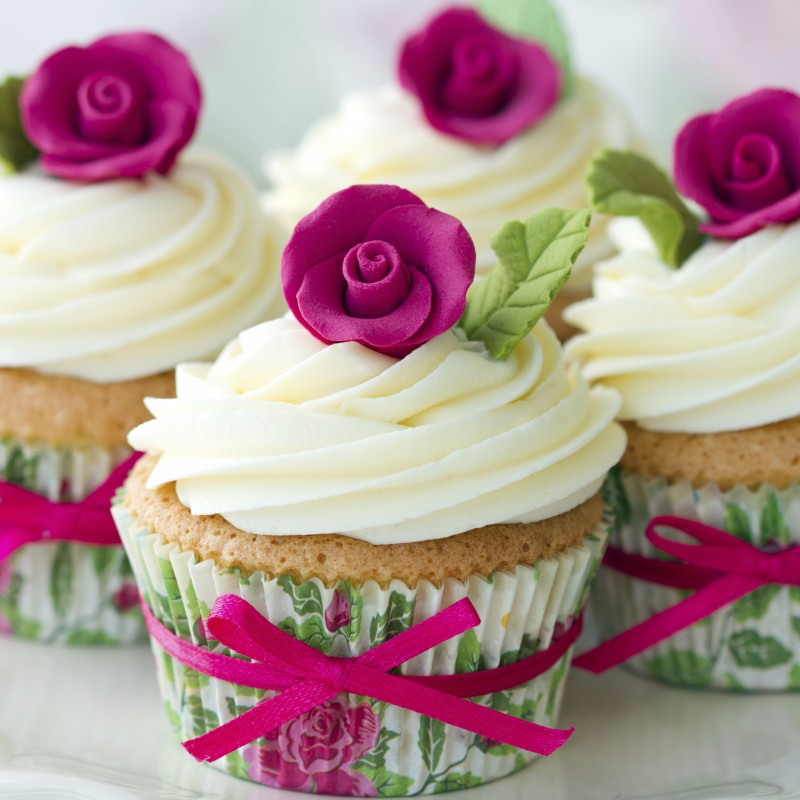 What is fashionable in wedding cake design?
Here are a few wedding cake trends to inspire you when deciding on your dream wedding cake:
Directly stacked tiers. Modern wedding cakes have the tiers placed one on top of the other rather than being divided by columns or cake boards. If columns are used they are concealed by fresh or sugared flowers or fruits.
Enticing flavours. Some couples are deciding to combine a piece of their wedding cake with a rich mousse, or pieces of fresh fruit when they serve it to their wedding party. It has also become fashionable to turn away from traditional plain sponge cakes in favour of alternative flavours such as chocolate and pistachio.
Simple flowers. Popular blooms this season are calla lilies, tulips, daisies, orchids, and gardenias. Whether they are fresh or sugared, flowers still play an important role in many wedding cake designs.
Uniquely shaped tiers. Stacking different shaped tiers can be extremely effective. Couples are increasingly moving away from circular and square tiers and opting for octagonal, hexagonal, or flower shapes instead.
Coloured icing. Cake makers and caterers are reporting an increased demand for lavender, pistachio, baby blue and butterscotch to match the wedding colour scheme and bridesmaids' gowns. As with many other elements of modern weddings, colour is starting to replace the classic white or ivory icing.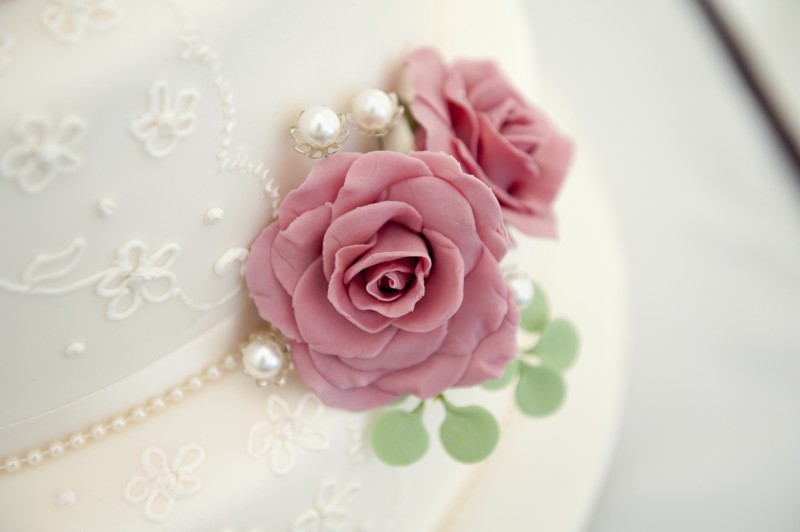 Is it the right cake for our venue?
You might have your heart set on an ice cream wedding cake, but unless you are having your reception in winter, or in an air conditioned venue, you would have to display, cut and serve this with great haste. The ingredients and icing used in your wedding cake should be chosen according to the temperature and facilities at your wedding venue.
If you have decided on an outdoor wedding taking place in mid-summer, you should probably go for rolled fondant icing as this responds favourably to high temperatures. Talk to your cake maker about the type of wedding and venue you have chosen, they should be able to give you valuable advice on the most appropriate cakes.
What size should my wedding cake be?
Wedding cakes are often a main decorative feature, or the focal point of a wedding reception, so you may want to make yours larger than it needs to be just to have enough for all your guests. The number of guests at your wedding will be one of the determining factors when it comes to the size of wedding cake you choose, but you can always have a fake tier or two to increase the scale of the cake.
Currently, many couples are choosing to have different flavoured tiers, which are a great way to keep your guests satisfied, but it will mean the cake has to be on the larger side. It is traditional for couples to save a whole layer of wedding cake to celebrate on their first wedding anniversary. You may also want to have extra pieces of cake left after the reception to deliver to people who couldn't make it or to enjoy yourselves.
Will it taste as good as it looks?
It's often the case that couple are concentrated more on the appearance of the cake rather than its taste. Visiting your cake designer and arranging a tasting for the different parts of the cake such as the filling and icing, if they offer it, can be one of the more pleasurable parts of the wedding planning. When you think you have found your winning combination, think about ordering a small version of the cake so you can test it out at home.
Will it work with our theme?
Whether it means using particular flower decorations, a specific shade of icing, or a complete seaside scene, you should look for cake makers or caterers who will be willing to adapt their usual wedding cake designs to work with your ideas or wedding theme. Most cake makers and caterers are willing to include your personal ideas into the wedding cake design to make it blend in with the theme of your wedding.
Use Easy Weddings to connect with your dream wedding suppliers.
Browse the directory and start planning today!