Cultural wedding favours can be a great way to introduce your own background or cultural heritage into your wedding celebrations. Here are a few ideas for those couples looking for cultural wedding favours related to the Italian, Greek, Indian and Jewish cultures: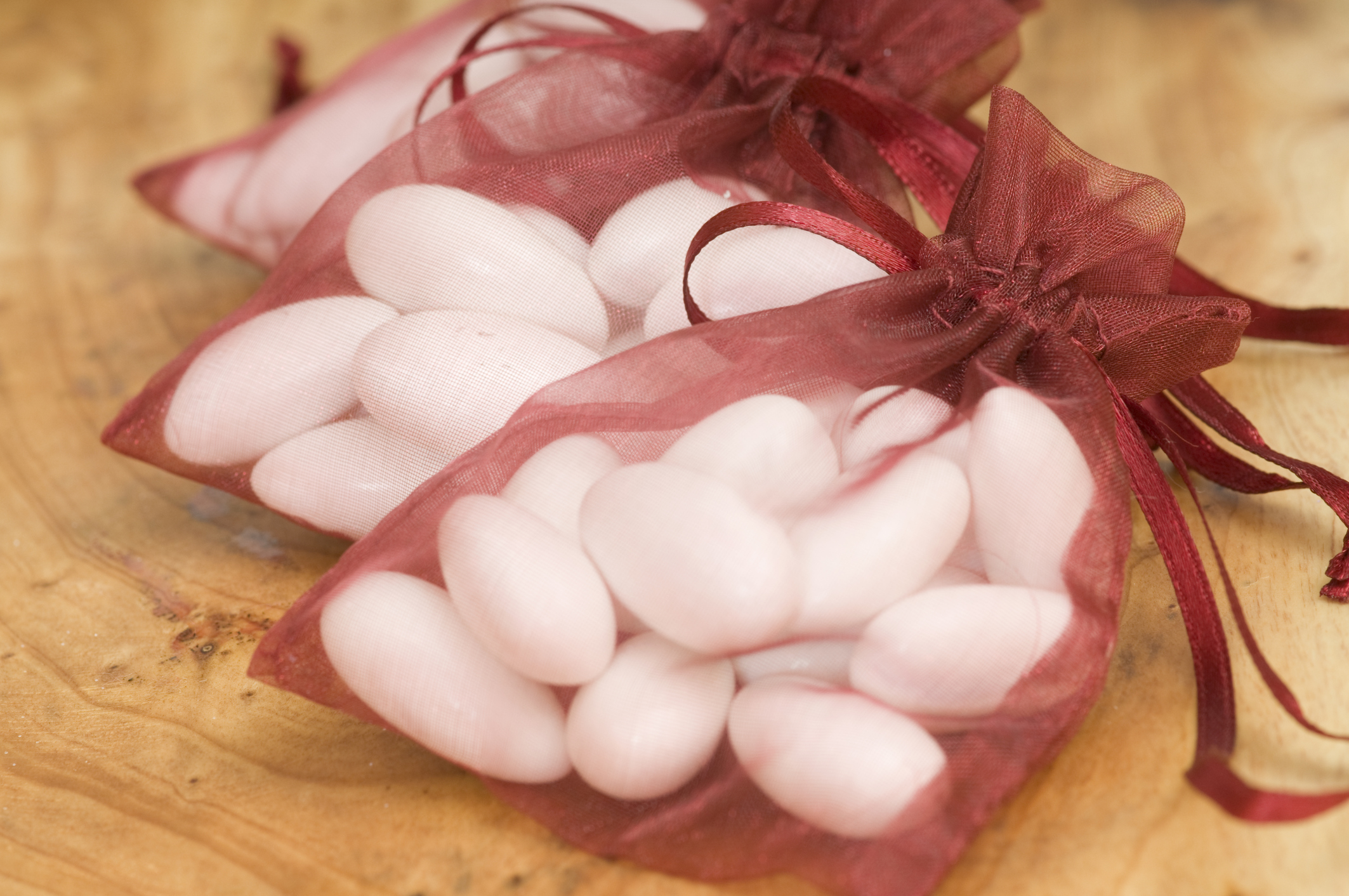 Indian wedding favours
Indian wedding favours are often related to incense. Personalised incense stick or cone holders, incense sets in silk pouches, and candles or oil burners all being popular choices when it comes to favours. It is also customary to give a sachet of potpourri containing jasmine or sandalwood.
Indian wedding favours also tend to vary according to the different religions, and are often influenced by the deities of the particular faith. At a Hindu wedding, guests may be presented with pictures or figurines of Laxmi, the Indian goddess of wealth and prosperity, or Krishna, regarded by some Hindu traditions as the Supreme Being. They are also likely to receive a small statue or figurine of Ganesh, one of the most widely worshipped deities in Hinduism, easily identifiable by his elephant head.
Jewish wedding favours
Jewish favours can consist of chocolates or sweets in a mesh pouch or cute candy box, but these are often accessorised with the Star of David, which makes them different from favours of other faiths. Apart from chocolates and sweets, there are a number of traditional Jewish presents that may be given to wedding guests as favours.
One popular gift to present as a favour is a Tzedakah box, which is used for charity collection. Another favourite is a Mezzuzah, which contains Hebrew verses including the prayer ShemaYisrael, and can be attached to the doorpost of any room in a Jewish family's home.

Greek wedding favours
In the Greek Orthodox faith wedding favours have been distributed as symbols of good fortune and happiness for over three thousand years. Traditionally Greek favours are kept plain, with almonds wrapped in white, pale pink or light blue tulle, tied with a matching ribbon. Of course in Greece today, many modern couples are choosing more contemporary or unusual favours.
Greek favours are traditionally filled with Jordan almonds, also known as koufeta, which are selected for their bittersweet flavour that is thought to symbolize life. There are always an odd number of almonds in a Greek favour so that it can't be divided into half, reflecting the unity of the couple and the strong bond between them. The sugar coating of the almonds is symbolic of the wish that the life of the newlyweds will be sweet rather than bitter.
Italian wedding favours
Traditional wedding favours in Italy consist of very decorative and often brightly coloured tulle bags or pill boxes containing sweets. Other options if you are planning an Italian themed wedding might be small decorative bottles of the Italian liquor limoncello, miniature espresso makers in a range of colours, small vases in a combination of silver and glass, traditional ceramic ornaments, and small packets of Italian coffee and biscotti.