Tying the knot is a huge step, and it's definitely one that ought to be celebrated after the big day is over. If you fancy yourself beach babes and you've always pictured yourselves celebrating your new marriage perched on a sun lounger in front of the ocean, then you're in the right place. Here are 6 coastal honeymoon destinations for you to consider.
Bora Bora, French Polynesia

Bora Bora is famous for its turquoise water, warm weather and water-perched bungalows. Imagine staying in a bungalow that gives you direct access to the water with your own ladder into the clear water or your own private plunge pool. It pretty much sounds like heaven. In the UK, we don't have anything that remotely resembles this, so staying in this type of accommodation is a truly unique experience and definitely worthy of your honeymoon.
Honeymooning in Bora Bora will bring a lot of relaxing and sunshine. But being on the water, it'll also bring some great water activities, like water sports, snorkelling, kayaking and even black pearl hunting. Alongside this, you'll be able explore the surrounding landscape, enjoy delicious local food and make amazing memories.
Santorini, Greece

When people think of Greece, they tend to imagine the domed white and blue architecture of Oia in Santorini. This specific town has been built into the cliffs, which means it's over many levels which guarantees a fabulous view of the sunset. Oia is very popular for honeymooners, yet you'll find that all of Santorini is full of those romantic, sunset-filled vibes that you're searching for in a coastal honeymoon destination.
The capital of Santorini, Fira is another Cliffside town that will bring with it great coastal views and opportunities to explore. For a less busy experience, the beautiful village of Imerovigli has everything a Santorini honeymoon should have: perfect sunsets, beautiful buildings, being surrounded by ocean and local delicacies to try.
Saint Lucia, Carribbean

The Eastern Caribbean island of Saint Lucia is the perfect costal spot to celebrate your newlywed status. With dramatic mountains, luxury resorts, lush rainforests and white sand beaches, how could you not consider this beautiful island?
So while you can lounge on the picture perfect beaches sipping cocktails in Saint Lucia, you can also scale the incredible and unique mountains here for amazing views. Or if you're less of a climber and more of a walker, then talk a beautiful stroll through the surrounding rainforest.
While you're in Saint Lucia, make sure to enjoy the local street food where you can get the freshest, most delicious barbecued fish and chicken.
Amalfi Coast, Italy

If you're looking for a coastal honeymoon that isn't too far from home, then Italy's Amalfi Coast has to be a serious contender. Anyone who has visited Italy knows that this country is a total dream. While the north can be cold, snowy and covered in fog regularly, the Amalfi Coast which is along the southern edge of the Sorrentine Peninsula is sunny, warm and perfect. Here you'll see mountains emerging from the sea, crags and cliffs aplenty, and that perfect blue ocean.
Explore beautiful towns on this amazing coastline like Positano, Amalfi and Vietri sul Mare. And of course, no trip to the Amalfi Coast could be complete without tasting their most famous drink: limoncello. Limoncello is delicious lemon liquor which is produced in the area because it has a perfect lemon-growing climate.
The best thing to do on the Amalfi Coast is to sit back, enjoy the views and eat some of the best food of your life. Oh and you may need to pinch yourselves from time to time as the scenery here seems too good to be true.
The Whitsundays, Australia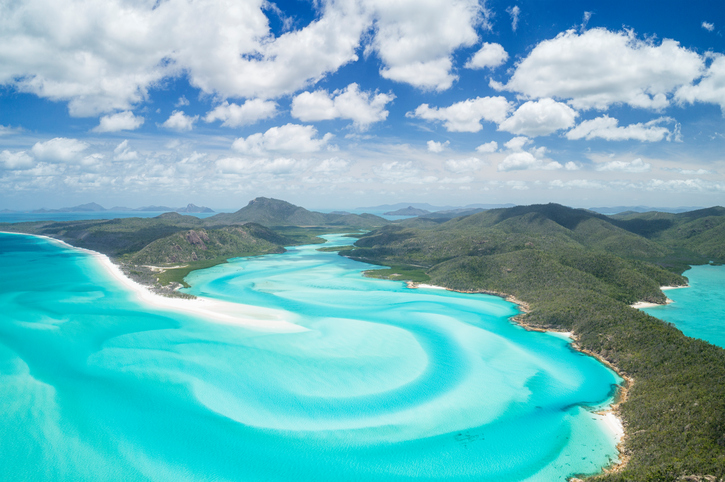 We can't talk about coastal honeymoons without mentioning Australia seeing as it has some of the best beaches and islands in the world. True beach fanatics will love many of Australia's coastal towns from Byron Bay and Coffs Harbour to Margaret River and Broome. However, you won't be going to mainland Australia with this honeymoon. You'll be heading to The Whitsundays, off the central coast of Queensland.
These beautiful islands are perfect for getting back to nature. Depending on where you stay, you could enjoy a largely uninhibited locale, some of the finest beaches in the world – Whitehaven Beach is a must – and water activities and tours to keep you entertained, if all of the relaxation is getting to be too much for you.
While you're here, snorkelling through the Great Barrier Reef is a must. The amazing colours will astound you. It is the perfect place to celebrate your passion for your new spouse, and see some truly remarkable sights.
Maui, Hawaii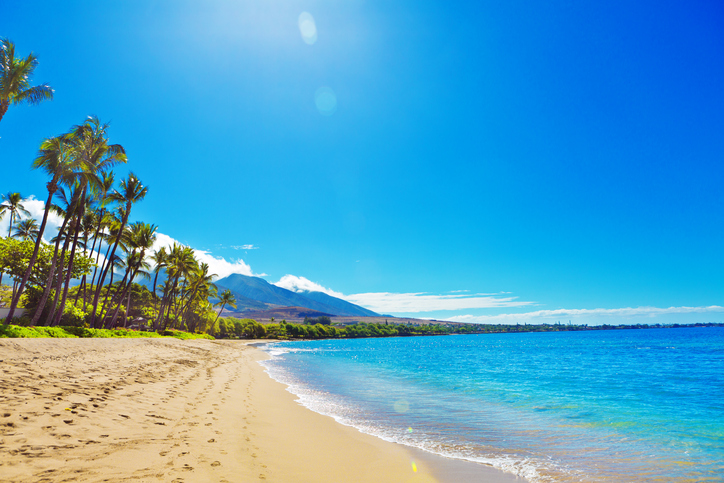 Again, we couldn't write about the best coastal honeymoon destinations without mentioning Hawaii at all. Every year, numerous honeymooners flock to Hawaii, specifically Maui to enjoy their perfect coastal honeymoon. Of course you want to be one of them because, let's face it, you'd be crazy if didn't want to be. So if you're ready to soak up that Hawaiian sunshine, let's jump right in.
As Maui is so big with honeymooning couples, they're well prepared. You'll find the best spas and luxury accommodation on this island, plus along with any coastal destination, great opportunities for water sports and exploration. Imagine snorkelling through the stunning, clear water and seeing a green sea turtle swimming in front of you. This is what you'll find at Malu'aka or 'Turtle Beach' as it's commonly known.
While you're in Maui, you have to go to an authentic Luau where you'll be treated a night of tradition, from hula dancing to a delectable feast of grilled and roasted meats, fresh fish, and perfect salads and accompaniments. This is one experience you won't be forgetting quickly.
Now, that we've shared our 6 favourite coastal honeymoon destinations, it's time for you to start planning and booking your adventure.