Necklaces for brides come in all shapes and styles. Your bridal necklace plays a key role in your wedding look and you should choose it very carefully. To help you out, here are five simple tips that can make picking the right bridal necklace a breeze.

Keep it simple
Generally brides should only wear two statement pieces of jewellery so, if you are going with the trend for large elaborate drop earrings, you should consider forgoing the necklace entirely, or picking something very understated. If you select large and detailed necklace, wear small stud earrings and make sure your hair accessories are kept to a minimum. If you choose to do without a bridal necklace you can always balance the look with a stunning bracelet.
Check the details of your gown
Your wedding jewellery should highlight the theme of your dress so take a look at the detail on your wedding gown. Does it feature beads, crystals, pearls, or diamante? If you have picked a plain dress you're free to choose an intricate necklace, but if your gown is very detailed, go with a very simple wedding necklace. If you wear a vintage style dress, look out for antique jewellery from the same era, and if you've chosen a modern contemporary gown consider an edgy necklace design.
Look at your gown's neckline
Necklaces for brides should follow the neckline of the dress so if your gown has a round shaped neckline, try to find a choker style necklace, and if you have a v-neck or sweetheart neckline think about a longer pendant. Many bridal gowns are strapless, meaning there is plenty of skin on show. You may choose to buy a large multi-strand necklace to prevent you looking a bit bare around the neck and shoulders. Beading all the way around the neck can provide detail, and strings of beads that create a pattern when laid flat against the throat are also fashionable. Dresses with a high or very detailed neckline could look better without a bridal necklace.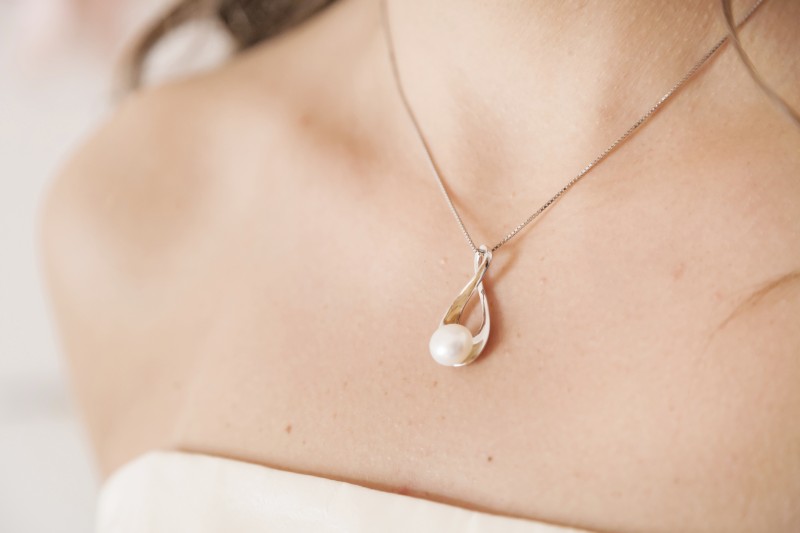 Don't forget colour
Necklaces for brides can be a great way inject some colour into your wedding style. Pale colours aren't always flattering, and bridal shades of white or ivory can make some brides looking washed out. A strong coloured necklace between the gown and the face can help prevent this. You could pair your bridal necklace with the colours in your wedding bouquet, or choose a sapphire and silver necklace and wear it as your something blue.
Opt for timeless necklaces
Your wedding day might not be the best time to experiment with a totally new look, so you could choose to stick to the classic necklaces for brides. A classic bridal necklace with timeless appeal is a simple gold or silver chain with a diamond pendant. You can easily pair this with diamond stud or drop earrings. Alternatively a single string of pearls is a glamorous yet feminine look, and a pearl collar with two or three strands can highlight a long neck beautifully. With pearls symbolising marital happiness, they are always a good choice to make.
Use Easy Weddings to connect with your dream wedding suppliers.
Browse the directory and start planning today!