Hooray – it's that time you've been waiting for since you were a little girl – wedding dress shopping time! Before you get carried away with lace, crystals, and corsets, here are some snippets of advice on choosing a wedding dress.

Know what suits you rather than the latest trends
Purchasing a dress that is ultra-trendy guarantees it will date your wedding photos, and it may also make you look less bridal. It's better to add your own personal touches to a classic dress using jewellery, shoes, and other bridal accessories, than to go for a wedding outfit directly off the wedding catwalks and regret it afterwards. Instead of choosing a wedding gown because it is fashionable, choose one that you love and that makes you look and feel wonderful – if that happened to be an uber trendy one then so be it!
Choose a dress that flatters your body shape
There are so many diverse styles and shapes of bridal gown that there will always be something to suit your body type. Don't be tempted to try to conceal the parts of your body you don't like under layers of stiff structured fabric as this will only accentuate them and give an overall chunky impression. The key is to choose something that will accentuate your best features, while diverting attention away from the parts you are less keen on. Remember these key points:
Dropped waist gowns will compensate for a short waist
Empire line frocks will lengthen short legs and skim over hips
Gathered material or floral decoration at the bust is great for flatter chests
V-necks draw the eye to the centre and work for larger busted brides
Horizontal lines widen the body and vertical lines elongate it
Brides often make the mistake of buying a dress that is too small with the idea of slimming into it. Although you're likely to lose some weight before the big day, you are unlikely to drop whole dress sizes, so it is better to buy a dress that fits and schedule plenty of fittings close to the wedding to make any needed changes. Make sure your frock isn't too revealing as you don't want to be self-conscious all day, and you don't want your wedding photos to be something will embarrass you later in life.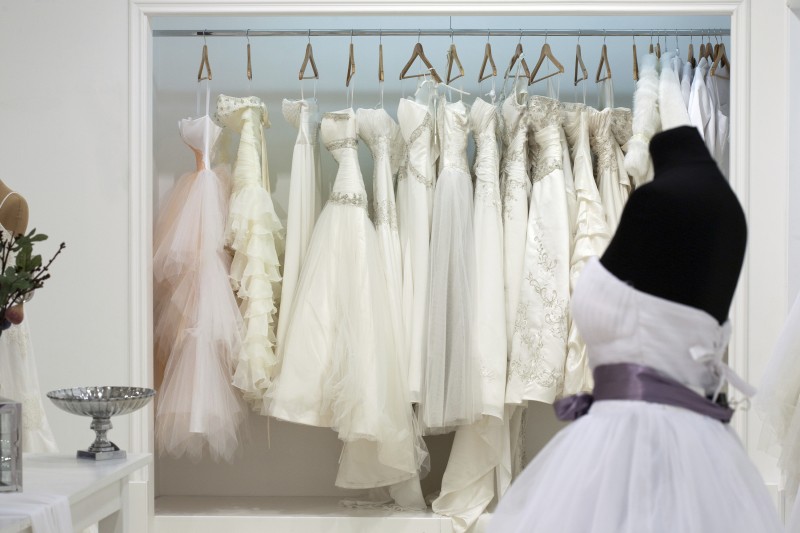 Match your wedding dress to your wedding theme
Think about the style of wedding you want to have when you are choosing your dress. Will it be a formal evening affair, or a laid-back garden party? Are you getting married in a modern hotel, or a stately home? Which season have you chosen? If you're having a themed wedding you might want to make your outfit part of that theme or alternatively you may want to choose you dress first and then create the theme from there.
Keep your shopping experience a positive one
Unfortunately, wedding dress shopping can sometimes be a bit disappointing. Dream dresses that look dreadful when they're tried on, sample dresses that don't fit, confusion over appointment times, and unfriendly shop assistants, can all spoil the trip you've been looking forward to for so long.
Make sure you give yourself plenty of time for shopping, and include relaxing elements such as lunch and drinks as well as boutique appointments. A wedding dress is a considerable investment, so bridal stores should make every effort to pamper you and make you feel special and valued. An experienced fitter should be able to advise you on styles that will suit your body shape, even if you don't think they will work. If you don't feel entirely comfortable with the fitters at the bridal boutique, don't worry about walking out.
Use Easy Weddings to connect with your dream wedding suppliers.
Browse the directory and start planning today!