Shopping for a bridal gown can be a daunting prospect – there are just so many options to think about. Knowing the type of neckline and sleeves that would suit you is a good place to start when choosing a wedding dress styles Here are a few pointers for brides looking to choose a wedding dress style.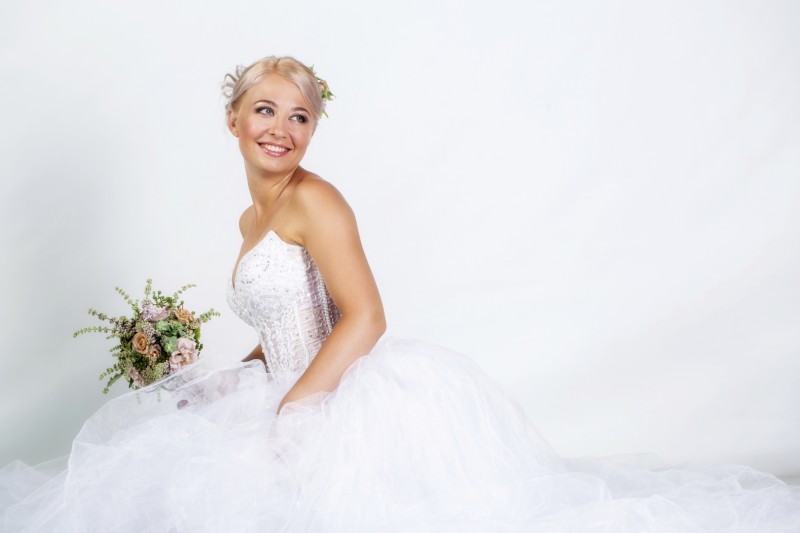 The perfect bridal neckline
As the neckline of the bridal gown can attract or detract attention from the face, neck, shoulders and bust, it is important to bear in mind the pros and cons of each different type when choosing a wedding dress style.
Strapless wedding gowns are very popular and suit most women although larger busted brides may find it difficult to get enough support. Some brides feel they have a little too much skin on show with a strapless dress and use a large necklace to balance this. Larger busted brides should, consider the V-neck as a way of drawing the eye inwards along the centre of the gown.
Smaller chested brides might want to subtly enhance their cleavage with a sweetheart or Queen Anne neckline. They may also find that a high necked, or slash necked gown works well.
As a rule of thumb though, most brides will find square or scooped styles most suitable and won't draw eyes away from their face and hairstyle. Those that want to draw attention to their shoulders could consider a halter neck. Finally there is a remerging trend for asymmetric necklines with just on strap or a strap a sleeve. Again this can be tricky to pull off for larger busted brides but looks amazing if you have the figure to carry it off.
The growing fashion for sleeves
Many brides are purchasing dresses with sleeves, and designers creating styles as varied as the short puffed sleeve to the long vintage lace replica. Wearing sleeves will allow those brides who may not like showing their arms to feel confident and comfortable, and this can make them more relaxed for the wedding photographs and video. For the best of both worlds consider the detachable sleeve, allowing for a more traditional look during the ceremony and a more relaxed style at the evening reception.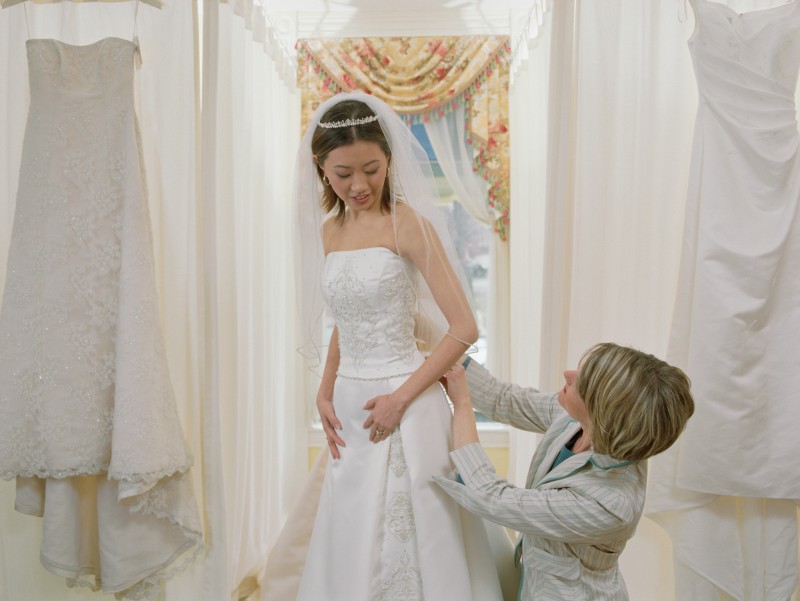 Why white may not be for you
The white gown is a bridal icon but not every bride looks good in white. The colour can drain colour from the complexion and won't necessarily suit fuller figures, attracting eyes to parts of the body a bride would rather remain concealed.
In spite of the perception, many brides choose popular colours such as off-white, cream or ivory over a pure white dress, though there's nothing to stop brides from choosing a boldly-coloured gown should they prefer.
Such popular colours in this regard include deep, dramatic reds and soft pinks, pale golds and delicate lilacs. Should you choose such a look, keep the accessories simple for the sake of balance. Alternatively, a more traditional colour of dress can be complemented with a sash or skirt of a more eye-catching colour.
Use Easy Weddings to connect with your dream wedding suppliers.
Browse the directory and start planning today!