You HAVE to take your entire family to the bridal boutique to search for your wedding dress, right? Your mum has to cry happy, proud tears, and your sisters have to shriek with joy when you've found 'The One' – or, at least, that's what happens in the movies and the T.V. shows. But what if you simply want to look by yourself, and would rather not take an entourage to your bridal boutique appointment? Can you go wedding dress shopping by yourself?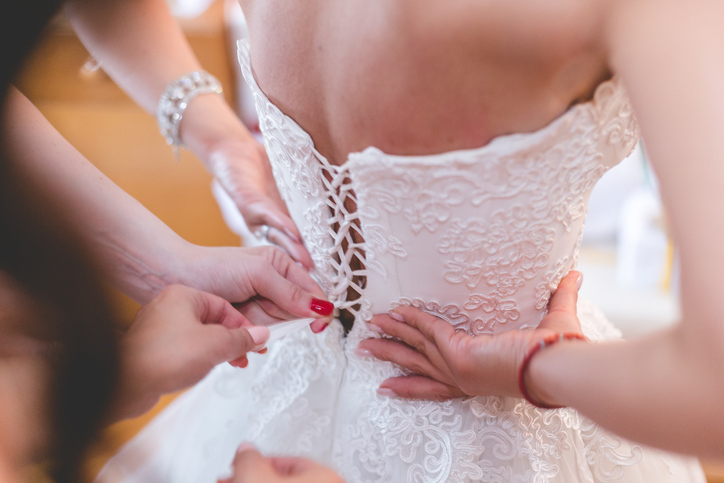 The dilemma
If you're anything like me, you've never even been given the chance to try on a wedding dress. I couldn't tell you if I look better in a fishtail gown or a princess dress, and I'm sure a lot of brides out there can relate.
Most of us simply have no idea what kind of wedding dress style would suit our body shape, and therefore have no clue where to start. And, if we're going to bring our closest family and friends to possibly spend hours watching us try on wedding dress after wedding dress, we'd prefer to at least have a running start on the whole process.
But is it a done thing to go wedding dress shopping by yourself?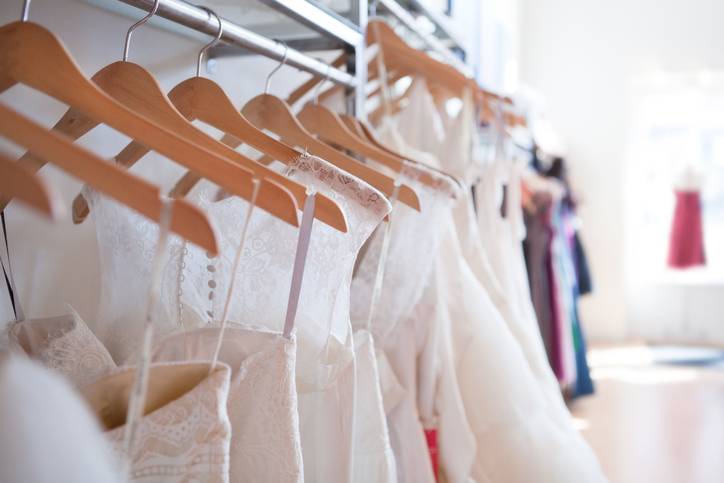 Why we think this way
Pop culture television shows and almost every recently released wedding movies show brides taking their entourage to their wedding dress appointments. It's become a tradition, almost, that brides enlist the help of their family and friends to collectively choose her dream dress.
Because of this representation in film and television, we now think it's normal to take your bridesmaids and family members, even if you'd usually prefer clothes shopping by yourself.
Shopping by ourselves
As an adult woman, I actively avoid shopping with others. There's something relaxing about milling around clothes racks and making decisions alone. I understand it CAN be helpful to have a friend there to tell you what looks good and what looks absolutely awful on you, but usually I can make those calls for myself. And I'm sure a lot of brides out there would feel the same.
Among the many great things about wedding dress shopping by yourself, is the fact that you can go anytime, anywhere. There's no hassle surrounding 'when everyone's free', and you could even pop round to the local bridal boutique during your lunch break!
Additionally, bridal boutiques are usually quieter midday on weekdays, meaning more time and more one-on-one help from staff! This is a great time to ask professionals what style and fabric really suits you, and get a feel for what style goes with what you envision for your day.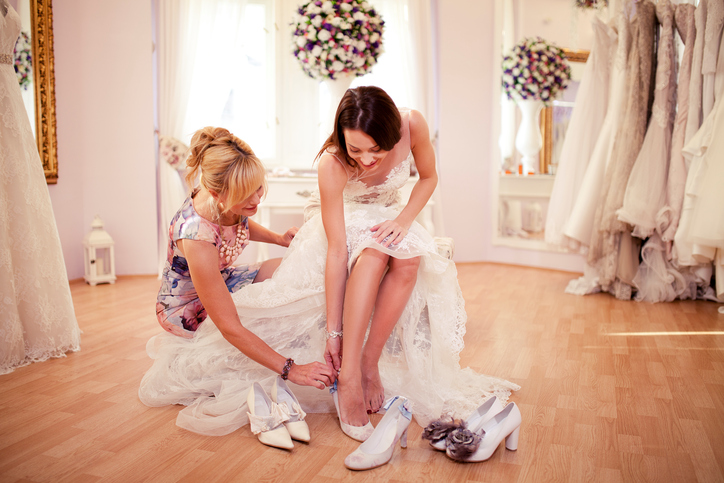 Your entourage will cloud your judgement
While some might call it encouragement, I'd call it peer pressure. There's nothing like a team of excited family and friends crying and cheering and saying "This is the one!" to make you say yes to the wrong dress.
Brides often end up with wedding dress regret because they picked a dress everyone else said they looked great in, but perhaps didn't particularly reflect their personality or suit their style. If they'd gone shopping by themselves, perhaps their judgement would not have been clouded by the opinions of others.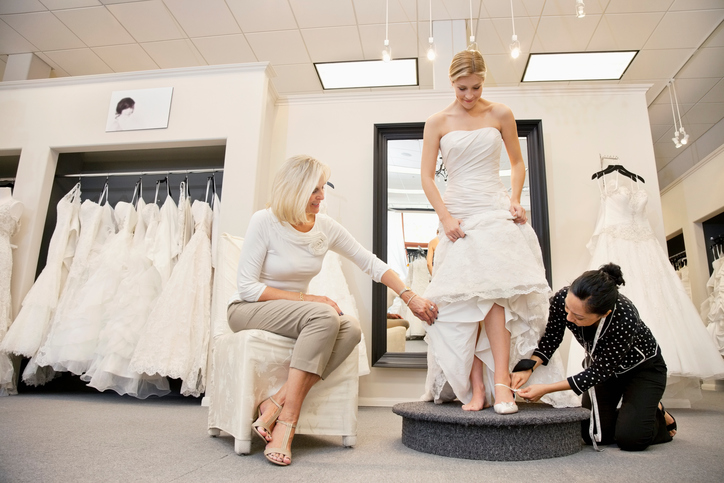 Why it's great to bring family and friends
On the other hand, getting married is a very exciting time for all involved, including your family and friends. Taking an entourage to your bridal appointment may actually end up being a great bonding experience, and later a cherished memory.
As a happy medium, you could try on styles by yourself to give you a real idea of what you want, and then show your family and friends your options at a later appointment.
The bottom line
If the whole 'bring your entire family wedding dress shopping' isn't for you – that is absolutely okay! Not all of us exist in the Bridesmaids movie. Your wedding, your choice!