Don't feel daunted when looking at engagement ring styles. It's all about personal tastes and remembering that, in this modern world, anything goes! Trying on as many rings as possible increases the chances of finding the perfect one, so give yourself a day to just meander around your jewellery shops and remember the following advice.

Engagement ring settings
Here are five potential engagement ring settings:
A bezel setting has a fine band of metal surrounding a stone. This can be used for the centre stone in a cluster ring or, alternatively, for a solitaire.
A claw setting has the shape and position of claws. This affects both the look and height of the ring and is the standard setting for a solitaire. A shared claw is now a very popular choice where there are several claw set stones along a band.
A channel setting has a channel dug within a band with stones dropped into the channel against each other to present a continuous look. The edges of your channel-set stones can either be fine or heavy depending on the look you require.
A grain setting was popularised during the Art Deco period. It can give a 'textured' vintage look to a piece of jewellery. When there are many stones packed closely together this is known as a pave setting.
A bar setting, as its name suggests, uses small bars set between the stones to give an open look to a band style ring and is an popular alternative to the channel setting.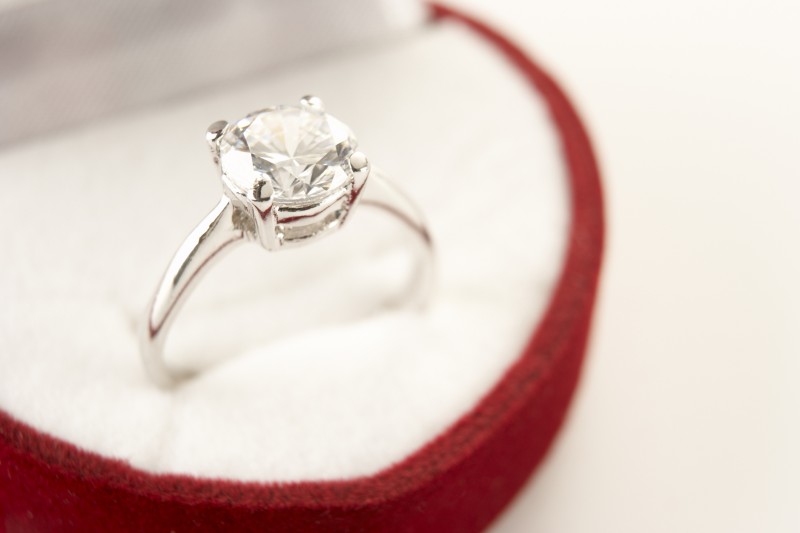 Engagement ring styles
Here are three popular engagement ring styles:
Solitaire rings – meaning loner in French – refer to one stone set in a plain band – the iconic engagement ring.
Cluster rings have a central stone of any shape embraced by smaller stones, hence the 'cluster' of the name. These stones can also be set on the band. Try contrasting coloured gemstones with diamonds.
Three or five-stone rings can consist of stones that are all the same size, or those that differ in size and shape. You could choose a ring with a round brilliant diamond with two smaller pear-shaped stones either side of it.
Practical engagement ring considerations
The size and shape of your hands will be a factor when you're looking at engagement ring styles. A 0.55 to 0.75 carat stone for example, will look large on a petite hand with short fingers while a larger hand will require a bigger diamond to look balanced.
When choosing engagement ring styles you should also consider your job, any sporting activities you partake in and whether or not you are clumsy or liable to drop your precious ring. Specific settings, metals and stones can be recommended to fit the personality of the wearer.
When you're trying on rings think ahead to how you will wear your wedding ring. Most jewellers offer engagement rings with protruded settings that start right at the base of the hand, not allowing wedding rings to sit flush next to them. Should you want a flush fit, you would have to have your wedding ring made to fit the contours of your engagement ring, though this isn't always practical if you ever wear your rings separately.
Article provided by: Deborah Windfield Jewellery, edited by Easy Weddings UK
Use Easy Weddings to connect with your dream wedding suppliers.
Browse the directory and start planning today!