The details of your wedding outfit are just as important as the dress itself and your bridal shoes will really complete your look. Here are a few ideas if you're looking for bridal shoes to add the wow factor to your wedding dress.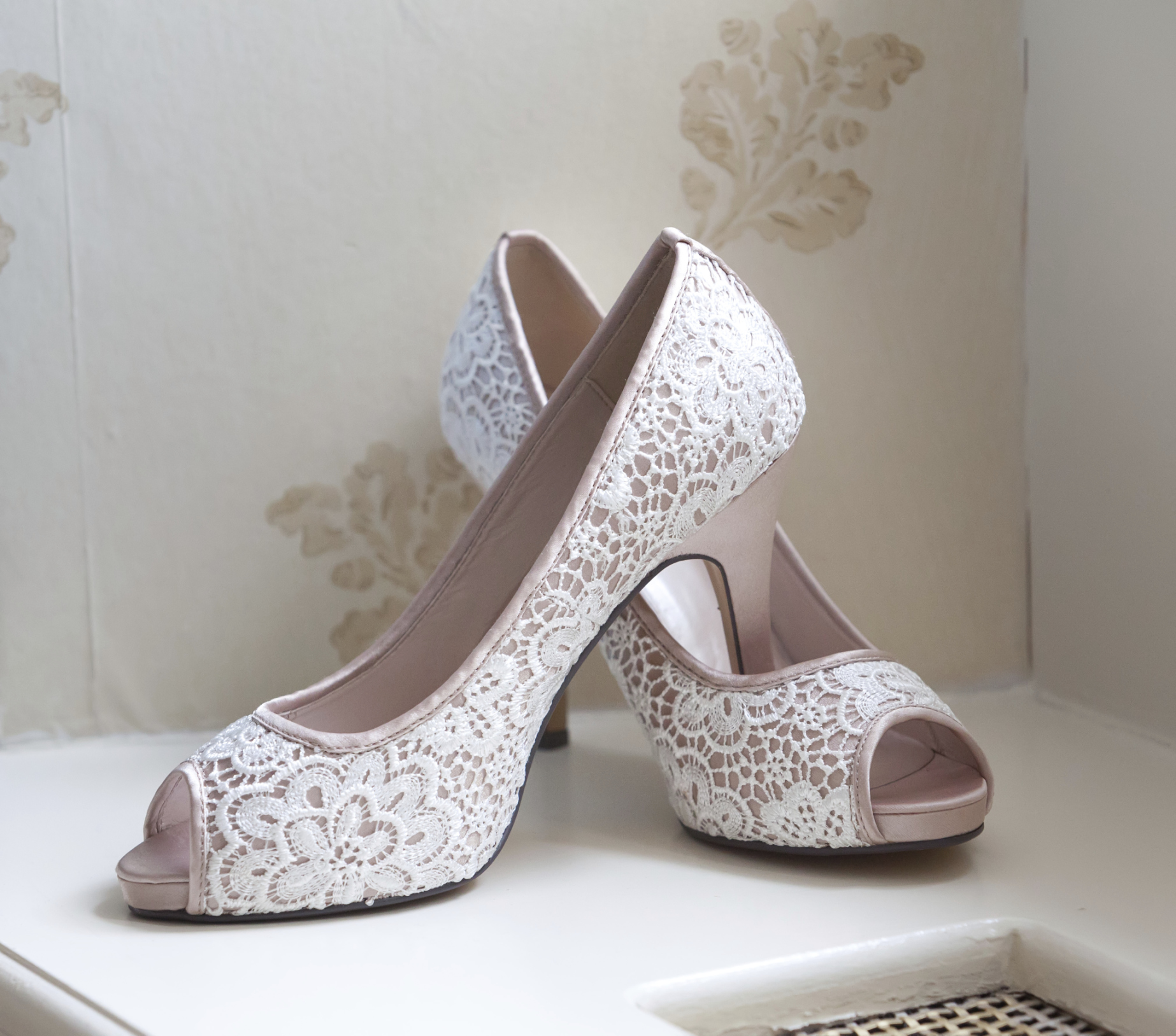 One of the biggest questions brides will need to ask about their bridal shoes is whether they need to match their wedding dress. There is a very easy answer to that question:
If you want them to match, they must match exactly. If you don't want them to match, they must be a complete contrast.
If you wish for matching shoes, keep in mind that the fabric needs to match and so does the colour. If you go with shoes that almost match the gown but not completely, it will be very obvious, especially in the pictures which will highlight any subtle undertones in the material that aren't so clear to the naked eye. To prevent looking as if you have tried and failed to find matching shoes, they should match perfectly or not at all.
Contrasting bridal shoes
Brightly coloured or excessively accessorised shoes are very popular, and material corsages or crystal studded straps are included in many of the latest designer bridal shoes. Brides are becoming more adventurous with their bridal shoes, and a number of them are using them to add a little originality and personality into their wedding outfits. If you wish your wedding shoes to come with a complete contrast to your bridal dress, here are three ways to achieve this:
Use shoes as your something blue: Baby blue satin shoes with a pure white dress are a subtle option for a winter wedding, while sapphire shoes with an ivory dress will make more of an impact. Selecting blue shoes means you don't have to find anything else to be your something blue.
Opt for metallic shine: Silver shoes go well with pure white gowns and silver jewellery, gold shoes look better with cream dresses and gold jewellery, and pink shoes look the best with ivory dresses and pearls. Metallic accessories are a popular option for brides and bridesmaids alike, and picking bridal shoes in gold, silver, bronze, or metallic pink will provide you with a statement look without looking ill-fitting with your dress. Ensure the shoes match with your jewellery and your gown.
Use the accent colour: This specifically suits looks that have a bold accent colour such as deep red, against an ivory dress. Finding a pair of bridal shoes in the same colour as your bridesmaids' gowns, or your bridal bouquet, is a fantastic way to tie your entire theme together.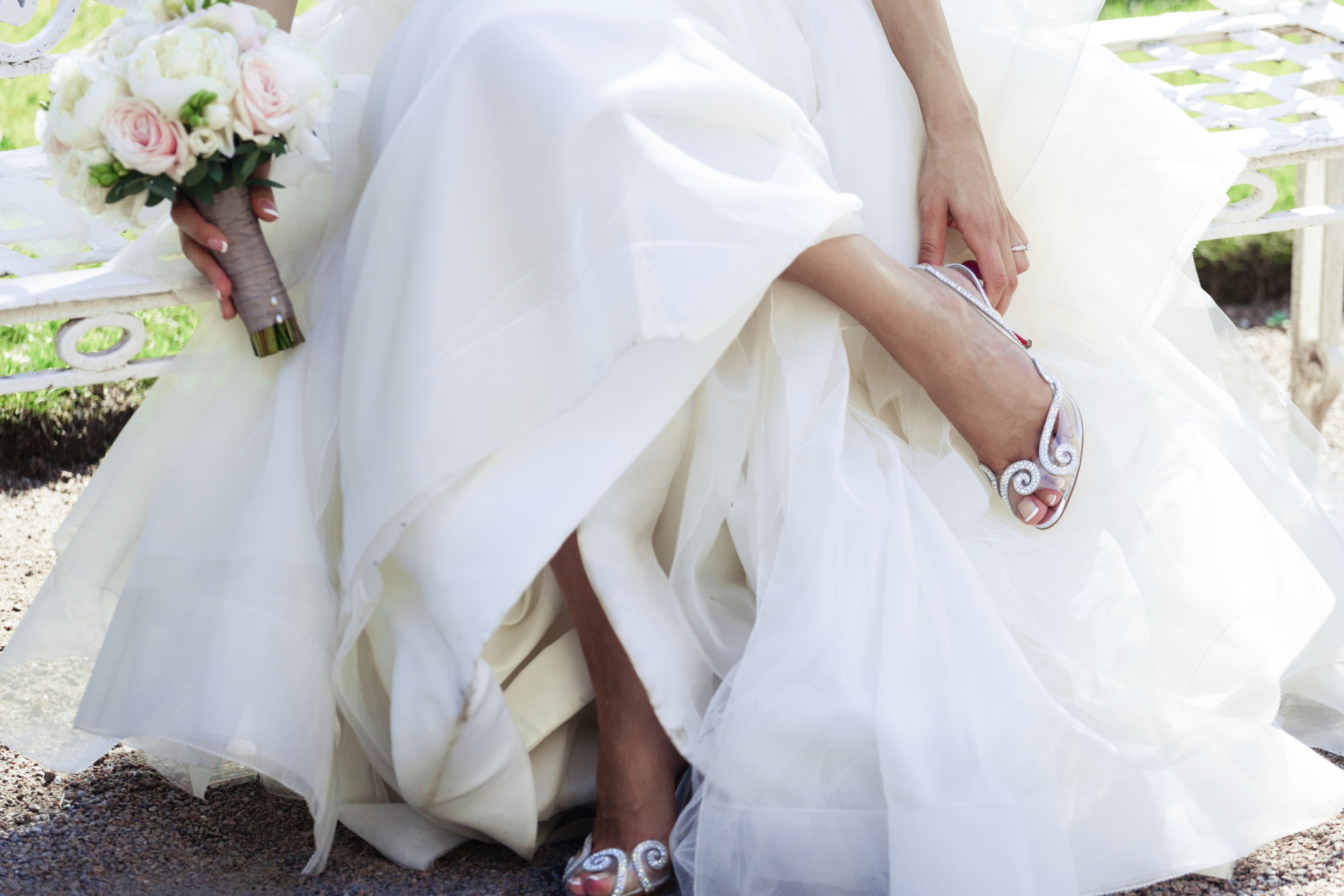 Perfectly matching shoes
Here are three ways to find bridal shoes that perfectly match your dress:
You could try to find a company that specialises in dying bridal shoes to superbly match the gown. They offer a range of standard looks and fabrics, and if you send them a sample of your wedding gown fabric, they will dye the shoes to your specification.
You could order some excess gown material and get another pair of shoes that you have purchased covered in the fabric. This is usually cheaper than purchasing designer shoes, and ensures a perfect match if the shoes are suitable to be covered and this is done professionally.
You could purchase your shoes from the same designer that designed your gown. This will guarantee that the colour, the fabric, and also the style are the right match for your bridal dress. This can be an expensive way, however.