As the UK is finally starting to get consistent warm weather, we're looking towards summer when beachy weddings will be on all of our calendars either here in the UK or overseas. If you're lucky enough to be marrying this summer and you're still searching for that perfect beachy frock to walk down the sandy aisle in, then you're certainly in luck. Here are 6 beachy wedding dresses to completely fall head over heels with this summer.
The flowing sheath dress

When people think of beach weddings, they'll likely think of very bohemian style wedding outfits. And while boho is definitely good, it's not going to suit everyone. So instead of going full boho, why not take a few pointers from the style instead? Boho dresses tend to be of maxi length, so take inspiration from this and go for a floor-length style.
Floor length doesn't automatically mean elaborate. In fact, we'd encourage a beautiful and simple sheath style dress. This option allows for your skirt to be flowing and feminine, where your neckline and bodice can be more elegant and fitted.
When it comes to materials, for a summer wedding, lighter materials will always be better as you won't get too hot and spend your day feeling sweaty and gross. Another great reason why lighter fabrics are better is if you're having a destination wedding. A dress made of light materials will inevitably weight less so you can take it on the plane without any issues.
The asymmetrical dress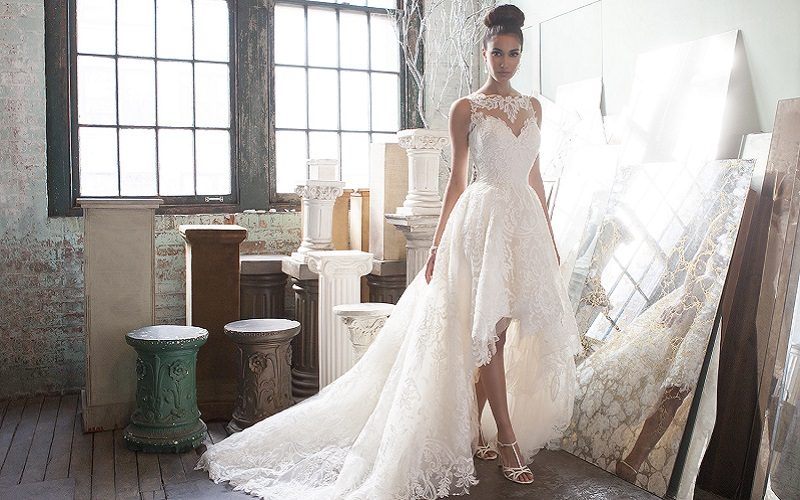 A few years back we saw asymmetrical dresses everywhere. Well, we have some good news, they make the perfect beach wedding dress.
Many brides who marry on the beach still want the traditional wedding style, they just happen to be smitten with the beach too. The problem with going full traditional at the beach is that your wedding dress will likely be thick, heavy and very lengthy, with a long train.
Lots of traditional wedding dresses have trains, which are perfectly wonderful, but not that suitable for beach weddings unless you're fine with it getting a bit dirty with sand. Many brides are not fine with this as after they've played in the sand, they quickly realise that they're stuck wearing that dress all night.
So unless you're planning on getting changed, a nice alternative here is the asymmetrical dress. Going for something shorter in the front and longer in the back like this, will still feel as though you're wearing a dress with a train. Plus, this option will be light, comfortable and easy to dance in later in the day.
Spaghetti straps

While strapless wedding dresses are always fab, consider spaghetti straps for your beachside wedding instead. Spaghetti straps are hard not to love, especially if you grew up in the 90s and early 2000s when these straps were all the rage.
The lovely thing about spaghetti straps is that they can add a casual look to an otherwise very fancy wedding dress. This is often something that brides who are marrying on the beach will consider when they're picking their dresses. This strap choice allows you to pick a ritzier looking dress, where the straps will make it still look casual and breezy. The straps can balance out the elegance with a sweet-natured, innocent quality.
Tea-length or mini dresses

To avoid any kind of sand getting on your dress, a tea-length or mini dress is the perfect option. Going mini can mean that you go quite elaborate in fabric or design without worrying about looking too over-the-top, because the dress's length will counteract this perfectly.
Another lovely choice is the beautiful tea-length dress. This length of dress became really popular in the 1950s and 1960s and is still hugely popular today. What's great about the tea-length dress is that it's very elegant and classy, while being of a shorter length which is not so easily achieved in other shorter styles. Opt for something simple or more elaborate in your tea-length gown and don't fret about it getting sandy, because the length will mean you look perfect for the whole day.
The cropped top and skirt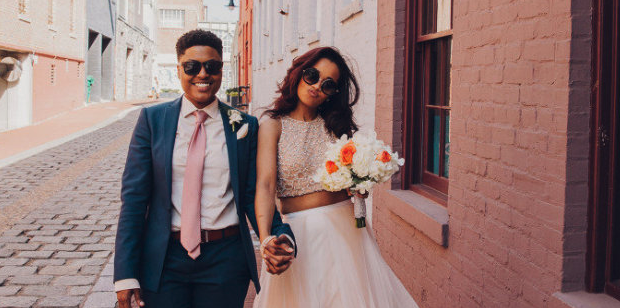 For many of us, going to the beach means showing off a bit of skin and enjoy the beautiful sunshine. If you're looking for this as a part of your wedding day dress, then consider opting for a cropped top and skirt rather than a dress. This option will give you the pop of skin that you're looking to show off, while still being incredibly classy.
You can opt for a lace heavy crop top that falls to your waist and then a high-waisted flowy maxi skirt to pair it with. You midriff will only be slightly showing, which will add a beautiful contrast to break up the materials. Plus, this look might be the most appropriate for a beach wedding yet with its references to beach-wear. This option will keep you cool throughout the day, while still being a very classic wedding style.
The backless dress or leg-split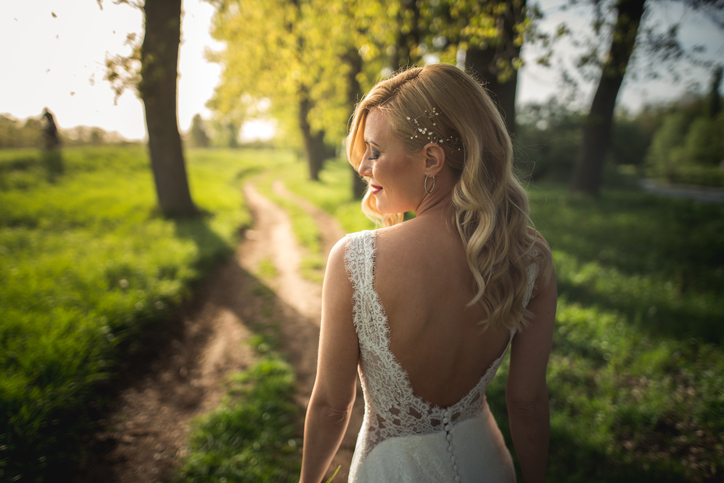 If you're hoping for a more traditional wedding dress with all-over lacing or in full-length, you might want to consider showing a bit of skin to balance the intricacies or heaviness of the materials. When we're talking about beach weddings, having a bit of skin showing will add those effortless summer vibes that will go so perfectly with your choice of venue and season.
A backless dress will give you this summery vibe. Having your back exposed will be cool if it's hot day, plus it looks amazing. You won't have to worry about your look being anything less than perfectly elegant.
A leg-split will offer the same refreshment, however it's a sexier option. If you're looking for your wedding day look to be on the sexier side, then this is a great choice.