If you've even wanted to be a princess, but lacked the palace or castle in which to play, here is a list of 12 sumptuous venues fit for any royal-at-heart bride. From the tip of Northern Ireland to the English West Country, Scottish Highlands, Welsh Valleys, and everywhere in between, we've got you covered:
Ackergill Tower, Wick, Scotland
Standing on the northernmost tip of mainland Scotland and just a short trip from John O'Groats, Ackergill Tower is a fifteenth century coastal Castle and one of the most sought after wedding locations in the world – and from the pictures we can see why!
The Great Hall boasts a warm and relaxed atmosphere, with added history and grandeur for good measure; the nearly 3,000 acres of surrounding farmland and miles of beach are perfect for those special wedding photos.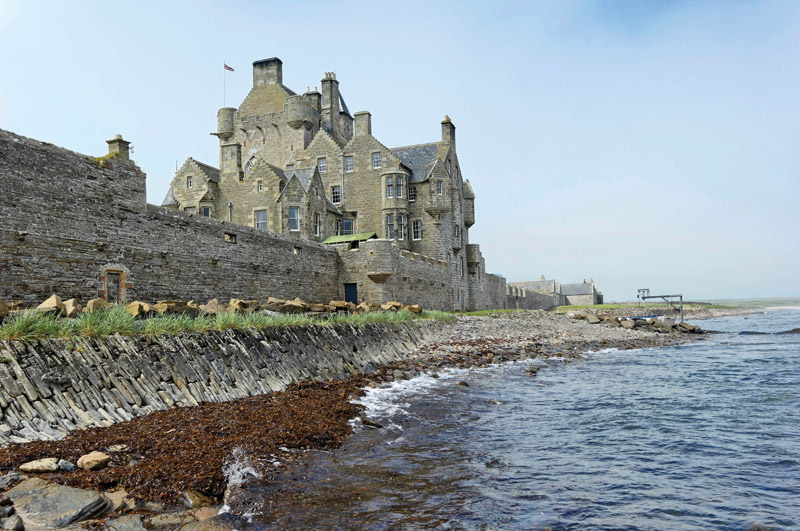 Hengrave Hall, Bury St Edmunds, England
Between the stunning garden-view terrace, the well-groomed lawns and the chandelier-adorned Long Gallery, there's a theme and photo opportunity everywhere you look at this restored Tudor mansion, which sits on the outskirts of the beautiful Bury St Edmunds. Hengrave offers its guests romantic charm, 35 catered-for bedrooms and, even, a private church for the ceremony.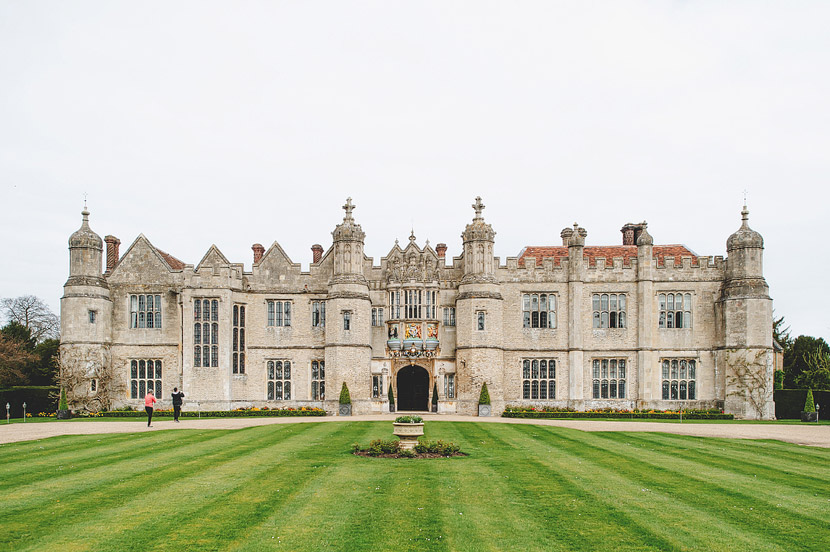 Hever Castle, Kent, England
Dating all the way back to 1270, this truly awe-inspiring English castle once hosted Anne Boleyn and offers a dizzying collection of antiques and fine art. The venue has three locations to offer; the private Astor wing of the castle which includes the lawn-facing terrace, Tudor Suite Sitting Room and Dining Room (featuring a working grand fireplace), the Italian Garden, a stone piazza on the edge of the 38 acre lake, or the Hever Castle Inner Hall with the reception taking place where Henry VIII would once have feasted.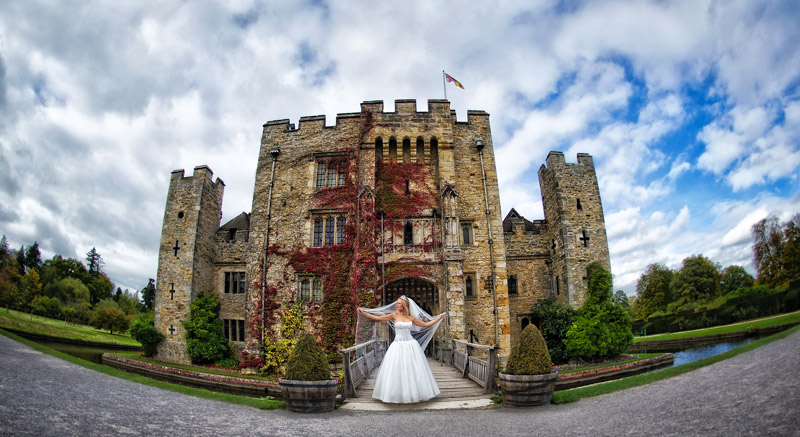 Château Rhianfa, Anglesey, Wales
With peaceful views over magnificent Snowdonia, and a costal location on the shores of the Menai Strait, this Welsh castle can host a wedding banquet (yes, banquet!) for 80 guests in charming luxury and offers 16 high-class bedrooms and even three self-contained rural cottages for guests looking to stay the night.
It is also licensed for every wedding you could want, so it's a one-stop wedding venue for luxurious grandeur and stunning views.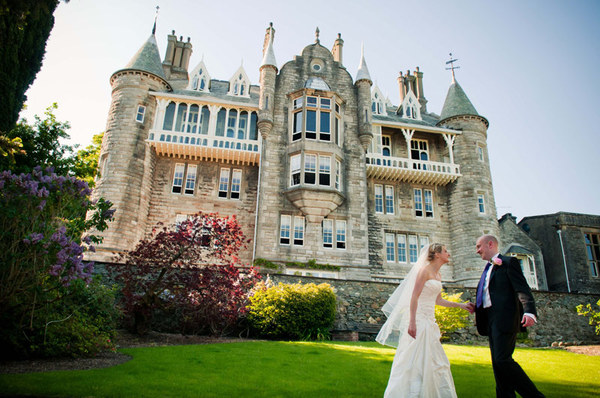 Warwick Castle, Warwickshire, England
The State Dining Room of this fairytale castle has hosted knights, kings, and queens over its almost 1200 years of service. Between the hundreds of wall-mounted swords, medieval decadence, and chandelier-adorned rooms, this really is the castle of your wedding dreams.
In the summer months, the Capability Brown tended gardens and Conservatory terrace can host tranquil wedding receptions and offer your guests the chance to explore the historical state rooms during their visit.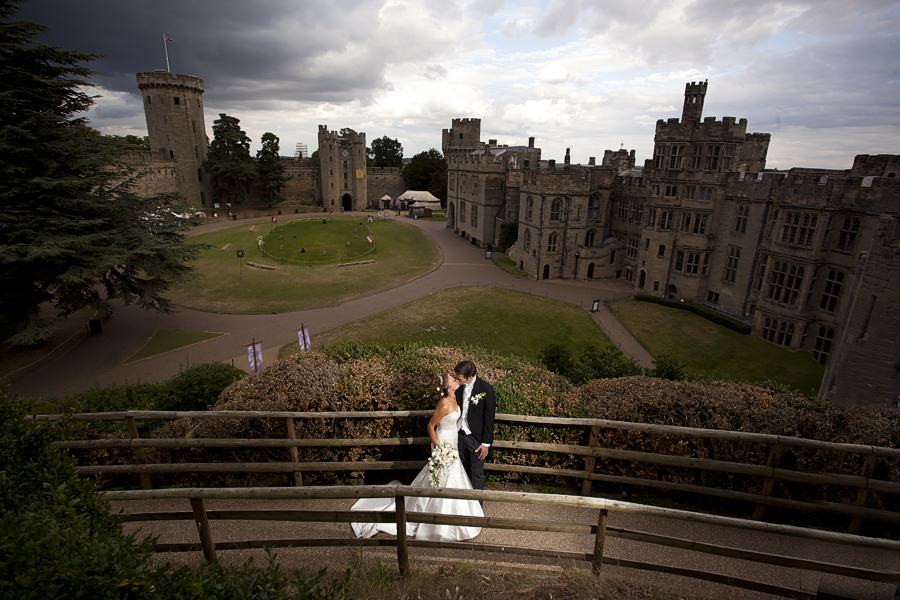 Machermore Castle, Dumfries and Galloway, Scotland
This secret, secluded estate is located on the picturesque river Cree and gives guests full use of the grounds and Scottish castle for their wedding reception and ceremony. And, yes, the venue is licensed. Your wedding photographer won't have trouble capturing your fairytale wedding with a myriad of magnificent locations, including the external turreted grandeur of the castle itself.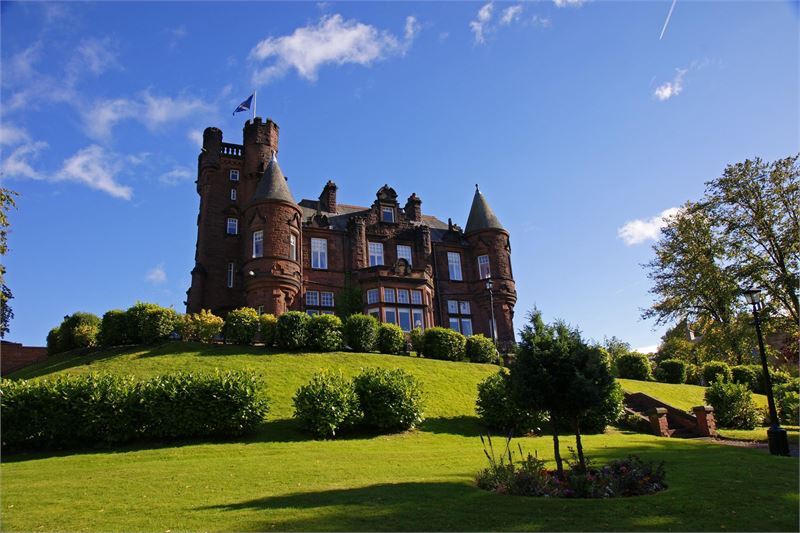 The Founder's Building, Royal Holloway, England
Bordering the Great Park of Windsor, this Victorian palace offers prospective bride and grooms 135 acres of impressive grounds, individually catered wedding packages, and a dedicated venue co-ordinator.
The Picture Gallery and Victorian Dining Hall, both original features of the building, are perfect for spectacular reception meals, impressive wedding photos, or even a private moment between you and your new spouse.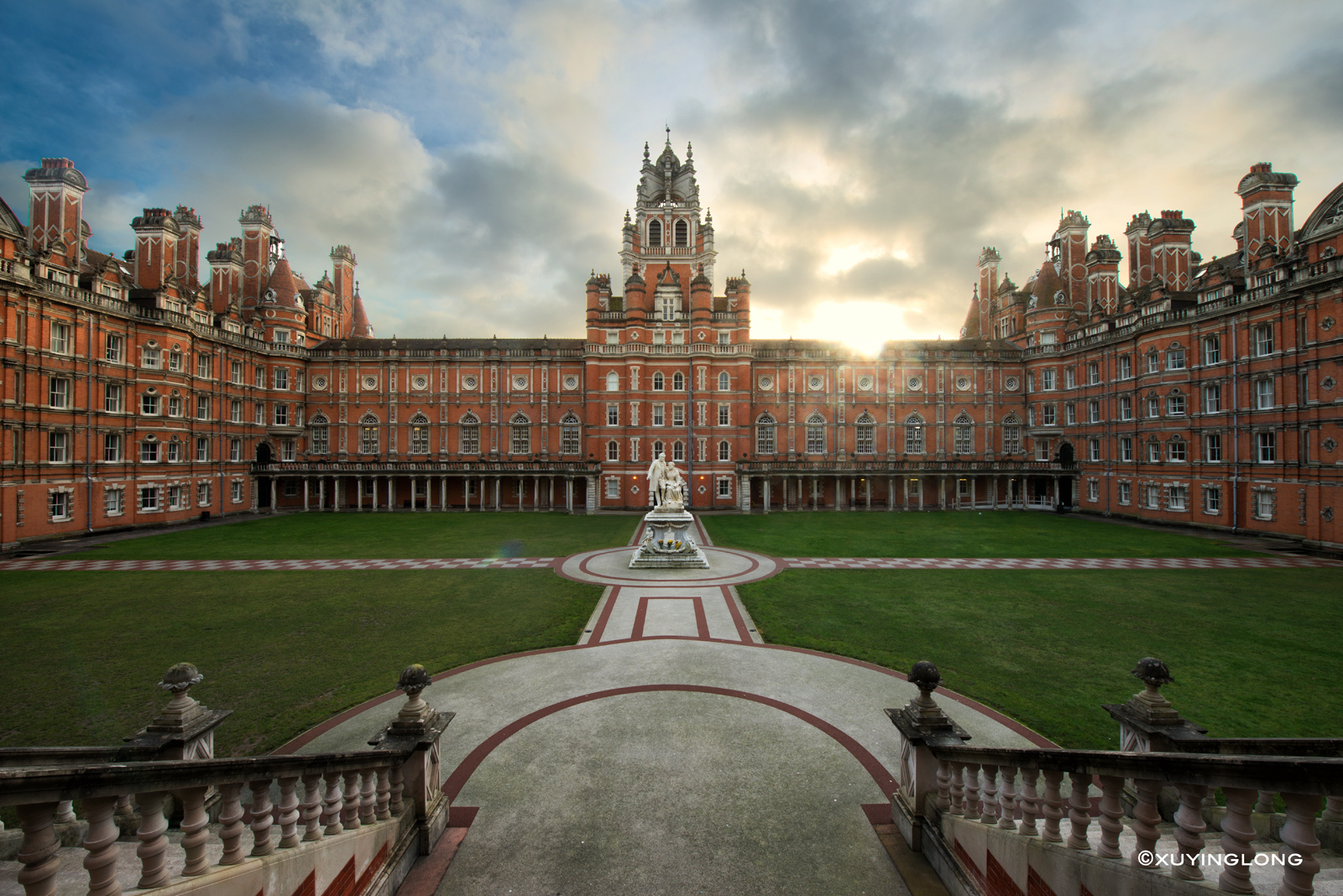 Bovey Castle, Devon, England
This spectacular estate is located in the heart of the unquestionable beautiful Dartmoor National Park and boasts five-star service, luxury manor house views, and pre-wedding celebrations.
The rural backdrop of this Castle means your bridal party can immerse themselves in the unspoilt countryside of the national park while enjoying the sun-lit Cathedral Room for tehir own private ceremony, and an award winning catered reception with stunning food and English wine.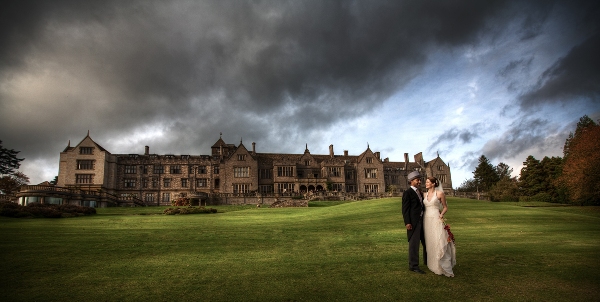 Leeds Castle, Kent, England
This English castle sits majestically in its own moat and offers a romantic and scenic venue for weddings, no matter the season. The building is more than 900 years old and was originally a stronghold for the Norman Kings of England. These days, it offers wedding parties a choice of 42 on-site rooms in preparation for the big day, including five in the Maiden's Tower and a further 20 in the castle itself.
The sixteenth century castle's dining room is sun-lit through authentic French windows and is one of a number of possible ceremony venues on offer. Others include the seventeenth century timber-clad Fairfax Hall, elegant Maiden's Tower, or bespoke Cedar Lawn (for a marquee wedding and reception).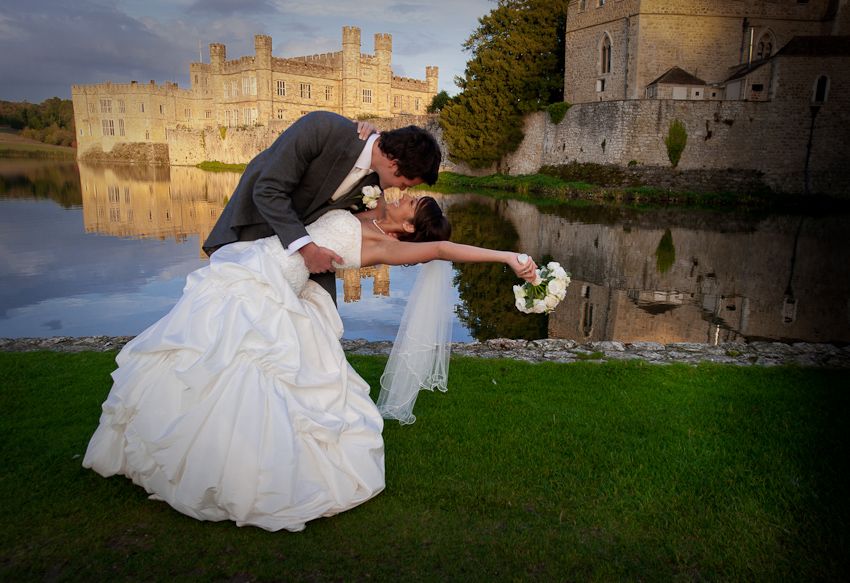 Crom Castle, Country Fermanagh, Northern Ireland
The seat of the Earls of Erne for more than 350 years, Crom Castle and Estate is set amongst an archipelago of rural and wooded islands and tranquil waters of the Upper Lough Erne, named for the Lords which once ruled over it.
The entire West Wing is tailored to suit your wedding party and available throughout the year; from the South-facing lawns to the Victorian conservatory, you'll be hard pushed to find anything less than exquisite beauty.
The Castle is also the location for BBC's adaptation of P.G. Woodhouse's Blandings, starring Timothy Spall and Jennifer Sunders. If you're looking for inspiration, this might be a good place to start!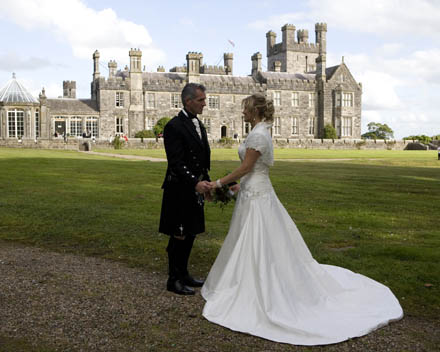 Thornbury Castle, Bath, England
Yet another castle belonging to one of history's most prolific husbands, Henry VIII, Thornbury Castle is more than 500 years old and has recently been updated to give you all the grandeur of Tudor decadence in modern luxury.
Located in amongst the beauty of the Bristol Valley and only a short trip from Cheltenham and historic Bath, the Superior Suite in the Duke's Chamber of the South Tower boasts a 24 carat headboard and claims to be the highest bedroom in England!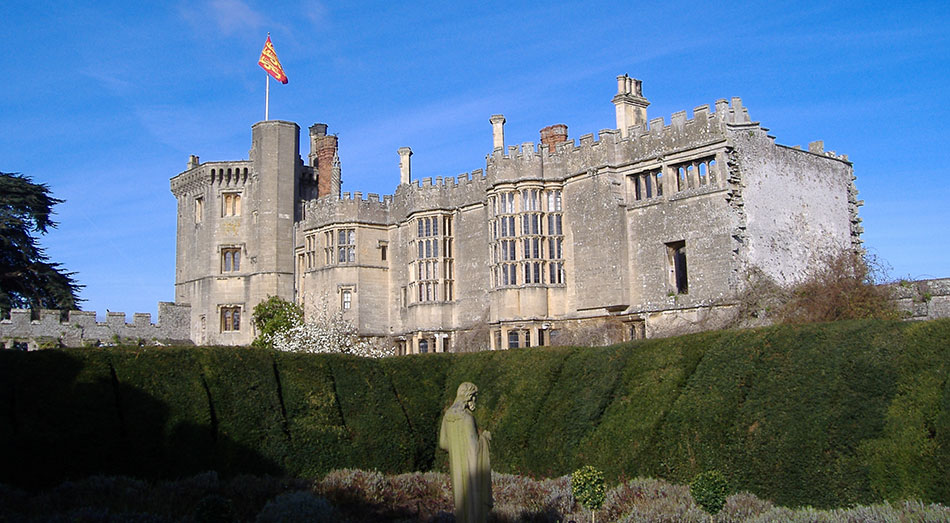 Brympton D'Evercy House, Somerset, England
Elizabethan beauty dominates this delicate great house in amongst wooded elegance and secluded grandeur. Exchanged vows in the Great Hall and then sip English champagne on the summer South Terrace.
Brympton House sits on 33 acres of Tudor parkland and offers the bridal party the choice of an intimate wedding breakfast or reception in the State Dining Room or Grand saloon. Relax as a dedicated styling team ensure the decor for your wedding is taken care of – just as you want it.