count: 0
final comp type:
latest ending comp date:
todays date: 2021-07-26 17:03:30
this is when the voting should NOT show
2021-07-26 17:03:30 -
Bright, colourful, rainbow, fun.
This is how Laura Ellis, 24, and James Wanklyn, 25, describe their wedding day on April 11, 2015 in Hereford. From the vibrant bouquets and bold-coloured table design to the boys' multi-coloured street shoes and a rainbow of cupcakes, the celebration was a true reflection of the couple. "We love that we have a very fun relationship," smiles Laura.
Although the pair didn't set an exact budget for the day, "we just knew it had to be on a budget," says Laura. The pair DIY'd what they could and loved the accomplished buzz it gave them. "Seeing all of your hard work come together is such an amazing feeling!" she describes.
Laura's gown by Sincerity Bridal was a show-stopper on the day. The strapless tulle tea-length ball gown with floral embellishment was the third dress she tried on. Her bridesmaids offset her look with grey dresses in different styles and shades. "We wanted them to feel comfortable so let them pick their own," explains Laura.
Following their ceremony with 80 guests at Hereford Town Hall, a reception with 150 guests took place at Withington Village Hall. The challenge was transforming it from a sports hall to a wedding venue. "I made lots of bunting and all of our friends and families collected jars," says the bride. "Half of these we made into brightly coloured candles and the other half we filled with our beautiful flowers."
Photos courtesy of Rob Farrell Photography.
James and the boys were headed to Slaters for their formal wear.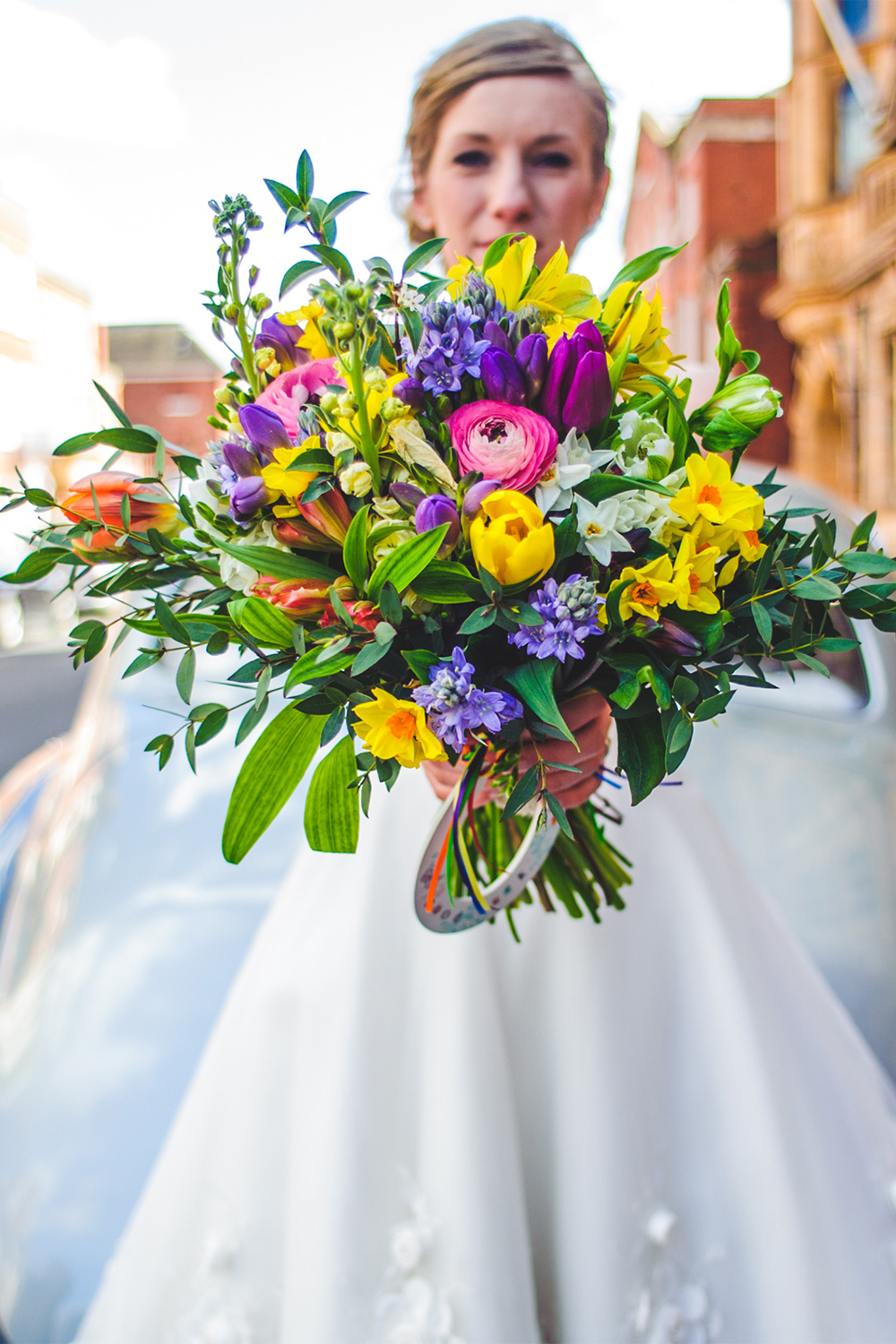 The pair spent two years carefully planning their big day which the bride says helped keep stress at bay.
"Rob Farrell Photography was so amazing, he caught the whole feel of the wedding from start to finish," praises Laura.
Featured Suppliers:
Brides Accessories: Jon Richard / Brides Gown: Sincerity Bridal / Brides Shoes: Red or Dead / Bridesmaids Accessories: Various / Bridesmaids Dresses: Various / Cake: Karen White / Caterer: The Beefy Boys / Ceremony Music: Playlist / Ceremony Venue: Hereford Town Hall / Flowers: Great British Florist / Grooms Attire: Slaters / Grooms Shoes: Vans / Groomsmen Attire: Various / Hair: Peter Prosser / Honeymoon: Dominican Republic / Invitations: DIY / Makeup: Bare Minerals / Photographer: Rob Farrell Photography / Reception Venue: Withington Village Hall / Rings: H. Samuel / Venue Decor: DIY