You've heard us going on about the value of visual marketing before, in particular how native videos are more favourite by online algorithms such as Google, Facebook and Instagram. For instance, native video content on Facebook is 1200% more engaging than other Facebook posts.
We find that a lot of wedding businesses have access to still images but not necessarily video. And not everyone has the time or money to go out and film new video content. So programs that allow you to use the content you already have and make videos from still images can be really efficient you boost your marketing and be favoured by more algorithms.
Which is where tools such as Animoto and Slide.ly come in.
One program we use a lot here at Easy Weddings is Animoto. Animoto allows you to make video slideshows or marketing videos with a combination of still images, moving video and text. They also have a range of templates you can choose from as well as royalty free music to use for your marketing video.
So we've decided to share some of our knowledge from using Animoto with you, to see whether it might be suited for your business.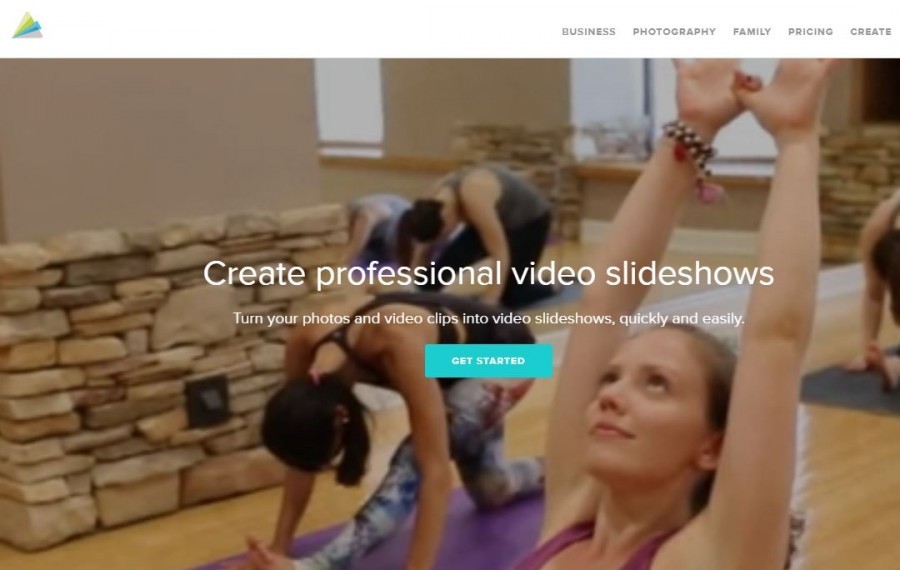 A quick guide to creating video content with Animoto
Where to start
Once you've decided you're going to make a video on Animoto it's easy to go through the process.
There are two types of Animoto videos you can create, Animoto Memories and Animoto Marketing. Animoto Memories is essentially a slideshow format, so while it can be useful for businesses like photographers to showcase their work, it's not going to be as beneficial for the majority of you.
We use Animoto Marketing videos for our Easy Weddings videos, as they allow you to make more of a video-style clip rather than just a slideshow of images.
Once you've selected your Animoto Marketing video you then have the option to pick from a range of templates or to create your video from scratch. We suggest starting with templates first while you get the hang of the program.
The best bit is that Animoto gives you previews of each of the templates so that you can see what sort of style will suit your video before you start creating. So whether you're showcasing a product, launching a sale or looking at a more editorial style video, they've got you covered.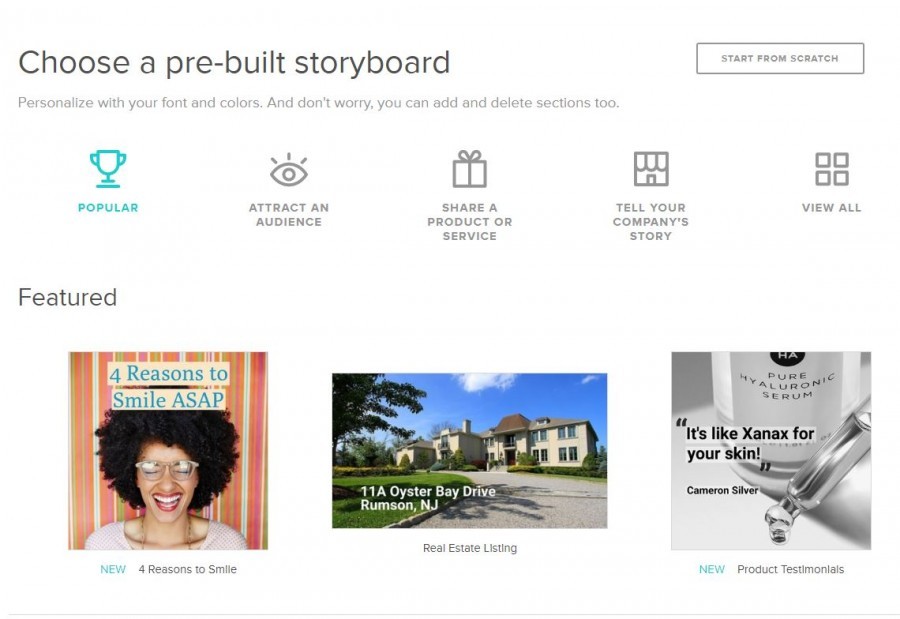 Putting your video together
Once you're in your storyboard the process of putting your video together is fairly simple.
You can upload your media files through the upload tab and drag and drop them into the Animoto template. If you want to change any of these blocks around you can then select the image block with your mouse and move it to another section of your video.
On the side of your dashboard, you also have more options, like changing the style of your video template or the ratio of your video depending on whether you want a square or a landscape aesthetic. You can also change the design through fonts style as well as text or background colours, and add a filter if you want. Finally, Animoto also gives you access to thousands of royalty free music that you can add to your marketing video, so you don't have to find it elsewhere.
Play around with the storyboard and see what looks the best to see how you want your finished product to look. Then it's time to produce your video.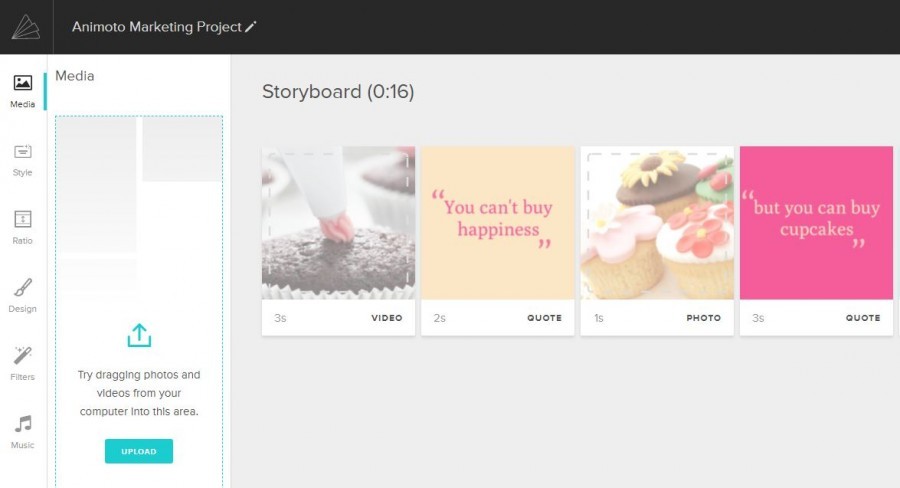 The final product
Of course, whenever you use a program for the first time it always takes a bit longer to get the hang of it. So if you are new to programs like Animoto we suggest having a play with the program and allocating some time before you need to meet your deadline.
Once you're ready to finish your video you can preview it and then produce it. Your video will render up to 1080p and you can then share it directly to social or download it for sharing elsewhere.
And don't worry if you want to go back and make changes. You can access all your videos through your Animoto dashboard and make changes to them even once you've produced them. So you don't need to worry about starting all over again from scratch.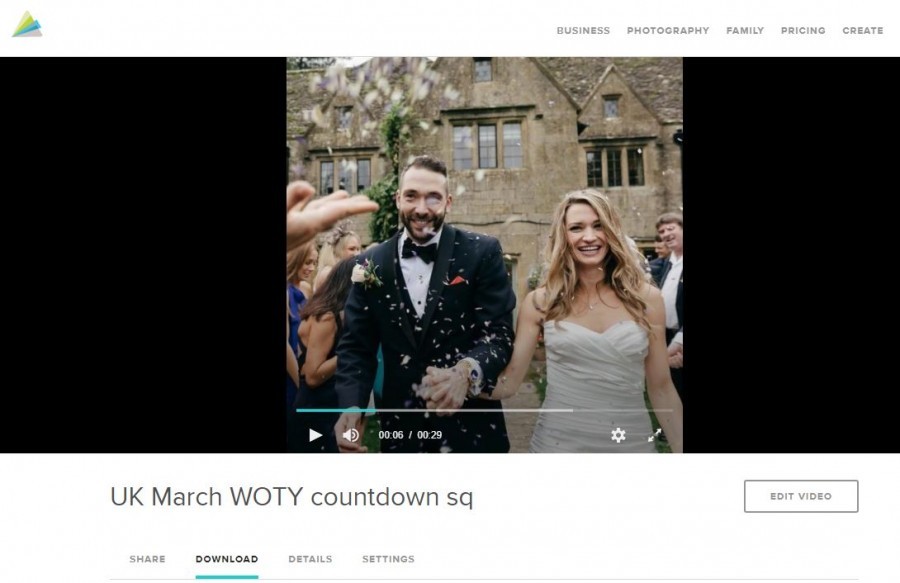 The Pros
Affordable
Music library of 2000+ royalty free tracks
Easy to use
Templates to make your video production easier
No Animoto branding on your videos
Colour customisation for fonts and backgrounds so you can stick with your style guide
Animoto blog and Facebook community group to help with advice and feedback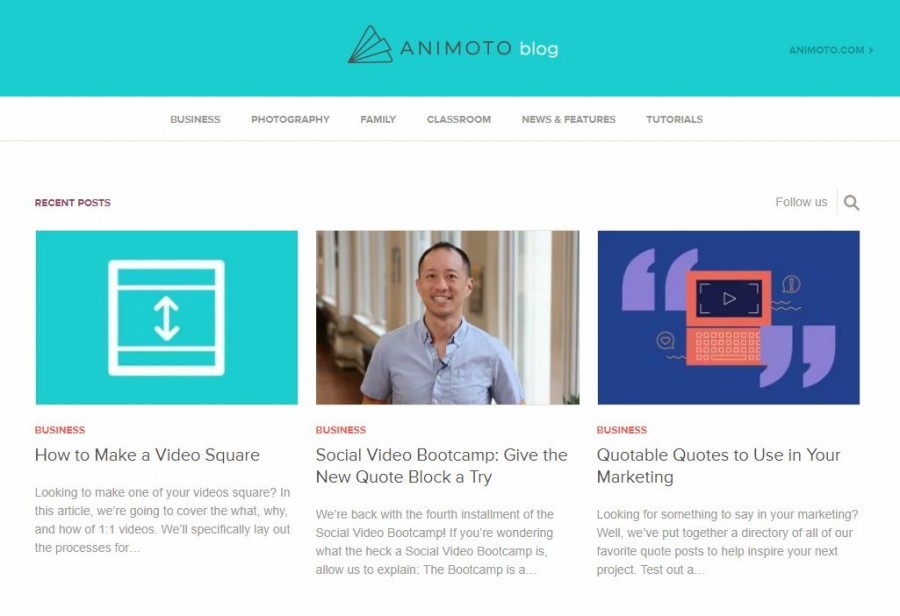 The Cons
Limited font options
Limited options on text formatting within videos
Billed yearly rather than monthly so high once-off cost
No function to add your own watermark or photo credits within the program
You still have to pay for stock images or stock video footage if you're going to use it
Preview function can sometimes be slow