There are so many different ways to use social media that it can sometimes be a bit hard to know which tools and platforms you should use for what.
When it comes to the different between Instagram posts and Instagram stories there are a few, which means that there are different ways to tailor your content to your audience. Thankfully, the creation of Instagram stories means that there's now a lot more ways you can target your key audience on Instagram, without messing up the aesthetics of your grid.
Instagram stories can be used for a range of ways to promote your business. They're a lot less curated than traditional Instagram posts, making them more relatable and authentic which is something you should definitely tap into. They also sit on the top of the Instagram feed for anyone who follows your page, so while not everyone will see an organic post, they will see your story up on their feed for 24 hours.
Highlights have become a great way for you to keep those stories for longer than 24 hours as well, so you no longer need to worry about losing your story content. Creating different folders for your Instagram highlights means that you can highlight the stories that worked the best, while also showing off more of your work and content.
There are a range of reasons you should be factoring Instagram stories into your social media content and strategy. So without further ado, here are a few ways you can start producing content for Instagram stories today.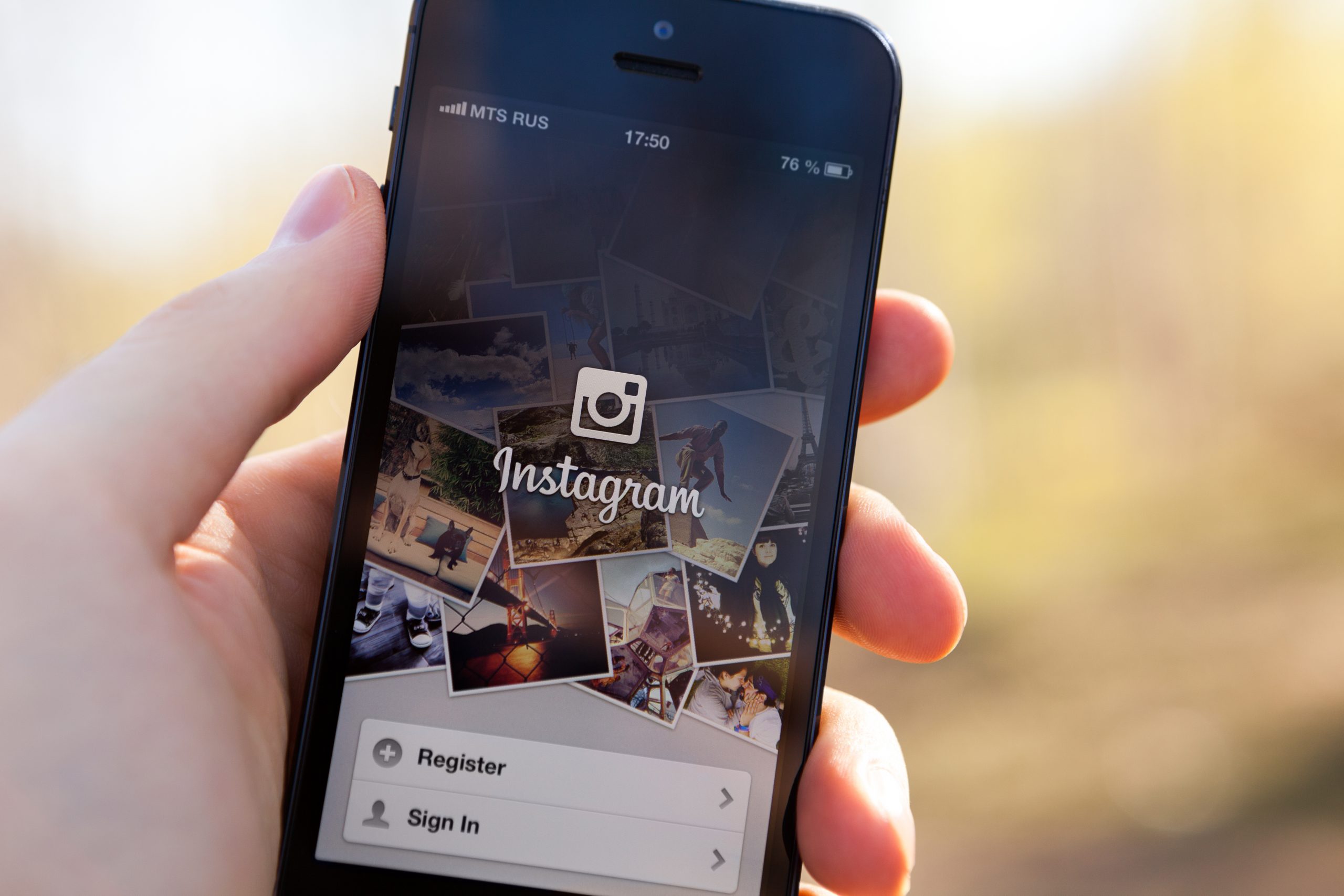 Promote a new post
Perhaps one of the simplest ways to use your stories and drive people back to your Instagram profile is by promoting your traditional Instagram posts.
Because of the way Instagram works to curate our feeds, not all of your followers are going to see every single post you upload. If your post isn't getting a lot of traction within the first 15 minutes Instagram will actually show it to fewer people.
Using stories to get around this and let everyone know that you've uploaded new and exciting content is a great way to encourage driving people back to your feed. A sneak peak of the post, what it could be about and teaser in your story can work wonders to get more people interested. You can also use this method to promote new blog posts to drive people back to your website.
Just make sure that what you are promo-ing is actually interesting and useful content. You don't want your followers to think you're making something out of nothing or your bigger news pieces won't have much of an impact.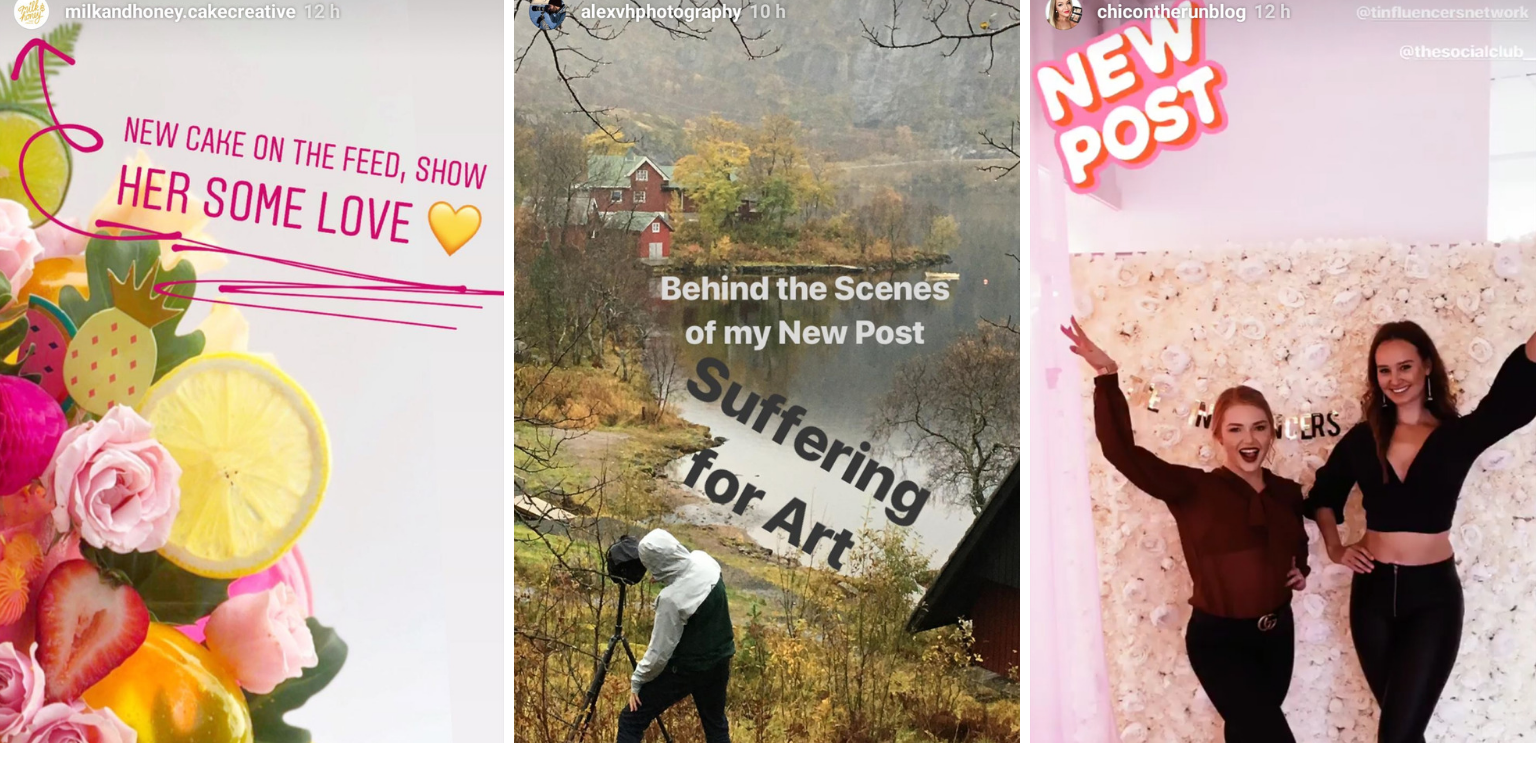 Feature reviews
Reviews are a great way to use the authenticity of stories and encourage more people to book with your business, but they're not always aesthetically pleasing. If you're someone, like a photographer, who should be very focused on how your Insta-grid is curated then you don't want to go ruining that with text blocks from reviews.
Instead showcase your reviews as stories and then create a highlight on your profile for those review stories. This gives you the best of both worlds, letting you showcase those important reviews and keeping your grid clean, while still having reviews featured on your home page.
Look at using a platform like Canva to design what your review stories will look like, or even create a template for easy content production!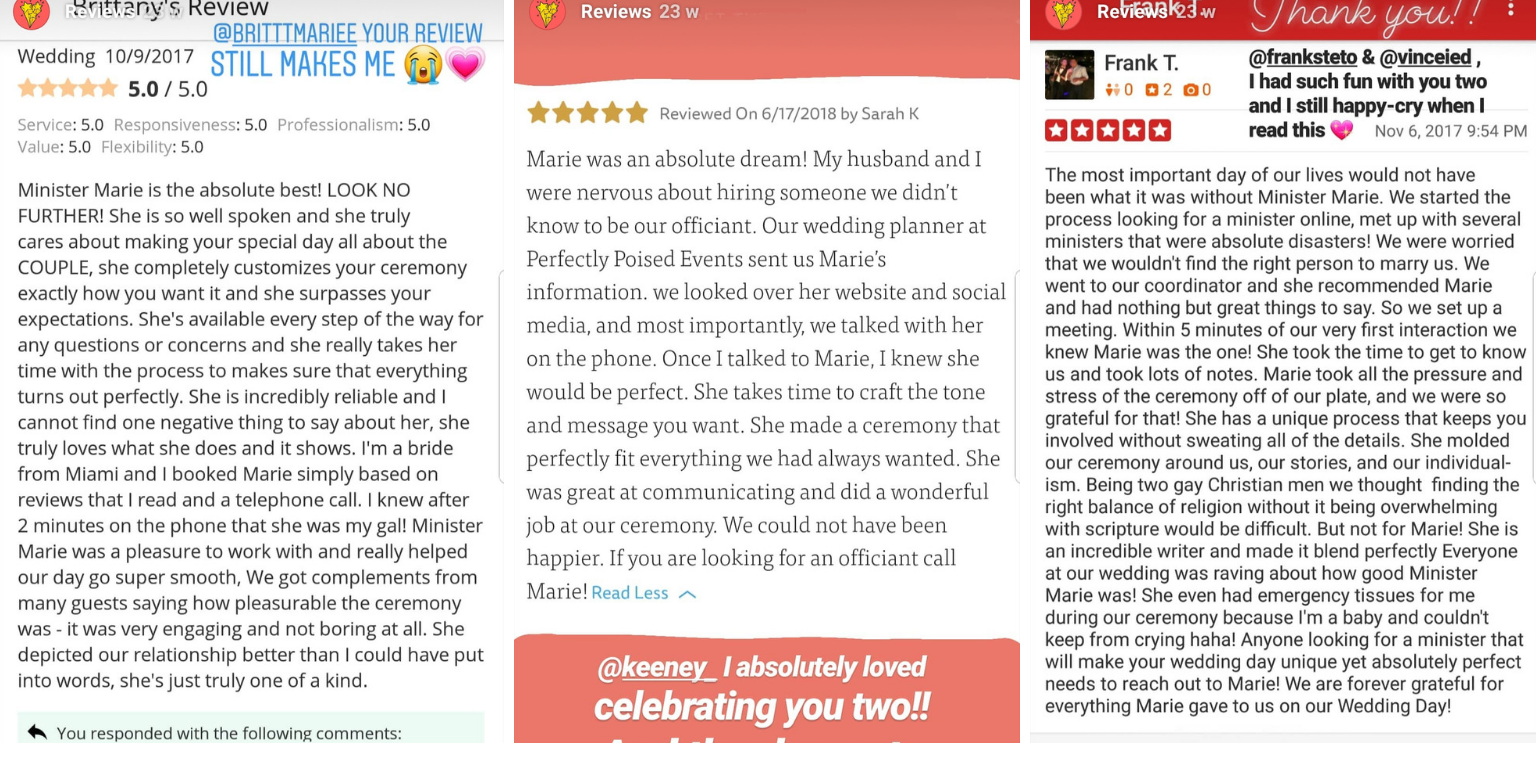 Showcase a special deal or offer
Whether you're running a competition, offering a special deal, or even having a Black Friday sale, stories can be a great way to drive more traffic to your website.
If you've got more than 10,000 followers on Instagram you're also in luck, because you're able to insert links into your Instagram stories. Once you've inserted that link, whether it's to your storefront or website, users can then swipe up to go straight through to that link. Make sure you make use of the emojis and gifs on display with a fun swipe up call to action.
If you have less than 10,000 followers don't worry because you can still drive traffic back to your website or storefront. You'll often see the comment 'link in bio' when it comes to posts and stories on Instagram. Simply update your bio with the link to your special deal or offer and use stories to promote it with the caption 'link in bio'. You can even add an additional photo of your Instagram feed here and point out the link.
You're not just limited to special deals here either. You can also showcase what dates you still have available in peak season if you're looking to fill them.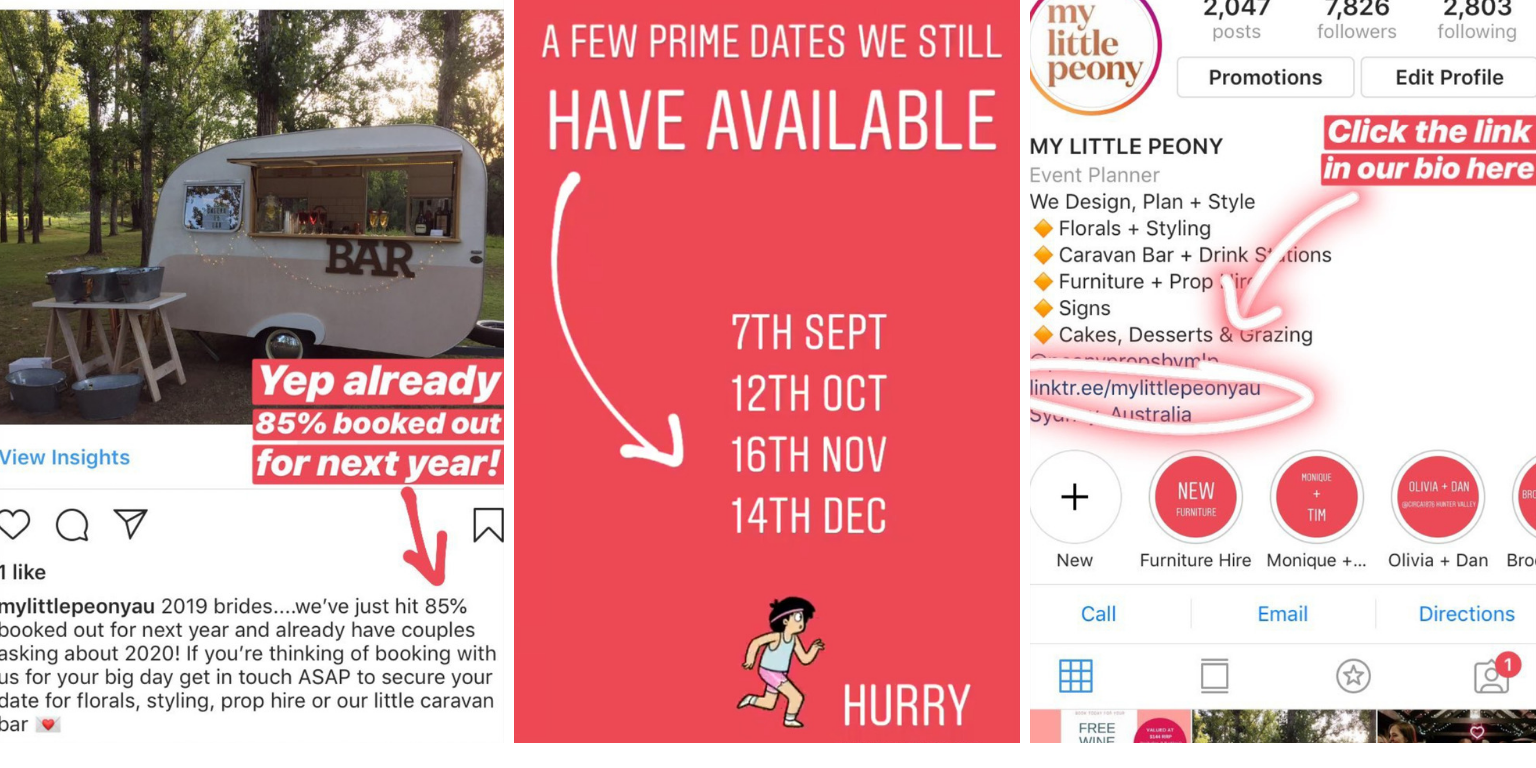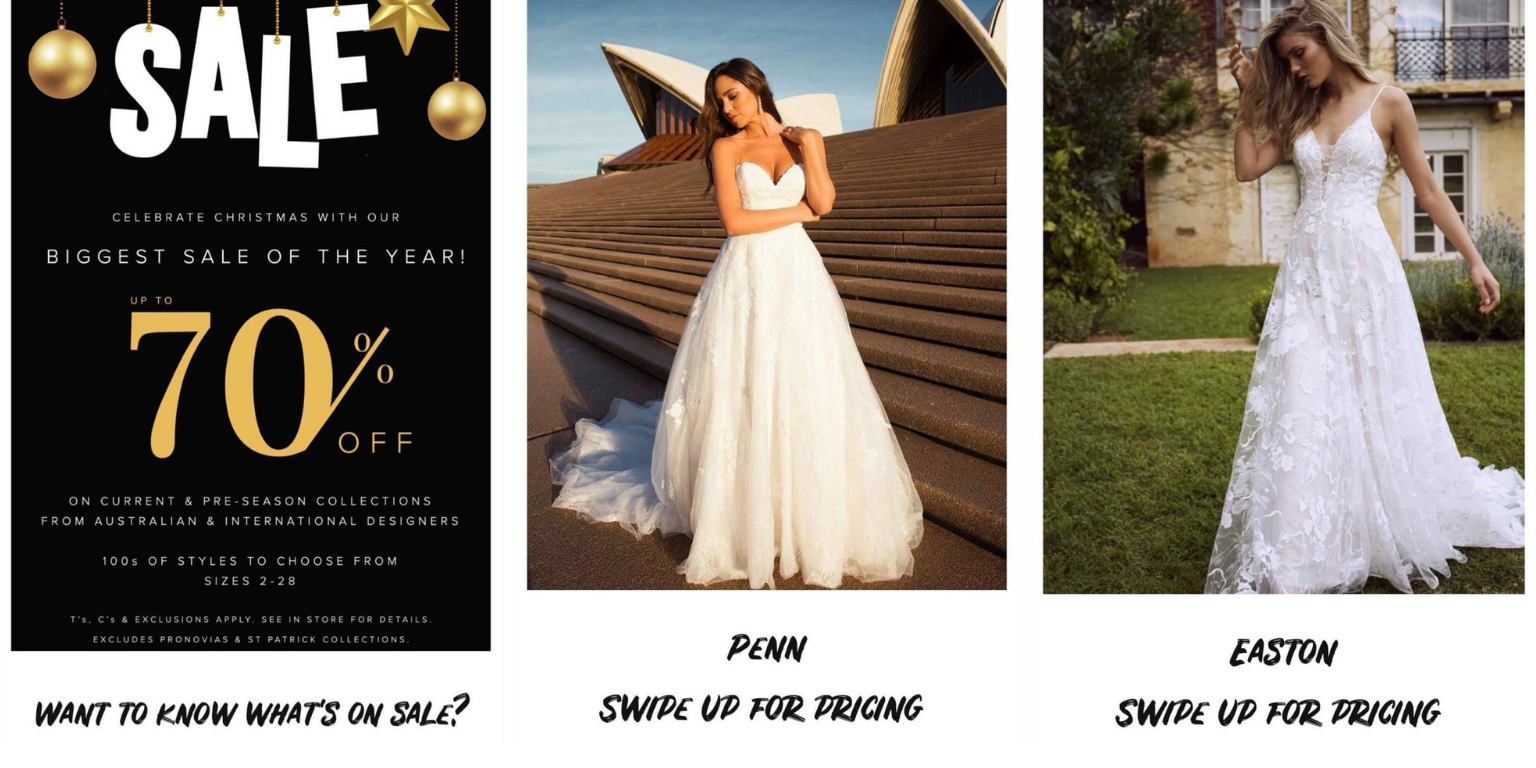 Make a Real Weddings or Anniversary series
Instagram stories can be flicked through one after the other, making them great for serial content. If you've recently worked on a beautiful wedding and want to show a few different elements off then make a serial out of it on Instagram stories.
Alternatively if you've got a couple you love who got married a while ago, use anniversaries as a reason to post about them again! This can be a great way to encourage couples who have already had their weddings to leave you reviews, as well as keep you front of mind for any future referrals.
Plus, you can tag other people and businesses in Instagram stories which means you're able to tag the couple, photographer, and any other service as you would in a normal post.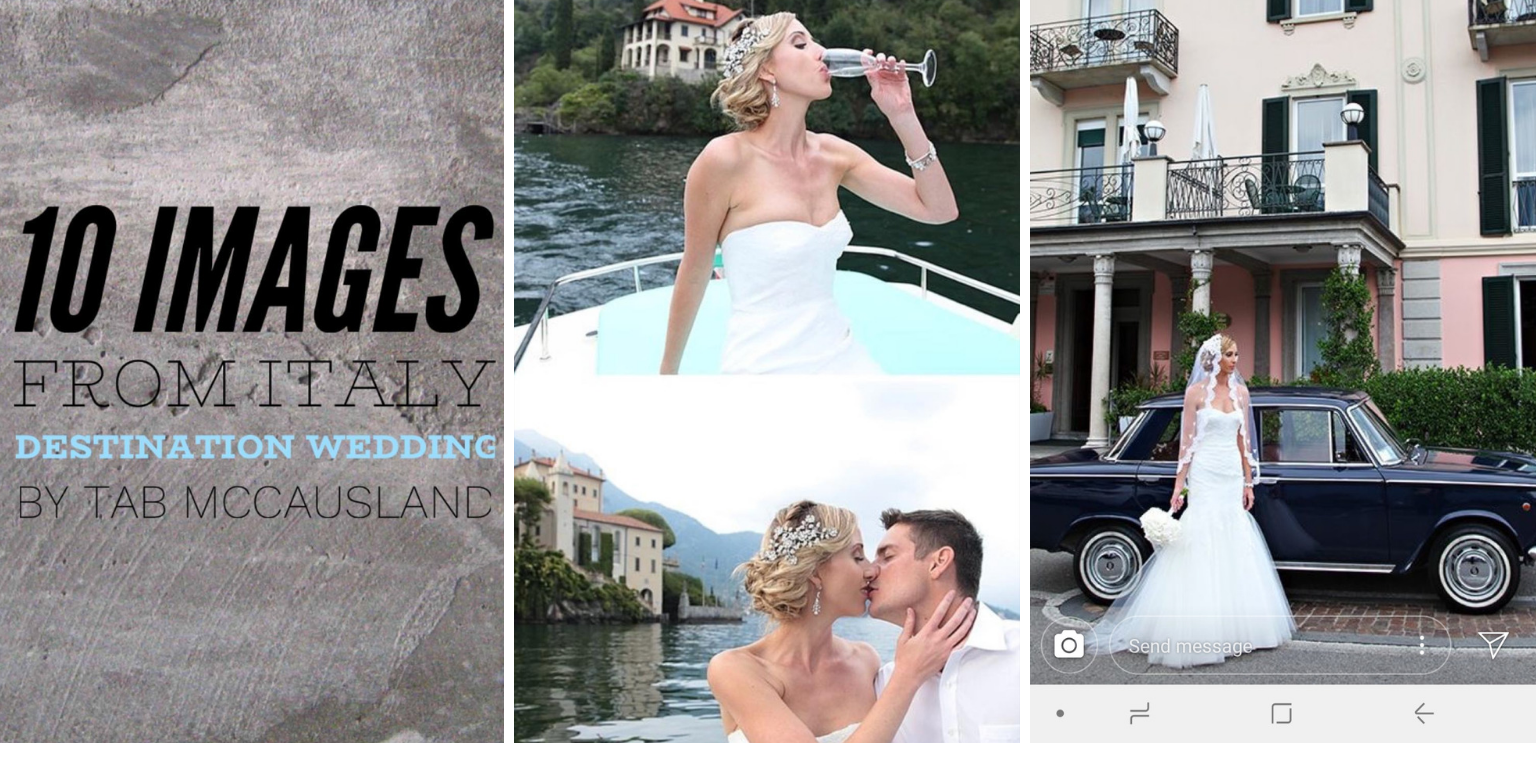 Take notes of how a wedding is set up
Couples love behind-the-scenes content and seeing how you do what you do, so let them into that content by showing them what goes on when you're setting up a wedding.
Whether you're a photographer scouting for the right shots and angles, celebrant getting the paperwork ready, or a stylist setting up an elaborate installation, use Instagram stories to show the progress of this one after the other.
It's a nice way to tap into that authenticity that stories provides and also shows couples why you're so good at what you do.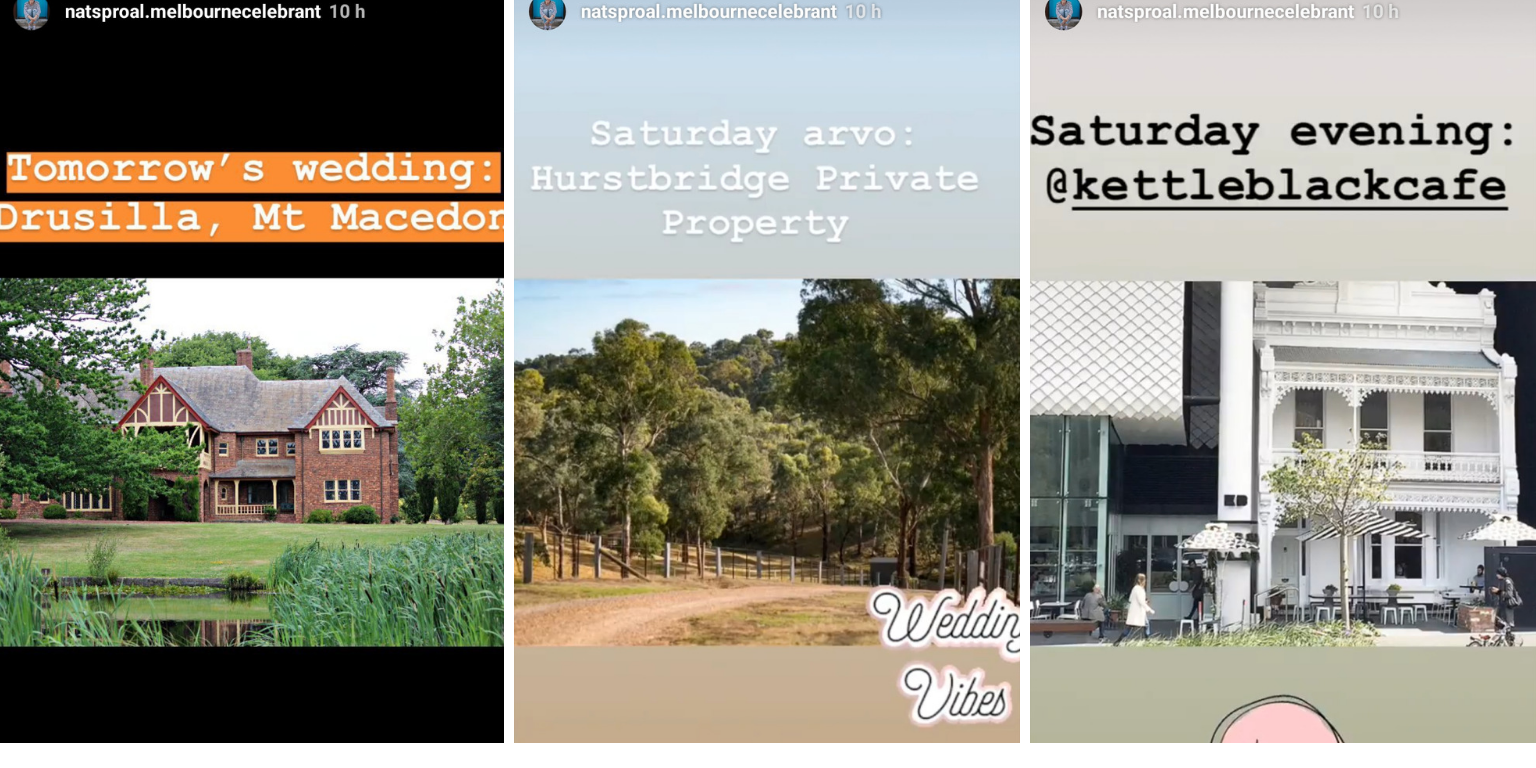 Share behind-the-scenes footage
If you're looking for more behind-the-scenes content then show them more about what goes into the daily business, rather than just on a wedding day. Make a video when you're at a wedding expo, show them pics of couples who have come to meet you for the first time, share a photo of your dog who has run off with the keys to your office. As long as it's related to who you are and what you do in your business, it's allowed to be a little bit off-beat.
Couples are choosing their suppliers not only on their skills but on their personalities, so don't be afraid to show a bit of who you are.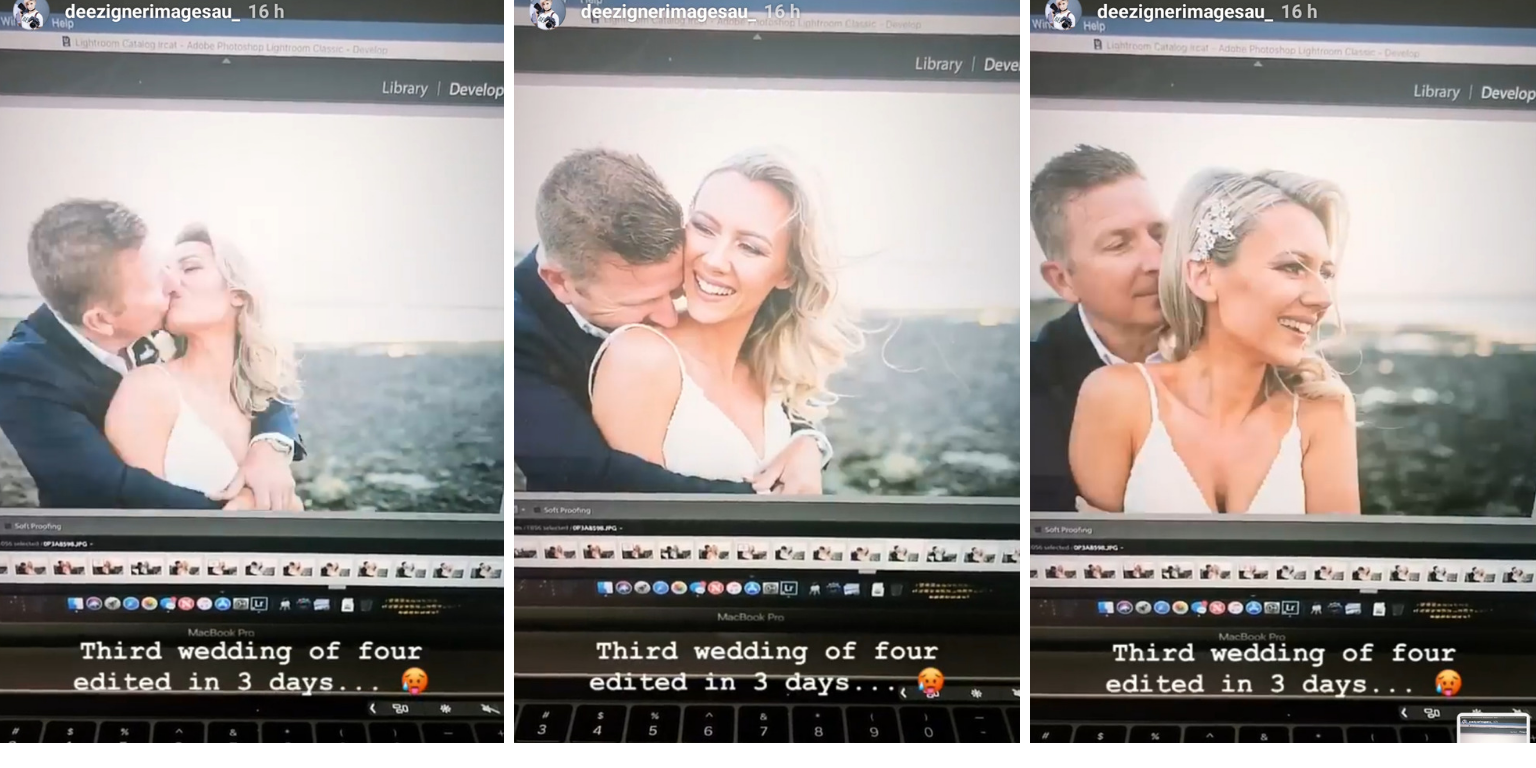 Ask them questions and get ideas from them
Instagram stories have a range of tools including polls, which can be a great way to get ideas from couples when it comes to what you want to do! Use these tools to ask your couples what they like and tailor your service more based on that feedback.
Do they prefer a tepee arbour or a flower wall? Will more couples have peonies or babies breath? Do they want candid or natural photography? This is not only a great way to decide what content to share more of, but it can also help you grow your business in terms of the collateral and content you share elsewhere.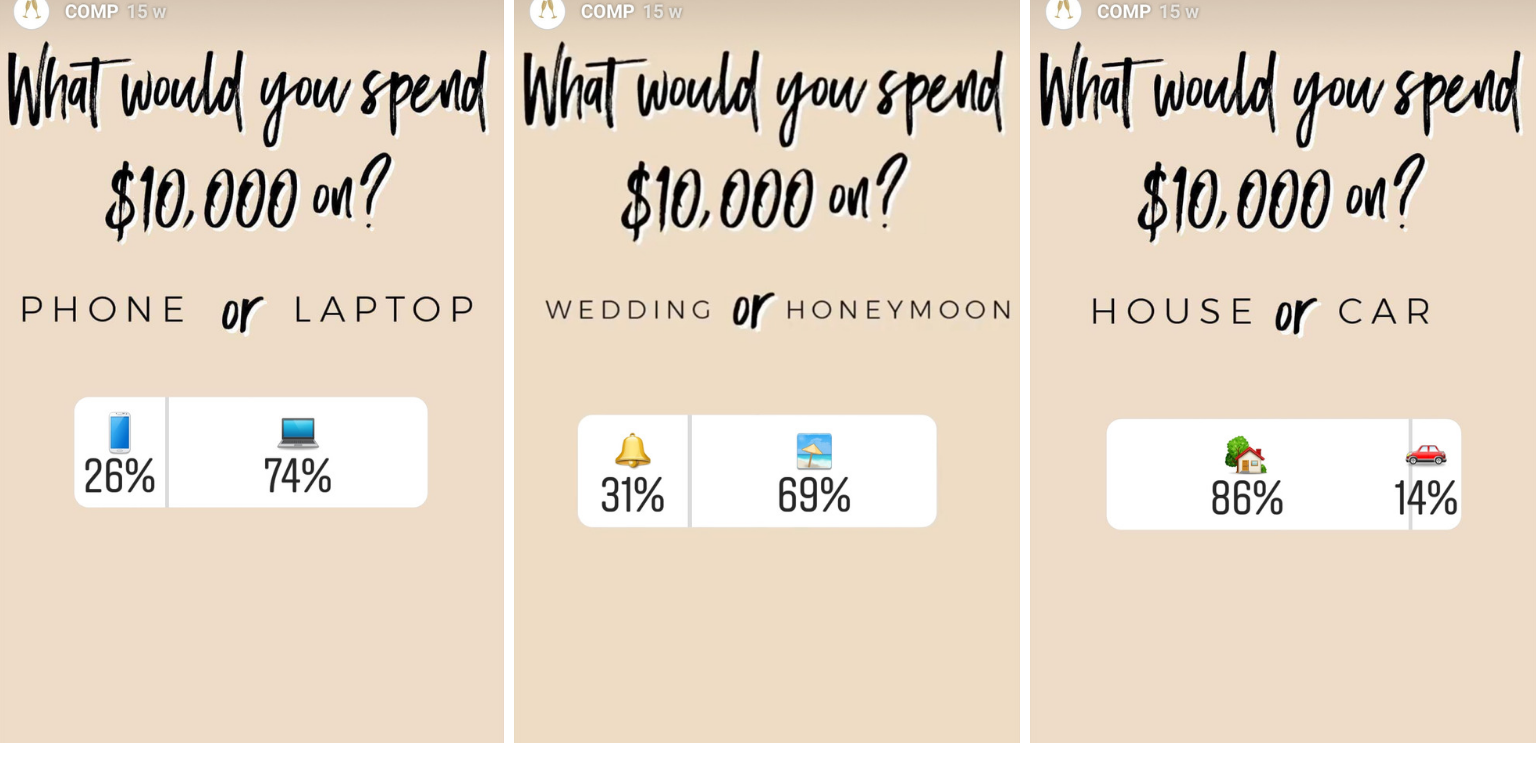 Network with other suppliers
Have photos from a wedding you recently worked on that has other suppliers in it? Share it on your stories! Showing what other suppliers are doing and tagging them in that content is a great way to build up your list of network contacts. It also helps you share a bit of additional content that might not usually be relevant to your specific industry.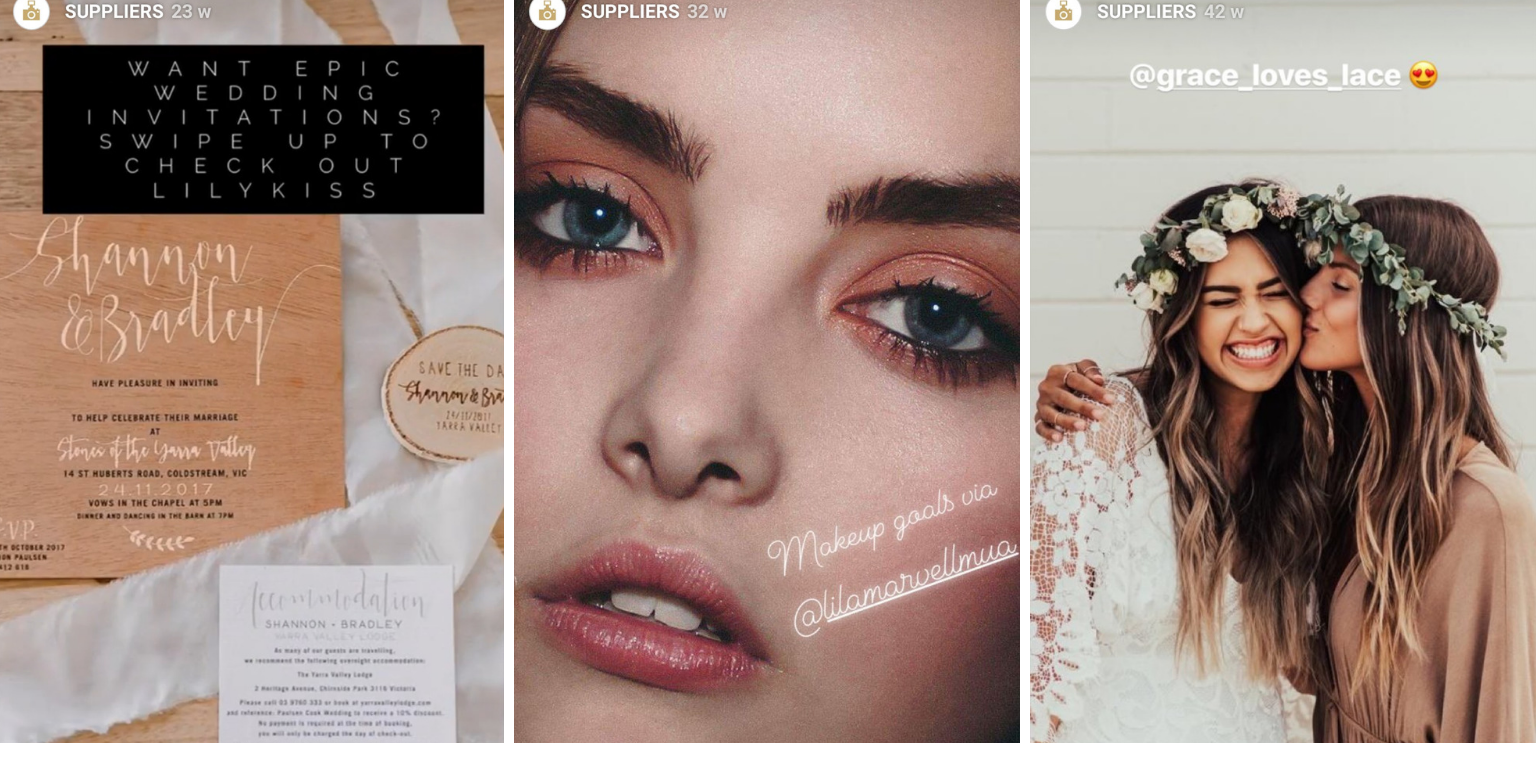 Make tutorial content and go live
Instagram stories are very closely tied to Instagram live, which is a great way to get longer content. Currently video content on Instagram stories is limited to 15 seconds. By using the live function you're able to create longer videos to give more useful content to your couples.
You might want to show them how to tie a bouquet together, or demonstrate a makeup tutorial. Whatever it is this longer video will allow you to do more, and you can still keep it up in your Instagram stories afterwards.