When choosing your wedding flowers, it's not only about picking blooms that complement your choice of wedding dress and overall wedding theme, but it's also important to consider whether they're even available. Here's a list of wedding flowers by season in the UK.
While certain blooms such as roses are available all year round, most other flowers are only available during particular months and seasons. In some cases, however, it is possible to import flowers that aren't in season from another region or country.
Importing flowers that aren't in season in the UK is not possible for all flowers, and can sometimes be a costly exercise, so it's important you consult your florist to see what your best options are. Sometimes your florist may be able to suggest a flower that is very similar in appearance, but won't cost as much as it's imported lookalike.
To help you better understand which flowers are available the month of your wedding, here is a list of some of the most popular wedding flowers based on availability by season.
Wedding flowers by season
Winter: January
Hyacinths, Chrysanthemums, Tulips, Sunflowers, Phalaenopsis Orchids, Cymbidium Orchids
January, is indeed, one of the coldest months for a wedding and definitely a time for guests to rug up.
Hyacinths are flowers which people love to grow in pots and if you are growing some yourself, you can simply cut them fresh just in time for your big day.
Chrysanthemums come in large or small blooms and they last for a long time.
Tulips come in all sorts of varieties and colours to match and these blooms are one of the most popular wedding flowers in the UK.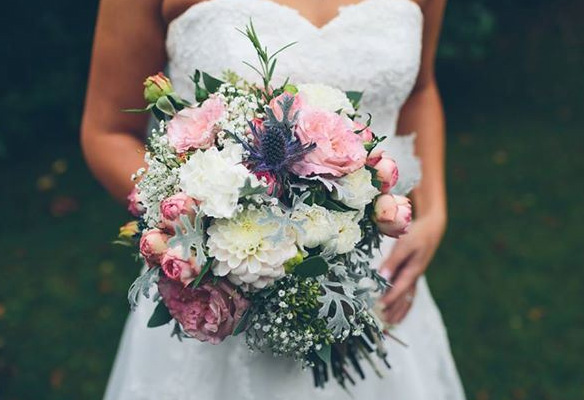 Winter: February
Anemone, Delphiniums, Banksia, Bottlebrush, Calla Lilies, Roses, Lilac, Lisianthus, Protea, Narcissus 
Valentine's Day is in Fenruary, so, if you are after red roses for your wedding you may need to place your order well in advance!
Anemone, sometimes called the 'windflower,' is a delicate flower that comes in a variety of colours, cream and classic white. This flower is particularly recognisable for it's black centre.
Delphiniums are tall sturdy, stalk-like flowers which are known for their vibrant shades of blue, purple, violet and pink.
Banksia Bottlebrush is a red, fluffy bloom which is cylindrical in shape. It hails from Australia and is well known for its exotic appearance.
Spring: March
Marigolds, Carnations, Lily of the Valley, Queen Anne's Lace, Paphiopedilum Orchids
Spring in the UK brings with it a bounty of fresh blooms.
Marigolds are a bright, and warm orange bloom which have a creased appearance due to the pale yellow edging on the petals.
Carnations provide a very classic bridal aesthetic, and similar to Hydrangeas, these soft, fluffy white flowers look divine when mixed in with fresh white roses.
Lily of the Valleys are small white flowers which appear as though they have been turned upside-down. They are delicate and sweet and can look great in a bridal bouquet or even placed in a bridal hairstyle or flower crown.
Spring: April
Spray Carnations, Forget-Me-Nots, Genistas, Oncidium Orchids, Ranunculus
The weather is warming, the cricketers are on the green and more flowers are coming into bloom.
Spray Carnations are a smaller version of traditional carnations, and they look great mixed among other varieties of flowers. Spray Carnations come in lots of different colours too.
Forget-Me-Not's are tiny flat flowers known for their soft blue colour.
Genista makes a wonderful filler with its leafless stems and masses of tiny flowers.
Spring: May
Peonies, Agapanthus, Waxflowers, Sweet Williams, Roses, Moluccella, Hydrangeas
The fetes and fairs are in full swing with summer just around the corner. Blossoms are in abundance and many can be used as part of your wedding.
Agapanthus is a huge flower, sometimes known as the African Lily, and its large impressive blooms are long lasting.
Waxflower is ideal for multiple uses as its small sweet-smelling flowers can be used in fillers and bouquets.
Sweet William is an ideal English country garden flower with so many gorgeous blooms on every stem.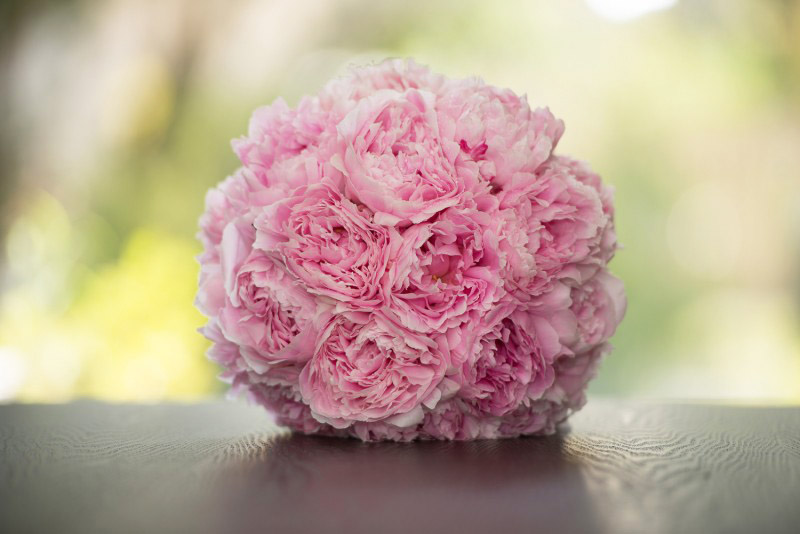 Summer: June
Marigolds, Gloriosas, Iris, Arachnis, Viburnum, Sunflowers, Muscari, Delphiniums, Aster
Summer has arrived in the UK, the days are long and you can smell the honeysuckle everywhere.
Gloriosa or the 'Glory Lily' hails from Africa and is striking with its petals being ringed in yellow.
Iris has long been a very popular flower although it's important to remember it has a short shelf life.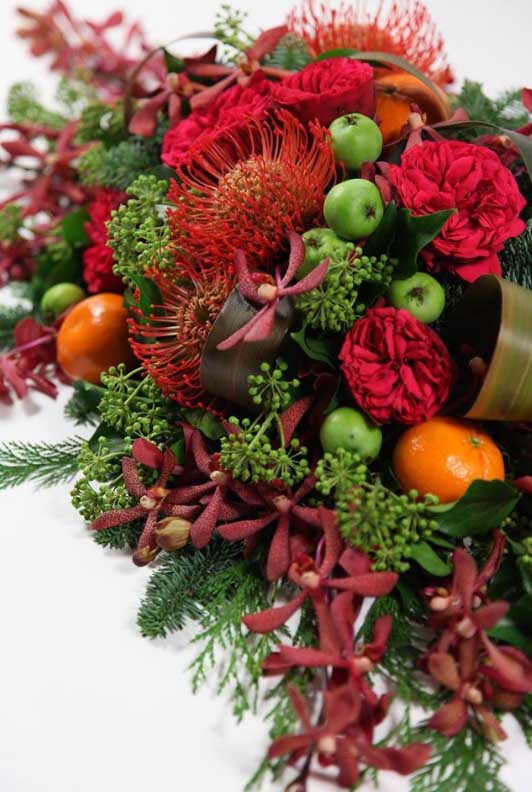 Summer: July
Lily of the Valley, Hyacinths, Tulips, Kangaroo Paws, Gypsophila, Nerine, Strelitzias
Just as the days are longer and warmer, so too the list of available wedding flowers.
Tulips are almost never out of season and certainly never out of fashion.
Strelitzias are bright orange and are unique in shape. Their pointy and geometric petals work well in a contemporary style bouquet.
Summer: August
Cornflowers, Roses, Mint, Prunus, Godetia, Hydrangeas, Phlox, Agapanthus, Bouvardia
August is usually the warmest month of the year in Britain, and also the busiest when it comes to wedding season. Brides have a wonderful choice of flowers from which to choose in August.
Cornflowers have a fairly large head and are a distinctive blue colour.
Roses are always available in lots of colours, shapes and varieties.
Mint may seem like a peculiar choice, but the herb actually makes for a gorgeous bouquet filler and has the bonus of its refreshing aroma.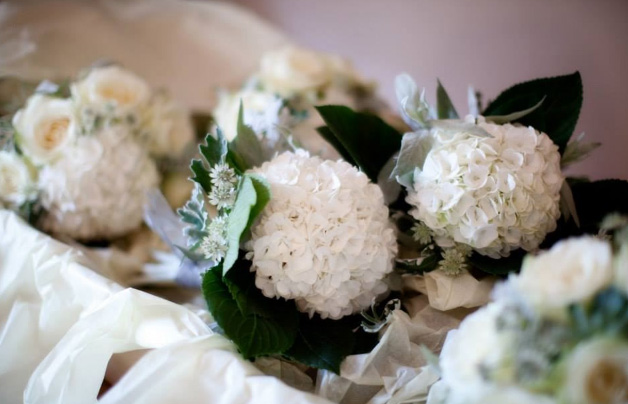 Autumn: September
Amaryllis, Aster, Helenium, Achillea, Cattleya Orchids, Eryngium, Spiraea, Vanda, Cosmos
Autumn is beginning, and fruit and flowers are in abundance.
Amaryllis is perfect if you're looking for something dramatic because these large trumpet-shaped flowers really make a statement.
Aster also known as the Michaelmas Daisy makes a perfect filler for your bridal bouquet and bridal table.
Helenium epitomizes autumn with daisy like flowers offering the colours of the season.
Autumn: October
Gladiolus, Freesias, Helleborus, Papaver, Skimmia, Tuberose, Ornithogalum, Calla Lily
Now the golds, oranges and browns of autumn come out to play.
Gladiolus is a traditional flower which is often used for decorating the church or reception venue.
Freesias are always popular, not just because of their delicate, feminine flowers, but their powerful scent is so appealing.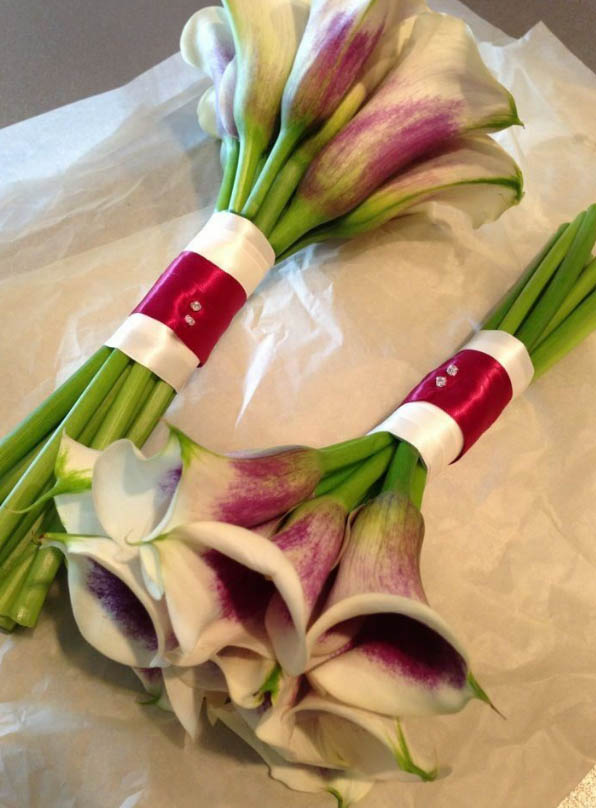 Autumn: November
Moluccella, Gomphrena, Solidaster, Triteleia, Veronica, Lisianthus, Amazon Lilies
The nights are longer and many flowers have settled in for their winter hibernation. However, there are still many beautiful blooms available in November.
Moluccella from across the sea, are the Bells of Ireland and are eye-catching with their masses of flowers resembling bells.
Gomphrena have the advantage of being able to be dried easily so if you want dried flowers for decoration or as a filler, the Globe Amaranth is the ideal choice.
Solidaster is a soft yellow flower which is very tiny and is a great bouquet filler. Solidaster is often mistaken for Aster.
Winter: December
Poinsettias, Hellebores, Winter Camellias, Muscari, Aranthera, Acacia, Phalaenopsis Orchids
Winter has officially arrived and of course your wedding will be close to Christmas. But winter flowers are available with Winter Camellias being a perfect example.
Poinsettias have gorgeous red and green foliage making them perfect for a Christmas themed wedding.
Hellebores come in some 20 varieties and their small colourful blooms are perfect for adding wintery-tones and texture to your bouquet.
Winter Camellias are so called because these evergreen shrubs produce gorgeous blooms in the cold weather. They are known for their unique, paper-like petals and sturdy nature.