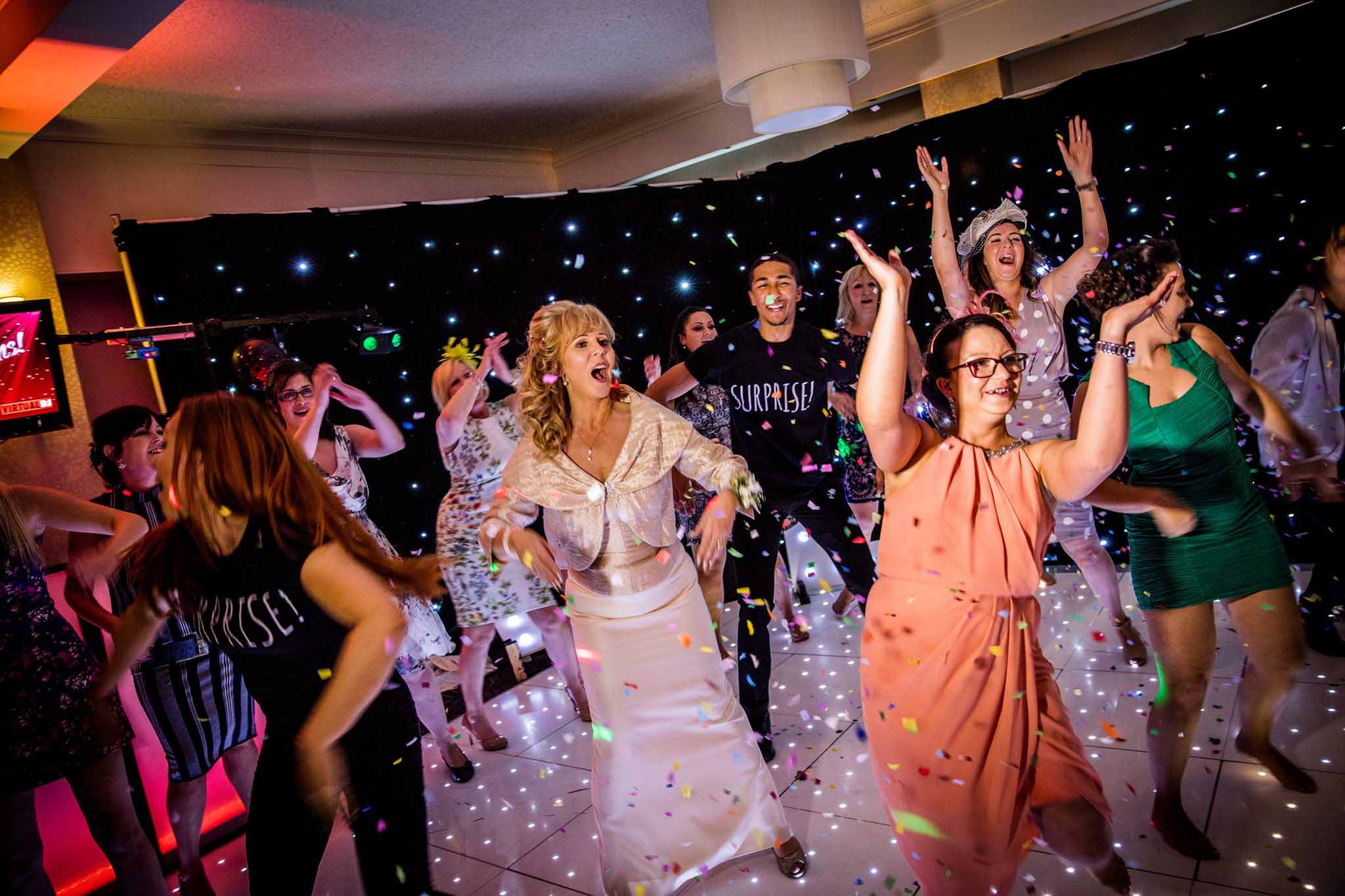 In recent years, the trend of including a flash mob as wedding entertainment has become increasingly popular, with cute videos cropping up all over YouTube and Facebook. If you're considering surprising your wedding guests with the ultimate form of unexpected entertainment, here's how to make your wedding flash mob an incredibly memorable experience.
Alexandra Evans, director of flash mob performance company Club Mob, shares her expert advice about how to make a wedding flash mob an unforgettable success.
What is it about a surprise dance that gets young and old alike jumping out of their seats in joy? And does it matter how good the dancing is…or who does it? How do you make your wedding flash mob unique to you?
Being an expert in this matter (my company has provided over 100 bespoke surprise performances since it's conception) I would like to share my opinion on what makes the most memorable and magical wedding flash mobs.
The element of surprise created by a flash mob is, of course, massive fun. Wedding guests will usually expect entertainment such as a prop-filled photobooth, a four-piece jazz band, or the sweetie-cart. But when a speech is interrupted by a huge 'drinks-spillage' faux pas, or the first dance is horrifyingly interrupted by a Lothario waiter, shock quickly turns to relieved delight when the music plays, the dancing begins, and the real intentions are revealed (although often not before a heroic member of the wedding party gets up to calm the situation. Once, we even had an over-zealous bouncer try to escort a dancer out of the building!)
So get your surprise right – timing is everything, and realistic acting goes an absolute mile. It doesn't always have to be a melodramatic announcement (a waiter exclaiming 'I QUIT!' – hmm, to become a dancer perhaps?) but, it needs to be an opening that will work seamlessly with your wedding schedule, making the performance appear to literally come out of nowhere.
Think outside of the box and involve members of the bridal party in the ruse for an extra special element of delight.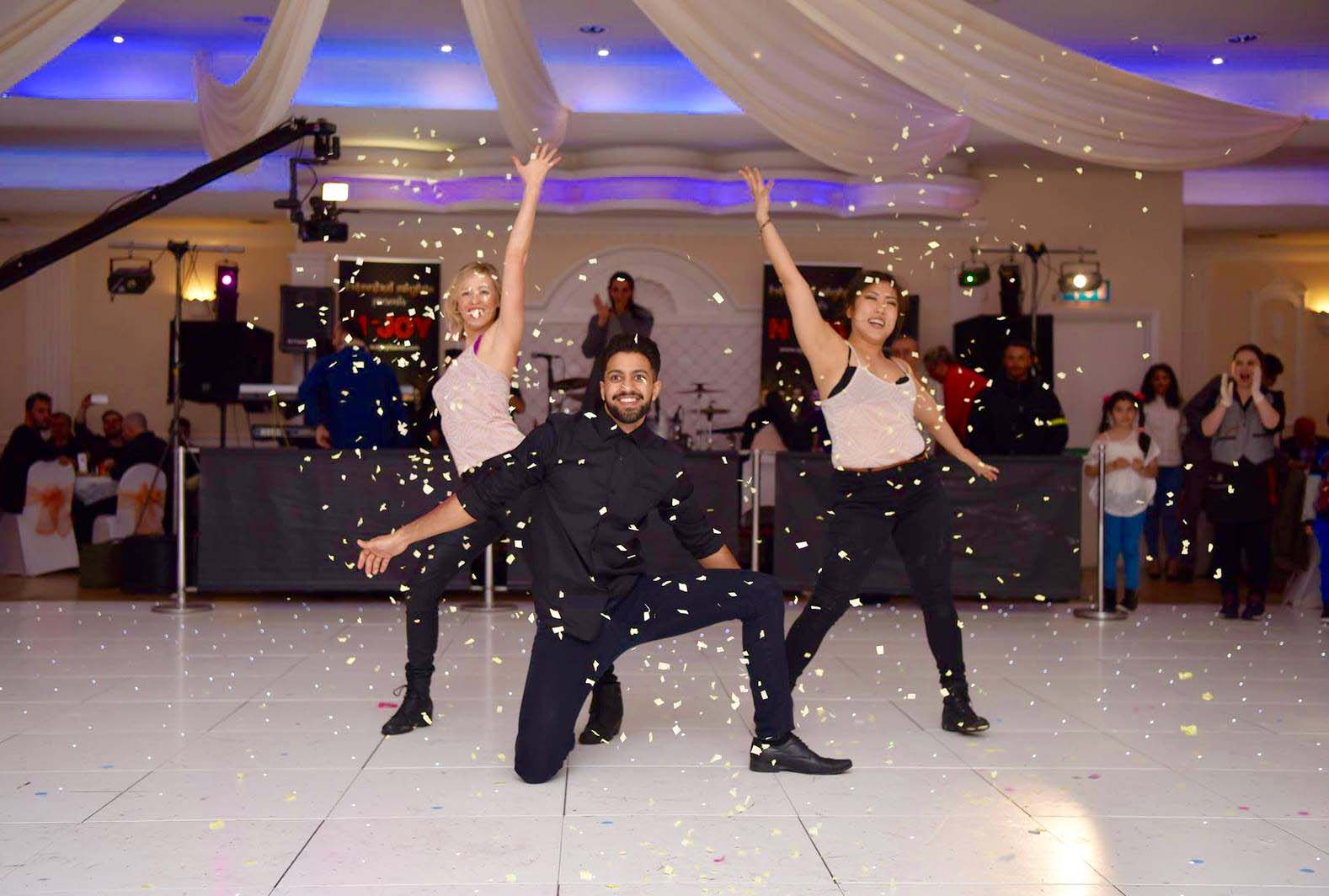 The most amazing flash mob dances make it about the couple in some way – they might include the couple's favourite song or dance for example, or sometimes the revealed 'costumes' have the bride and groom's names stitched on!
It's important to put the newlywed's stamp on it, even if they don't know about it! And if family and friends join in halfway through, the extra effort that is clearly involved is the icing on the cake for the lucky newlyweds.
A wedding flash mob can be planned by the bride and groom or it can be planned by loved ones of the couple, it doesn't matter who organises it. And whether the flash mobs are begun by professional dancers, or by a creative family member, or even if they involve just a few people, or even the whole building – the fact that a loved one, whether it be the parents of the couple, a friend, or a sibling, has taken the time to organise such a secret, bespoke and now public showing of love is rather an unforgettable gift.
So who cares if, when everyone gets involved, the odd step is missed, or someone inevitably stumbles over their not-made-for-dancing bridesmaid's dress. It's all about having fun and fulfilling a bucket list experience!
So we don't think the wedding flash mob trend will be slowing down any time soon.