Being on the verge of getting married is a hugely exciting time. The anticipation of the day combined with all the planning can be the most fun. It's especially great when you already have a wedding theme in mind and everything just falls right into place. For you, of course your theme has to be vintage. Vintage is always elegant and can be referential of your favourite era.
Some of us are just obsessed with the past. For us, watching Audrey Hepburn in Roman Holiday is far more exhilarating than watching the latest Marvel flick. And so it is for those who love their 1950s dresses and their 1960s folk music that we're directing this article to. Here are the 8 essentials to include in your vintage wedding.
The perfect transport

Obviously for your perfect vintage wedding you're going to need a ride to get you there. Luckily for you, there are many different providers all around the UK who provide both vintage and vintage style vehicles. You might be someone who won't settle for anything less than a genuine vintage vehicle from your chosen era. You'll easily find providers with restored vintage cars to meet your needs.
Or maybe you're happy with vintage style if it means your car has a modern made engine. In this situation, you'll find that every second wedding car provider in the UK will have at least one custom-built wedding car in perfect vintage style.
Click here to find a vintage wedding car provider near you.
Rustic dessert table or cake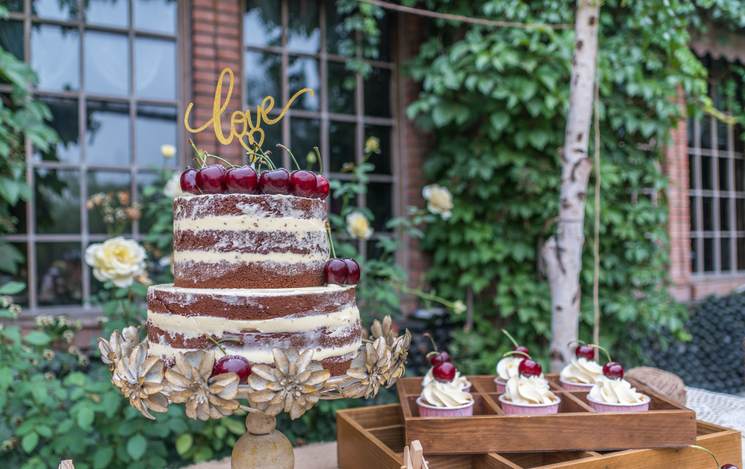 A vintage wedding tends to be tied up in a lot of things. Fairy lights often make an appearance as do DIY elements, even if when a wedding took place in the 1940s, these elements wouldn't have been present. It's all about how we perceive vintage today.
So the way a lot of people perceive a vintage theme is with rustic elements tied in. This is why it's essential to have a rustic dessert table or cake. Gone are the days of perfectly decorated cakes, covered in crisp white fondant with incredible detail and many sugar flowers. For some this kind of cake is still what they're after, but for a vintage theme you're going to want something a little less flashy and much less perfect.
A rustic dessert table can comprise of any desserts that you desire. You might be really into pies and so have a wonderful selection of your favourites. Or maybe you love slices, brownies or cupcakes so have a range of these delicious treats. Whatever is your jam, having a dessert table where everything looks homemade and delectable is the quintessential vintage theme dessert option.
If you decide that cake is more for you, then consider a 'naked' cake. This is where the cake isn't covered in fondant, only icing/ buttercream. It's a beautiful and very stylish option that is rustic, vintage and stylish.
DIY or personalised wedding favours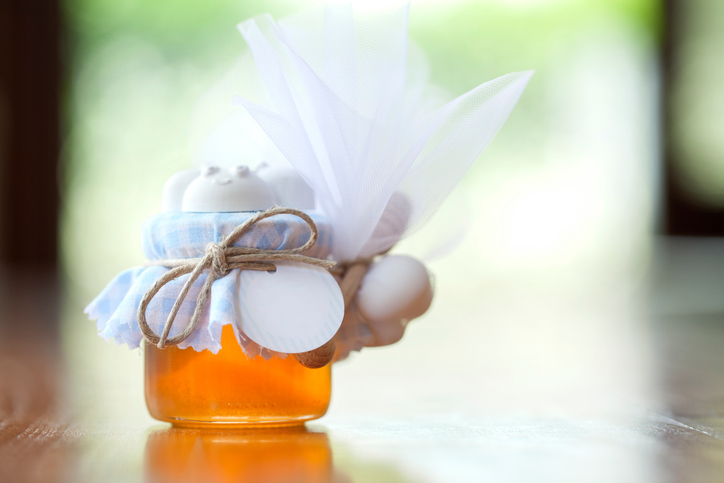 Just like the rustic or naked desserts, a vintage themed wedding will always need a DIY element or something that is personal. Now, this can be anything that you choose, however we'd recommend making wedding favours as they can be really easy to make yourself or easy to personalise too.
Let's start with DIY. So you can really easily make your own wedding favours. You could go a bit more advanced and make your own candles, or you could consider ordering a bunch of little mason jars or glass bottles with cork stoppers and fill them with things. Filling them with fancy liqueur like Italian Limoncello is adorable and really cost-effective too. You can then design your own swing labels and have them hanging on each bottle. Another thing you could do is fill little mason jars with sweets. They don't have to be fancy either. You can just grab some from the supermarket. This option feels very vintage-y and again it's super affordable.
If you want to go for personalised wedding favours, consider having your names printed on specially made chocolate wrappers. Everyone loves chocolate and will love this personal element that they can then snack on during the car ride home. You could also consider having personalised chocolate truffles made up and have them presented in a gorgeous box of four. Have your initials, names or the wedding date piped onto them and your guests will totally swoon over this adorable wedding favour idea.
Natural bouquets
Lots of people may see this and think, aren't all bouquet natural? Well, yes if they're made with real flowers then of course they're natural. But we're talking about something else. We're talking about a natural-like arrangement. Lots of bouquets these days look very professional and that's because they're professionally made by florist who put a lot of love and effort into them.
For a vintage wedding bouquet, you want something that looks less structured. You basically want it look like you've been running through a meadow that morning picking your flowers and you've just tied them together with a lace hair ribbon. Of course you won't actually be doing this because it probably won't look the best, but we're trying to create the illusion that you did.
Having a slightly unstructured bouquet with some popular flowers that reflect the era you're going for will have a beautiful vintage quality.
Jars, crates, mirrors, suitcases and furniture
Nothing says vintage like lots of mismatching and adorable décor. You can do this super easily for your vintage wedding theme.
Jars are perfect for storing little trinkets at your wedding, like your wedding favours or you can use them as vases as well. You can buy new mason jars online in bulk which will be great for convenience and cost, yet you can always source some mismatched at your local charity shops too. This will also be cost-effective but it'll be more time consuming. If you want a really mismatchy look to your wedding, then the latter option is definitely the way to go. You can even use jars at your wedding to host little DIY wooden flags with the table numbers on them. Or consider making your own table centrepieces using the jars and filling them with flowers you sourced yourself.
Wooden crates have been become very in for vintage wedding décor. This is because they have a lovely rustic charm as they're usually made of just plain, unfinished pine. While they do look vintage, it's also a nice way to bring the outdoors in as well. Have wooden crates of varying sizes around the room, either stacked or with things inside them, like wedding favours or table numbers.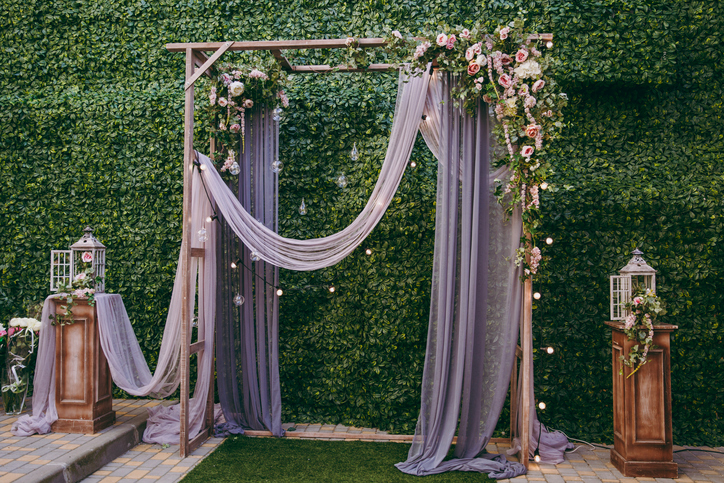 Mirrors a great way to add some vintage quirk to your wedding. Go to your local charity shop and pick a bunch of different sizes and shapes to pepper around the room. It's q win-win too, because you'll always have somewhere to check your makeup throughout the night.
Suitcases are another way to add that quirky vintage charm. It's super easy to find them in charity shops and they look adorable stacked on top of each other or used for other purposes like as your wishing well or your guest book (see more on this below).
Last but not least, furniture. So the place you're hiring out for your wedding will likely already have furniture like the tables and chairs for the guests, but there probably won't be other things. You can easily bring in a few vintage looking pieces to make the room feel more like a snazzy vintage living room rather than a wedding reception venue. Add in a few velvet chairs with fancy turned legs or some end/ nesting tables to fill out the rom a little more.
Vintage-inspired dress

This one is imperative if you're going for a vintage theme. Finding that perfect vintage or vintage style dress will really tie the entire theme together. If your whole reception is kitted out with vintage accessories and bits and pieces, and you're there in a highly modern strapless mermaid gown, then it's hardly going to match. But don't fret either. You don't have to go full vintage.
A vintage style dress can be perfect if you're someone who loves vintage style but wants a dress that is newly made. Your vintage style dress can be anything from an elegant 1930s style floor length dress with lace sleeves to a tea-length 1960s style dress with a big flouncy skirt. Many wedding dresses still have vintage vibes especially when they feature lace or pearl buttons.
If you're undecided on what style of dress is right for you or you need a bit of dress inspiration, consider watching some classic films that feature weddings. Audrey Hepburn's fabulous dress in Funny Face is definitely one to add to your inspo as well as Katharine Ross' gorgeous boho gown in The Graduate.
Alternative guestbook

You can do many alternative guest books for your wedding that will tie in beautifully with your vintage theme.
Okay, so before we mentioned suitcases. You can easily transform a vintage suitcase into a delightful guest book. One of the things you can do is have the suitcase filled with heaps of different postcards. You can buy vintage postcards, new ones or mix and match. Have a little sign next to the postcard filled suitcase telling your guests to write their messages on the cards and pop them back in. You can even have your guests hang them up with a peg on some twine that you've strung up. It'll add a beautiful pop of colour to the room which is particular great if you're big fans of travel. Later on, you'll love going through them and reading all of the wonderful messages.
Another alternative suitcase guest book would be using paper planes. Fill your suitcase with paper planes made on adorable pieces of paper and have your guests write their messages on them. Or you can have the paper next to the suitcase and have them make their own paper planes. This way you'll end up with heaps of different styles.
If you don't want to go with a vintage suitcase but fancy another vintage option, then consider going for a polaroid themed guest book. This option is like a real-life Instagram with fabulous vintage charm, so it's very hard not to fall in love with it. What you do, is grab yourselves a polaroid camera. This can be a refurbished vintage one or a modern one and fill it with film. Have it sitting on a table with a little sign next to it telling your guests to take their photos, write their note on the back of it, and then peg it to the twine you've strung up. You'll end up with an amazing installation that looks like an artwork, plus some perfect mementos. You'll have both the photos and the messages to remember the day by.
Accessorise either of these guest book tables with sweet jars of flowers, cute frames and bits of lace or hessian.
Accessories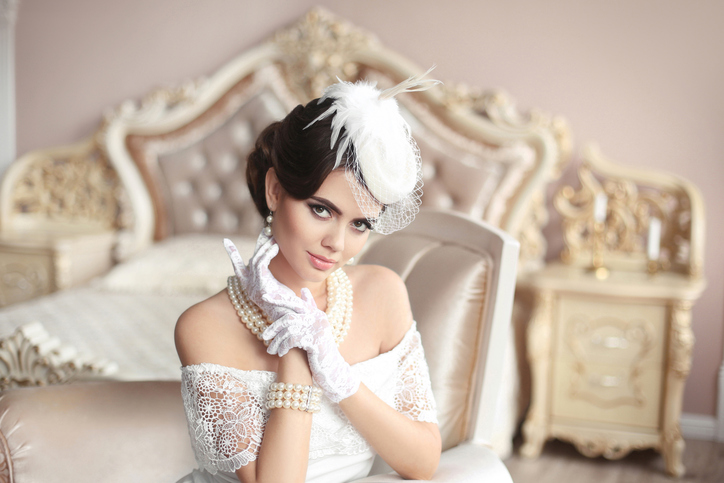 Are you even ready for your wedding if you don't have accessories? Of course not! For your vintage wedding, there are lots of amazing accessories you can wear to really get yourself looking like the perfect vintage bride.
Veils are a great way to add some delightful vintage charm. You can opt for a very vintage-like veil like a birdcage veil which is a throwback to the 1940s and 1950s. Or consider a lace cloche veil if you're going for a more 1920s or 1930s style dress.
Headbands and hairpieces are another way to easily add some vintage charm. Many accessory designers these days focus on making bespoke vintage style pieces for brides. You can easily find something in a 1920s style if you want to add a bit of flapper-esque charm to your vintage day outfit.
Pearls are another throwback to vintage weddings. Consider a necklace or earrings to add some serious class. Find accessory suppliers here.