So you've recently gotten engaged – congratulations! Getting engaged and everything that follows, is one of the most exciting times you'll have in your life. By now, you're probably starting to think about how you'll celebrate your engagement with your nearest and dearest. An engagement party can be pretty relaxed. Unlike a wedding, there aren't any stuffy traditions that come with an engagement party so you've pretty much got free rein on how to celebrate. So if you're a quirky couple who like to do things differently then you'll love these 7 suggestions for a truly unique engagement party.
Glamping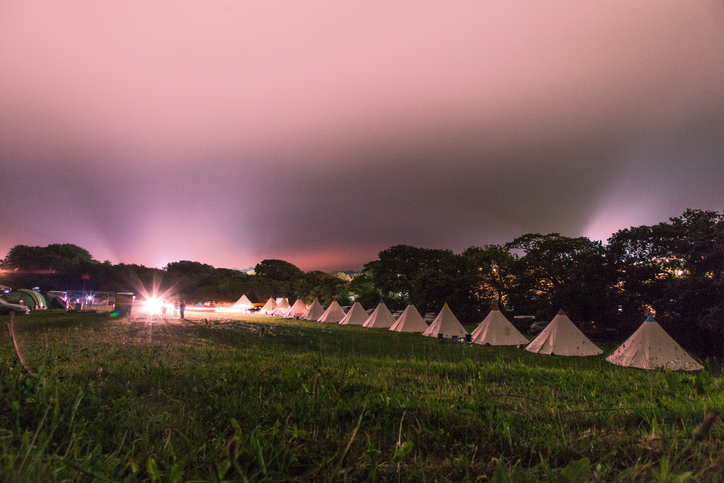 Everyone loves a little bit of luxury. So why not consider a night of glamping with your family and friends as a way to celebrate your engagement? You could either book a glamping site and have everyone sleep over for a big camp-out, or you could simply rent a marquee tent and set up areas with cushions, cosy chairs and blankets, have a delicious meal, lots of drinks, and of course some great tunes. Top everything off with some twinkly fairy lights and you've got yourself a cool, fun and unique way to celebrate your engagement. Guaranteed you won't know many people who have glamped for their engagement.
A cruise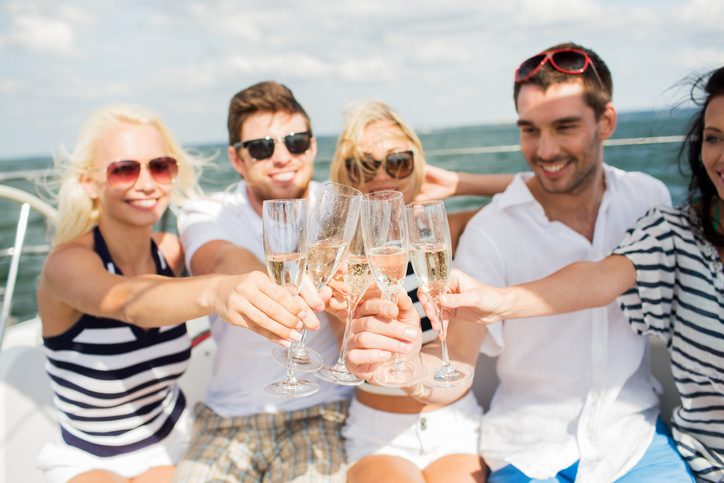 If the sea is your happy place but you don't often go because Britain's beaches are a bit lacklustre, then perhaps you and your spouse-to-be should consider a sunset cruise for your engagement party. This idea is fun and it has a real feeling of elegance that will impress your guests. Many boat companies have a variety of different vessels to choose from so you could get something smaller for intimate parties or bigger for a grand affair. Whatever you choose, cook up some fresh seafood and pop open a bottle of champagne for a beautiful evening celebrating your upcoming wedding.
An exotic themed party
Have you and your partner got a bad case of wanderlust? Have you always dreamed of an exotic wedding in a far off location? If this sounds like you then you might consider having an exotic theme for your engagement party. If you've always known that you wanted to get married in Greece, then why not set up a beautiful rustic table in your backyard, string up some fairy lights and have a Greek feast for your guests. Or if you plan on eloping to New York, then hire out a room at a classic American chain that's made its way over to the UK and treat your guests to burgers, fries and shakes. This way if not all of your friends and family are able to make it to your overseas wedding, they can still celebrate with you in a fun and quirky way.
A literary high tea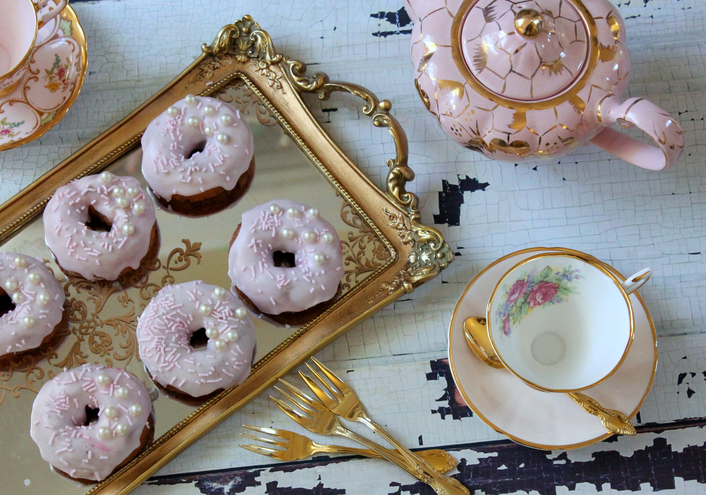 If you and your partner are more into conversation than dancing around to music, then you might consider a sit down engagement party. This could take many forms but a really unique idea for a couple who loves their literature would be high tea in a library. Many different hotels and restaurants around the UK offer an elegant high tea service in a library. This kind of party is understated and classy. You and your guests will leave feeling relaxed happily full as undoubtedly you'll spend the afternoon eating delicious delicacies and having lovely chats with your favourite people. This idea is perfect for those who want a lovely celebration without all of the hassle.
Wine or whisky tasting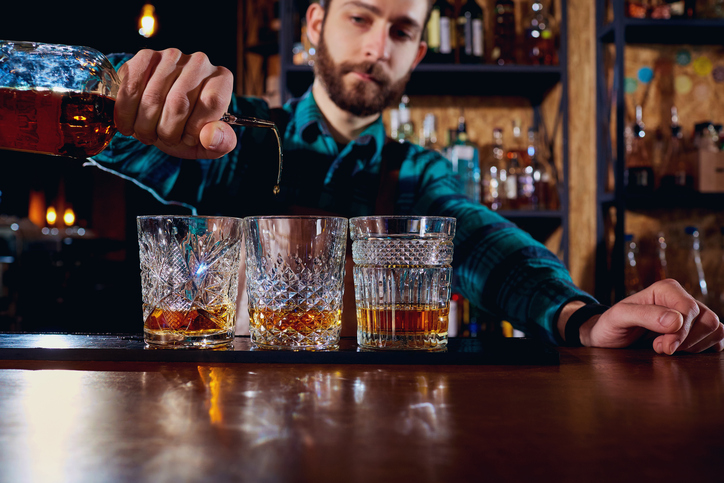 For couples who love a bit of the old drink, a perfect way to celebrate your engagement with an intimate party would be to do a wine or whisky tasting. The UK isn't particularly well known for its wine, however, a number of bars and restaurants offer wine tasting and even pair it with delicious canapés making it a fantastic option for wine-loving folk. Or if you want to embrace your British heritage, why not take a trip up to Scotland and partake in a whisky tasting with your guests. Many places around Edinburgh and Glasgow offer tastings for small parties and so if you're not planning a big engagement party and you appreciate a good drop, then one of these options could be perfect for you.
Fondue party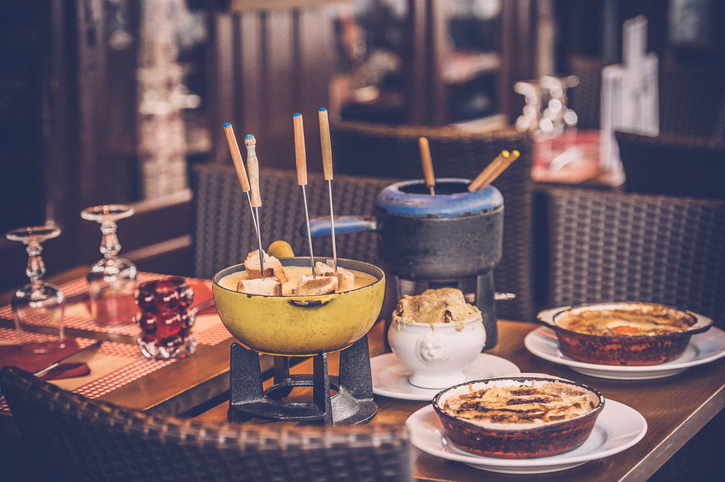 In the UK, the idea of an outdoor party can often seem a little crazy considering our temperamental weather. So, why not bring everything indoors and host a cheese-themed party. This kind of engagement party is ideal for couples obsessed with all things cheese. Fondue parties were big in the 1970s, but they kind of went out of fashion. Fondue is still excellent though and it's making a comeback, so pick up a few fondue sets and have an engagement party no one will forget. You can even put out interesting things to dip into the cheese other than toasted bread. Think pretzel bites, vegetable sticks, panko-crumbed chicken strips, or even little sliders. Let's face it anything tastes good with cheese on it so go crazy. And for dessert? The obvious choice is cheesecake, but also think red velvet cake with cream cheese icing or tiramisu with its classic ingredient: mascarpone cheese. Get creative and over-the-top cheesy for a truly unique engagement party.
A vintage party
If you love Mad Men and you're obsessed with pill-box hats, then you might want to consider a vintage themed engagement party. This can be easy enough to pull off by setting a vintage dress code for the party and serving only old-fashioned cocktails. There'll be no Pina Coladas at this engagement party, no it'll be all 'scotch neats' and 'martinis' for your guests. To pull this party off make sure you grab a vintage bar cart and have a record player playing your favourite 60s tunes all night. Your guests will love dressing up and dancing the night away in celebration of your engagement party.
Need help planning your upcoming wedding? Take a look at our list of wedding planners in your town.