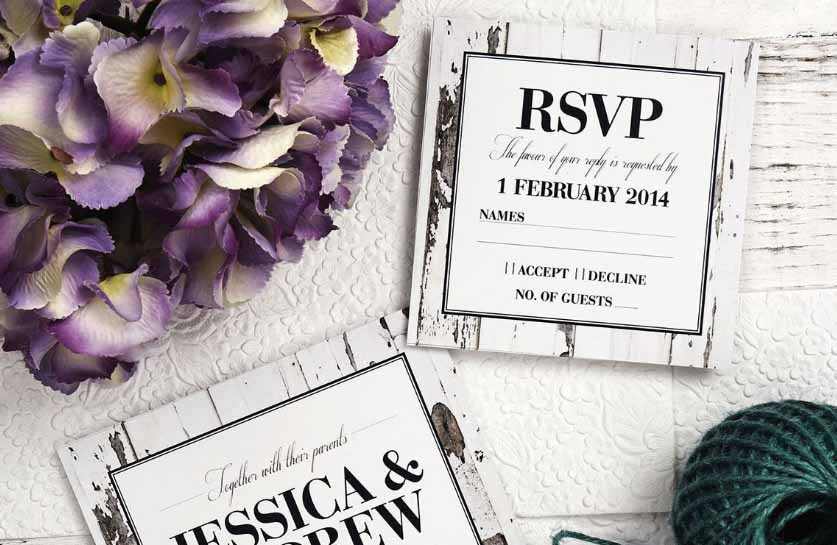 You've spent countless hours picking out the perfect venue for your wedding and reception. The dress and tuxedo are handled; you have the music, the cake, the celebrant and the rings. There's just one thing that you have to wait on; the RSVP responses from your guests.
One of the more frustrating aspects of wedding planning is getting your guests to respond to your RSVP on time. Not knowing how many people are actually going to be attending your ceremony or more importantly the reception, can be costly and rather inconvenient when it comes to planning a wedding.
The biggest impact this can have on a wedding budget is the catering bill, ordering last minute, or ordering more food than is necessary can add on extra expenses easily avoided had your guests responded promptly.
While there will always be some guests who forget to respond or don't get back to you promptly, there a number of ways you can increase the chances of getting a quick response. The first begins with ordering the RSVP cards themselves.
What does RSVP mean?
This is a valid question, as there is a chance that not everyone will know the meaning of RSVP – especially your younger guests. RSVP originated from the French phrase, 'Respondez, s'il vous plait,' and translates to 'please respond.'
If you are concerned that some of your guests will not understand its meaning, there are a number of alternative phrases you can use. Try 'please respond by (date)' or for more formal invitations 'the favour of a reply is requested by (date).'
RSVP by when?
People often make the mistake of placing the RSVP date on the card in a small font. This might result in guests either not paying attention to the date or not understanding its importance. For quicker responses, ensure the RSVP date is as bold and prominent as the date of your wedding.
Engage your guests
While simple reply cards are the most common, one way to encourage a quick response is to make the card something creative or funny that will encourage a witty response. Here's an example below.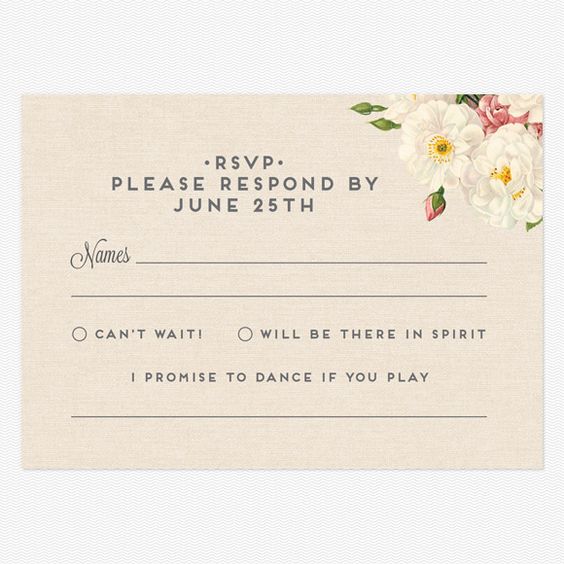 Just make sure your proofread your cards and don't end up with the unfortunate example below.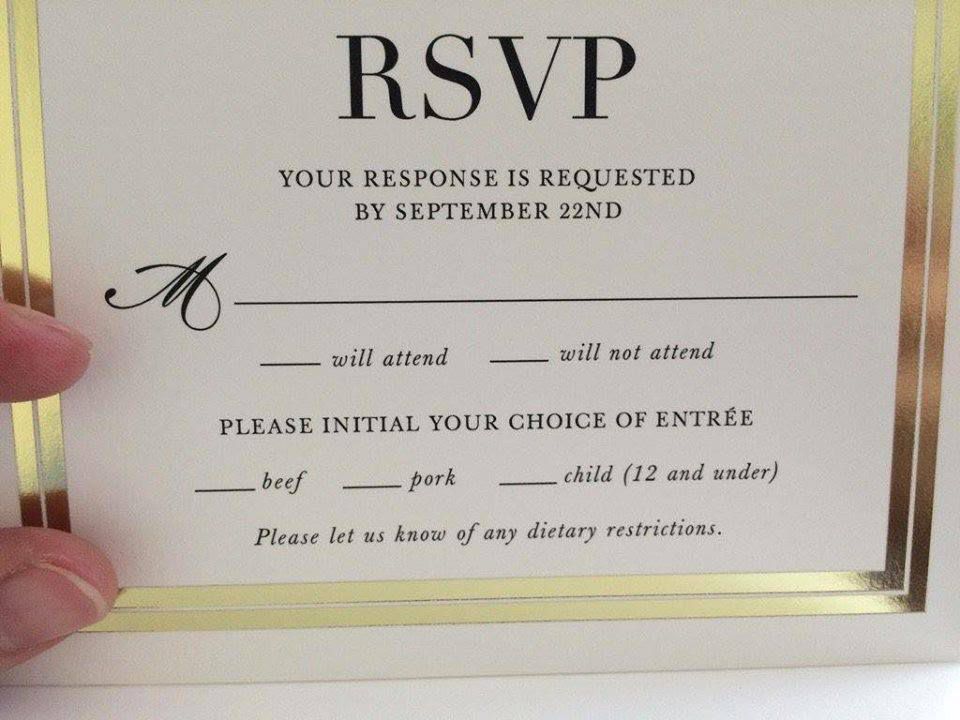 Make responding easy
One of the best ways to ensure your guests respond is to make it as easy as possible for guests to return the card. Unfortunately some guests will find the task of addressing an envelope and placing a stamp on it all too much for them. To account for this, try a postage paid RSVP card in postcard format, or self-addressed stamped envelope if opting for a traditional RSVP card.
You can also give your guests the option of emailing their RSVP by including an email address on the card.
The best time frame
Keeping in line with traditional wedding etiquette, send your RSVP cards out at least two months before the wedding. We'd recommend setting your RSVP date for approximately three to four weeks prior to the event. This gives your guests plenty of time to respond and gives you the time to confirm deadlines with your caterer and other wedding suppliers.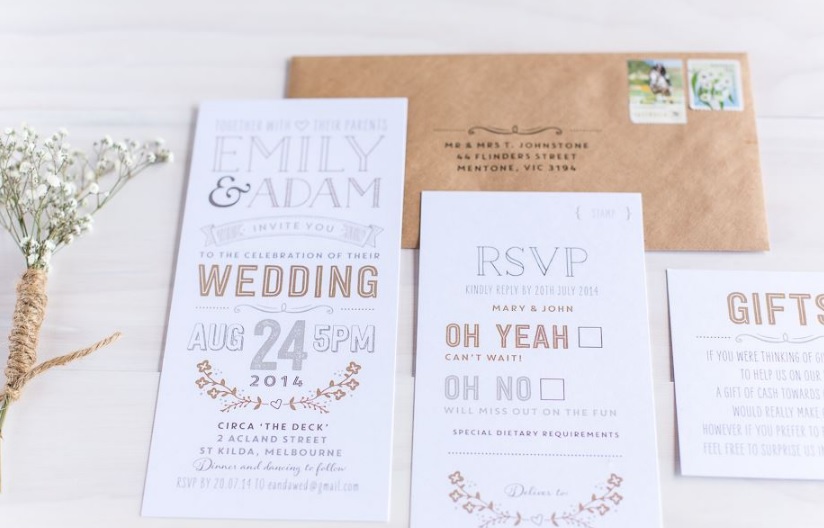 Destination weddings
For destination weddings the rules on timing are slightly different. You should send out a save-the-date card to give your guests adequate time to take off work and make travel arrangements.
The save-the-date cards should be sent out around nine months before the wedding date. Then send your wedding invitations around four and a half months before the big day. Make sure you request a response at least two months prior to the wedding. Again, this additional notice provides your guests with time to make travel arrangements and get organised for the trip.
You'll find more information about destination weddings here.
Send a reminder
Unfortunately, you could do all the right things as above and still be waiting on stragglers for an RSVP reply. Now would be a good opportunity to send out a reminder email, or better yet, pick up the phone and call them. Remember to be polite when reminding them. Simply let them know that you are excited about your upcoming nuptials and would love to know if they are coming. If they can't give you a solid answer, give them a deadline for when you need to know by.
Planning your wedding? Find the best local wedding suppliers here.