Your official wedding photographer is responsible for capturing all the mandatory snaps of your big day.  A trained professional, they will make sure that your photographs look gorgeous while ensuring that they are 'correct' in terms of boring things like composition and style. It could be argued, however, that what you lose from such photos is an element of fun and the sense of surprise, something that can be replaced by giving out disposable wedding cameras to your guests.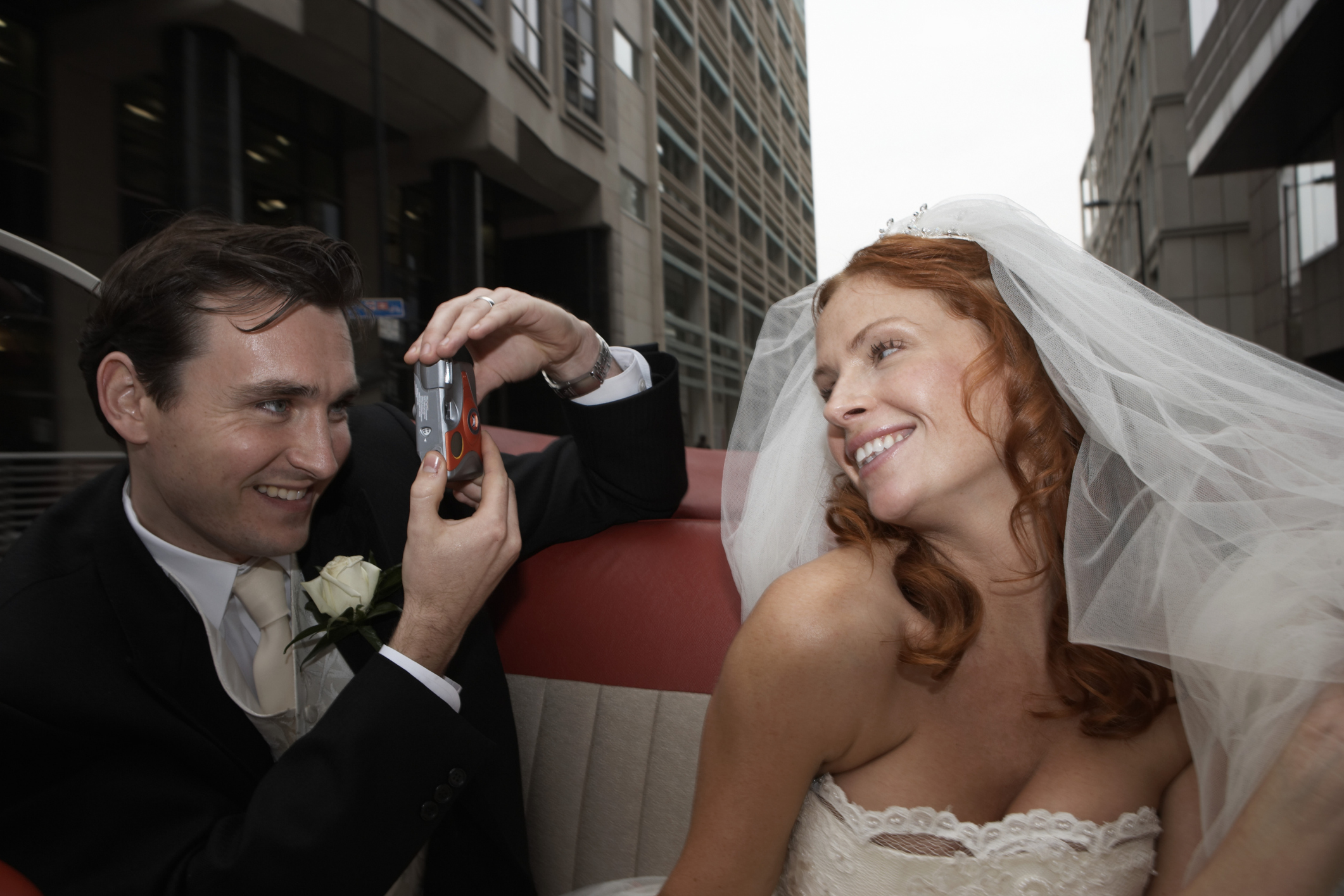 While disposable cameras are a little old-fashioned in these heady days of Facebook and Twitter, they offer your guests the opportunity to stamp their personality on your big day while giving you the chance to see the event through someone else's eyes and, as they only cost a few pounds, there's no harm if they get lost or broken.
If you are considering handing out disposable wedding cameras, here are some things you should keep in mind.
Be realistic about picture qaulity
Don't assume you will get breath-taking images from a disposable camera. It is the job of your photographer to take the best shots of you and your day, the processed images from the single use cameras will remind you of how much fun your loved ones had at your wedding.
Find a complementary camera
While disposable cameras may not be as fashionable as they used to be, they are available in all different kinds of colours and styles, from the elegant to the zany. Make sure the cameras you choose fit in with the theme of your big day and suit the design of tables on which they will sit. It is also possible to purchase cameras designed specifically for weddings, embossed with bell motifs or covered in hearts. You should bear in mind that cameras with an unconventional aesthetic are likely to set you back a little more than the standard disposable.
Buy one between four
A good rule of thumb you should consider when purchasing cameras for your big day is not to have a camera per guest, rather offer one device per four people. Some wedding planners may even tell you to just stick to one disposable per table.  Buying in bulk can help keep costs down if you are planning a wedding on a budget. Always ask the supplier but remember, what is considered to be 'bulk' will always vary from one retailer to the next. They many not give you a discount on just five cameras!
Give them out at the right time
Think about whether you would want your friends and relatives taking photographs at your ceremony or whether you'd rather they just captured moments during the reception. Should you want snaps throughout your wedding, make sure you have an usher on hand, dishing them out during the ceremony, the drinks reception, and the all-important after-party.
Make guests responsible
If you are choosing to leave your guests' cameras on their dinner tables, make sure a specific guest is responsible for each. Perhaps place the device in their seat with a note asking them to help you out by capturing moments through your big day, also reminding them to ensure all the pictures are used. When buying cameras specifically designed for weddings, you will often receive such a note for your assigned guests, though sometimes writing cards yourself is more personal.
Having a member of your wedding party responsible for collecting cameras at the end of the night will make proceedings run a whole lot smoother. Perhaps it could be the job of your father, as he is thanking the guests for their attendance in his speech? Just ask him to mention the cameras and tell him to inform your guests of whom they should give their devices when they are finished with them so they don't get lost.
Give them to children
Don't hesitate to give your cameras to the children of your invited friends and relatives. While some of their shots will be of the floor as they try to figure out how to use them, you may also get some unique photographs of your day through the eyes of a child. These types of photos are particularly good for fun thank you cards.