Wedding decorations are your chance to make your wedding venue totally personalised to the two of you, and should be an expression of your combined personalities. It can be difficult to know where to begin so here are a few tips as well as some of the latest wedding decoration trends.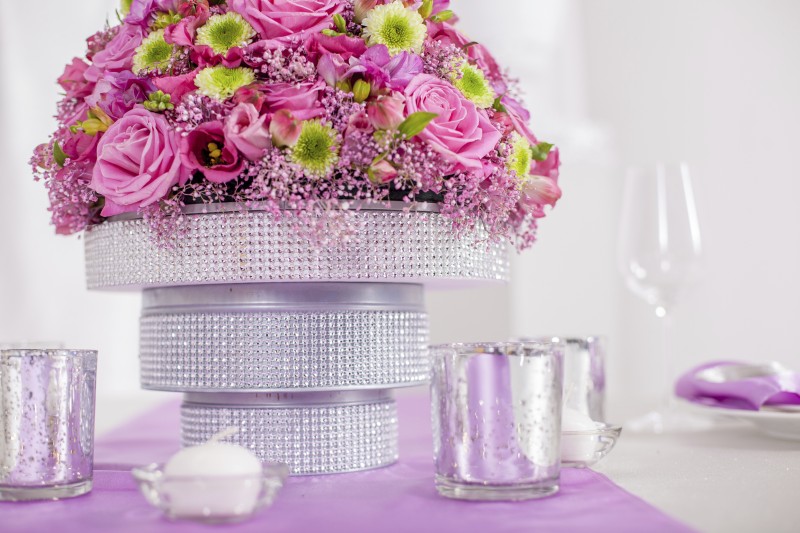 Most brides want to employ a professional florist to create their floral arrangement and many will also choose to hire a wedding decorator to create an overall scheme. You can always compromise by consulting a decorator for an overview of how the venue and tables should look, and then adding the smaller details yourself.
You should meet with your wedding decorator or florist to talk about your ideas six to eight months before your wedding to allow time for them to coordinate all aspects of your look. Double check details for with day itself with both the florist and decorators during the week before your wedding to be sure everyone is on the same page; you don't want your dream decorations to be ruined by tiny misunderstandings.
Here are some key wedding decoration trends:
Statement centrepieces
The first trend is for large, lavish centrepieces, utilising flowers, candles, and even feathers. The current philosophy seems to be 'the bigger the better' when it comes to table arrangements. Because of this trend, some couples are looking to hang centrepieces from the ceiling rather than sit them on the table as this makes it easy for guests to talk to each other across the table.
The second big trend works with the increasing popularity of long, banquet style tables. The idea is to keep it simple, with tall stemmed single flowers along the length of the table. As well as looking fabulous this is also a budget-friendly alternative to large arrangements.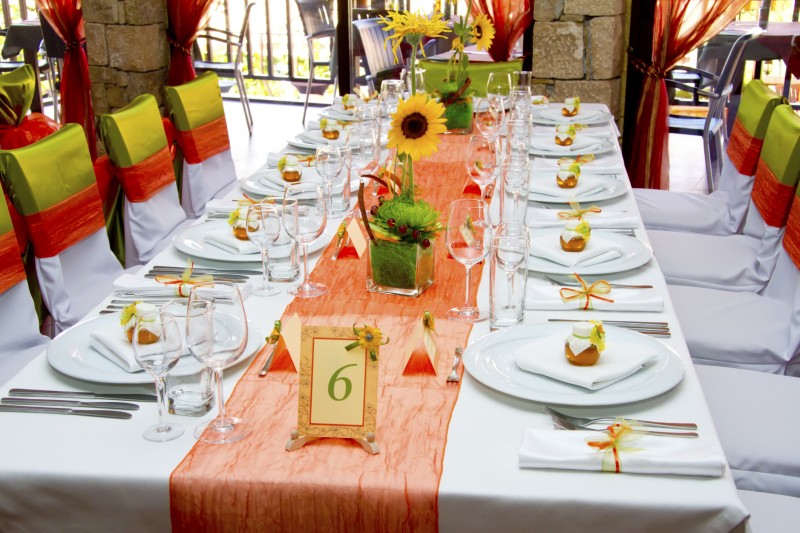 Vibrant colour schemes
Bold gemstone colours are big news in weddings with emerald, ruby and sapphire all being popular colours for chair sashes and table runners. Adding layers of table cloths in different fabrics and utilising bold runners to provide a splash of colour can be very effective.
For a cheerful, contemporary look use a white or cream base topped with accessories in an eclectic palette of bright pinks, reds, oranges, blues, greens, and yellows. Use these colours in pom pom garlands, bunting and wild flower arrangements for a carefree wedding theme.
If you like the traditional wedding colours of cream and pale pink, these are still popular, but are often teamed with silver grey or sage green for a more modern look. For a vintage wedding pair with gold for a warm effect.
Despite the trend for vibrant colours, white has staged a comeback as the perfect colour for your wedding decorations. Create tall gleaming vases with fresh white orchids, and you should be on the right path. White is being paired with earthy tones such as metallic rose to add depth and texture.
Atmospheric lighting
Lighting can be as plain as candles or lanterns, and as complex as professional light boxes, spotlights or fairly lights. Ensure you set aside a part of your wedding decorations budget for wedding lighting to really draw the most out of your flowers and other decorations. Whilst lighting might have little impact at a lunchtime wedding, it can totally change the ambience of an evening occasion.
Use Easy Weddings to connect with your dream wedding suppliers.
Browse the directory and start planning today!