One of the best things about getting married at the seaside is the possibility to take some gorgeous photos on the beach after the ceremony. While beach wedding photography can be spectacular, taking photos in such locations isn't necessarily as easy as you'd think. Whether you're hiring a professional wedding photographer or getting friends and family to share their snaps, answering these questions on beach wedding photography will ensure you get some stunning shots.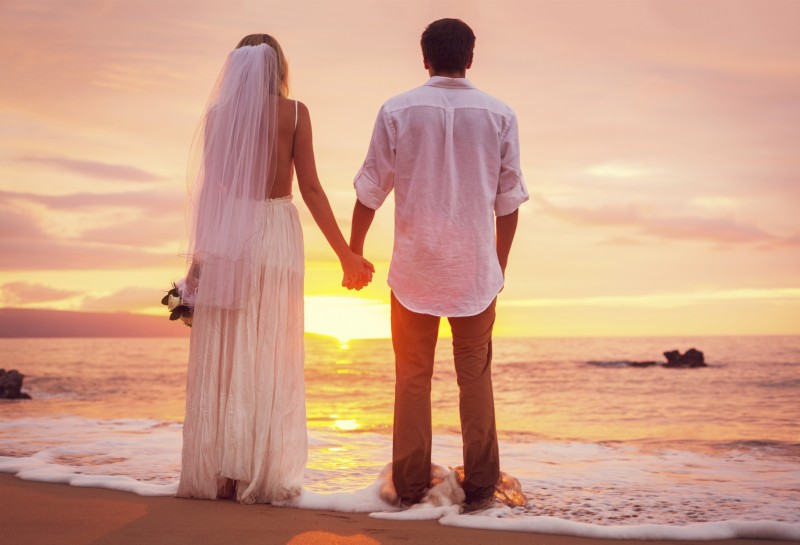 Is photography equipment insured?
Naturally, photographic equipment is more likely to suffer damage at the beach than at almost any other location. Sand and salt water don't play nicely with expensive cameras so make sure your photographer has adequate insurance for capturing your perfect day on the beach.
Is the horizon captured correctly?
If your photographer is taking photographs looking out to sea, ensure the horizon line is parallel to the edge of the photo, and that it is slightly off centre. Having the horizon in the middle of your shot gives the illusion that the photograph has been cut in two.
Are you taking photographs in different lights?
A seaside location can look completely unrecognisable from one of hour of the day to the next due to the change in light. If you have arranged a daytime photo shoot perhaps return to the beach for more photographs in the evening. The light will be luscious and golden at this time and will project a more romantic effect than the full midday sun.
Are you using light filters?
Assuming you have chosen a sunny day to tie the knot, the light on the beach may well be too bright for standard camera models. Using UV and polarising filters can help to subdue parts of the light, reducing atmospheric haze and reflections, and highlighting contrast.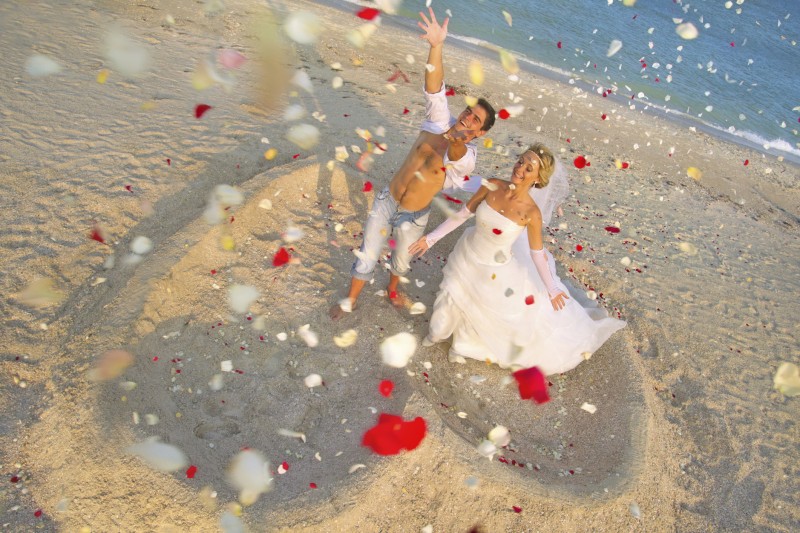 Will your photographs be interesting?
While we all love looking out to sea it can be a slightly dull background to your wedding photos unless there are crashing waves and jagged rocks. Try finding a photo location where both the sea and some objects on the coastline such as dunes or colourful fishing boats are present.
Have you thought about feature photographs?
There are plenty of opportunities for feature photographs at coastal gatherings. Take a shot of the ushers with their trousers rolled up standing ankle deep in the sea, or the bride and groom's wedding shoes at the edge of the water. You could even draw a heart in the sand and place your wedding rings inside it for another great photo.
Have you considered black and white photographs?
When we think of beach wedding photography we think of bright blue skies and colourful deckchairs, but that doesn't necessarily mean your photos have to be brightly coloured too. Black and white and sepia beach wedding photos are fantastic, and on the off-chance your wedding day happens to be overcast, these will look especially good.
If you are getting hitched by the seaside, it might be advisable to find a photographer that specialises in beach wedding photography. It is notoriously difficult to shoot brightly lit outdoor landscapes, but an expert will have no problem creating stunning wedding photos as they will have the right equipment and plenty of experience.
Use Easy Weddings to connect with your dream wedding suppliers.
Browse the directory and start planning today!