If you're looking to add a cosy romantic feel to your wedding floating candles can be a simple way to achieve it. Candle light reflecting on the water is a beautiful sight. Here are ten great ways to use wedding floating candles: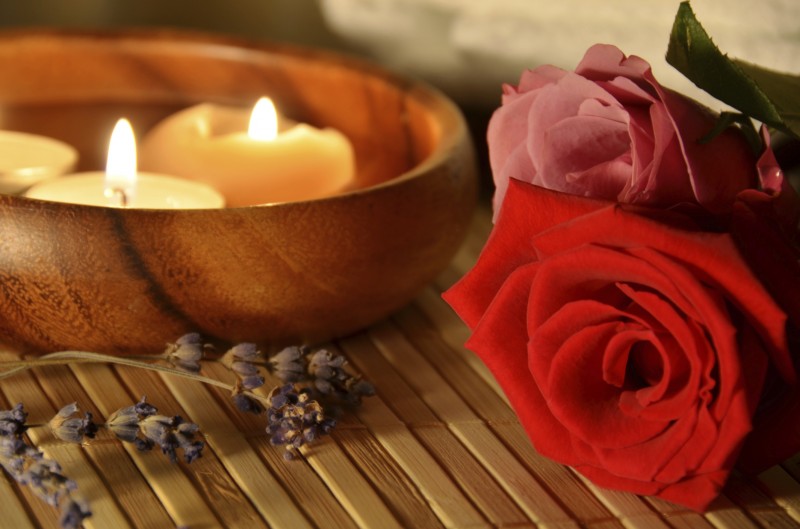 Select special vases
Try to find special vases or containers that have a dry compartment for ornaments and accessories, and a separate part to be filled with water for floating candles.
Don't complicate your décor
A simple bowl of floating candles makes a beautiful centrepiece and has the benefit that guests can easily see and talk over it, unlike with a number of flower arrangements. Select a shallow bowl, so the candles are the key attraction.
Utilise other objects
If you fill a tall clear glass vase with water, and float some candles in the top, you can include other objects in the vase to make a beautiful centrepiece. You could include real or glass pebbles or flowers that will keep their shape in water. Fruit is also a great choice, and lemons, limes and cherries work especially well.
Pair candles and flowers
As well as candle try including extra floating decorations like silver stars that float, to include sparkle to your arrangements. In addition you could add flower heads, rose petals, or blossom to your centrepieces.
Use floating candles at the ceremony
A bowl of floating candles on either side of the altar can add a touch of tranquillity to your wedding ceremony, so you don't just need to keep floating candles for your reception.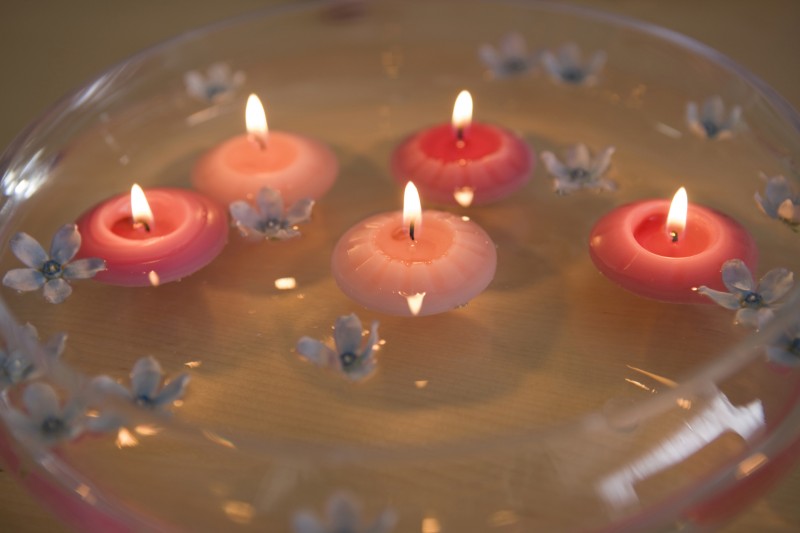 Pair colour with scent
Select lightly scented candles to smoothly fragrance your reception, but make sure the scent from the candles won't clash with the fragrance of your blooms. Choose white candles, or coloured ones to match your wedding colour scheme.
Make a water feature
If your venue has some type of outdoor water feature like a pond, lake, or fountain, you can make a feature of it by floating candles on it. Not only will they look beautiful once the sun goes down, they will also prevent your guests from falling in!
Mix different length vases
If you are going with banquet style tables, vases in different heights can be arranged in a line along the middle of the tables. Give your central displays a modern edge by pairing three or more glass vases of different heights and floating candles in each one.
Opt for coloured water
Food colouring is all you require to create coloured water that will add a new dimension to your wedding decorations. If you aren't able to locate floating candles in the right colour for your wedding colour scheme, consider floating simple ivory candles in gently coloured water instead.
Remember to check with the wedding venue
Some venues don't allow use of candles at all for health and safety reasons, yet they might be more willing to accommodate floating candles than traditional candles as they will go out if they are tipped over. Always ask your venue prior to buying hundreds of floating candles for your wedding decorations.
Use Easy Weddings to connect with your dream wedding suppliers.
Browse the directory and start planning today!